CATT LAKE HICKORY
[email protected]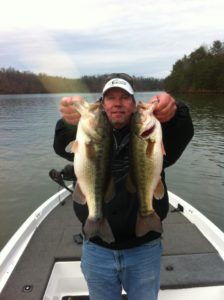 Anthony Williams
2018 Hickory Spring  Membership - $35 Per Person
Reg Entry $80   $90 at Ramp
CATT GOLD - $120 Entry  $130 at Ramp
Final - $120 Entry $130 at Ramp
100% Payback on Your Entry Fees!
Blastoff Position is Determined By Order Of Payment
Teams May Use a Sub
You may fish solo and you can Qualify solo for the Lake Hickory Spring Final.
2018 SPRING SCHEDULE
Event
Date
Landing
Qualifier 1
 March 24
Whittenburg
Qualifier 2
 May 19
Whittenburg
Qualifier 3
 June 2
Whittenburg
Qualifier 4
 July 7
Whittenburg
Final
 Aug 4
Whittenburg
Optional $25 Side Pot
Enter 1  Hickory Spring Qualifier & Qualify for the Hickory Spring Final 
 Enter 3 Hickory Spring Qualifiers to be eligible to enter the June 2-3, 2018 CATT Championship on Kerr - $10,000.00 1st Place!
If you entered 3 of the 2017 Hickory Qualifiers You're Qualified!
Click On Championship Link on Homepage For More Info!
You can qualify for 2 Championships!            
CATT GOLD  GUARANTEES!
30 Boats - 1st Place  $1,250.00!         40 Boats - 1st Place $1,575.00!
50 Boats - 1st Place $1,800.00!          60 Boats - 1st Place $2,000.00
FALL 2017 POINT STANDINGS
Mobile devices may scroll left and right
| | | | | | |
| --- | --- | --- | --- | --- | --- |
| Team | September 9, 2017 | September 30, 2017 | October 21, 2017 | November 4, 2017 | Total |
| Caleb Sutphin / Kelly Logan | 110 | 109 | 110 | 216 | 545 |
| Stacy Richardson - Doug Sawyer | 109 | 110 | 105 | 214 | 538 |
| Petey Bost - Danny Bost | 102 | 108 | 108 | 210 | 528 |
| Toby Nelson - Terry Herman | 106 | 103 | 97 | 218 | 524 |
| Jason Lowman / Cody Lail | 102 | 106 | 103 | 210 | 521 |
| Kenny Kanipe - Josh Hall | 0 | 0 | 104 | 220 | 324 |
| Larry Yancey - Jerry Pruit | 0 | 0 | 106 | 210 | 316 |
| Dylan Smith - Austin Smith | 102 | 0 | 0 | 210 | 312 |
| Louie Hull - Ryan Hull | 105 | 103 | 101 | 0 | 309 |
| Geno Baker - Ashley Huffman | 0 | 0 | 97 | 212 | 309 |
| Shawn Crosby | 103 | 105 | 0 | 0 | 208 |
| Tim Harrison - Doug Crump | 104 | 104 | 0 | 0 | 208 |
| Mark Parker - Vince Parker | 107 | 0 | 99 | 0 | 206 |
| Dwight & Doug Dellinger | 0 | 0 | 109 | 0 | 109 |
| Patrick Houpe - Jesse Smith | 108 | 0 | 0 | 0 | 108 |
| Jason Lowman - Cody Lail | 0 | 0 | 103 | 0 | 103 |
| Holden McSwain - Dustin Greene | 0 | 0 | 102 | 0 | 102 |
| Milton Yancey - John Brown | 0 | 0 | 100 | 0 | 100 |
| Mark & Vince Parker | 0 | 0 | 99 | 0 | 99 |
| Matt Markland | 0 | 0 | 98 | 0 | 98 |
| Aric Dwyer - Robbie Anderson | 0 | 0 | 97 | 0 | 97 |
| Shae Jones - Adam Greer | 0 | 0 | 97 | 0 | 97 |