Next Lake Wateree CATT is April 9 and is a GOLD! This one will be out of the Lake Wateree State Park!
Butch Williams & Sonny Beam win Wateree with 5 bass weighing 16.40 lbs! They collected $1,500.00!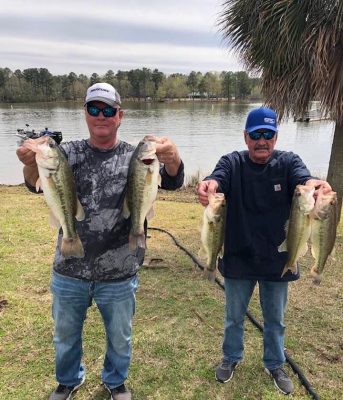 2nd Place went to Dearal Rogers & Trent McLaughlin with 5 bass weighing 15.74 lbs!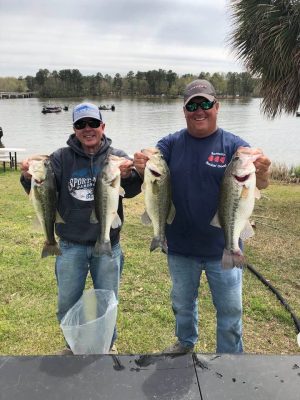 Landon Jordan & Connor Horton 3rd with 15.42 lbs and they weighed in the Academy BF at 4.68 lbs!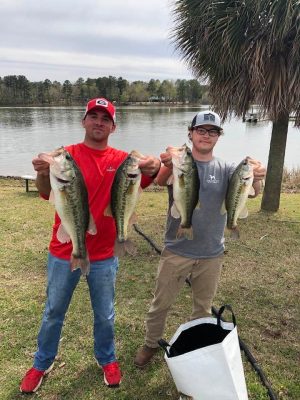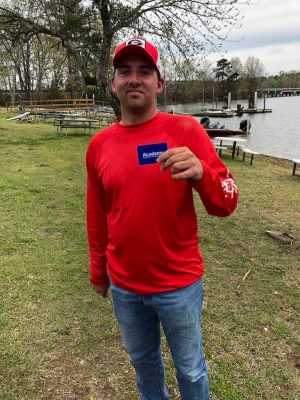 Chad & William Gainey took 4th with 14.75 lbs!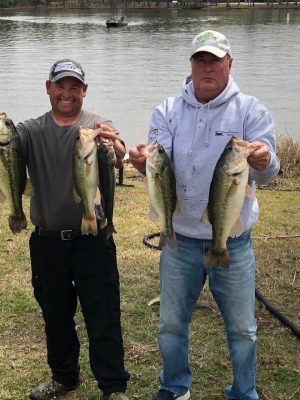 | | | | | |
| --- | --- | --- | --- | --- |
| Team | BF | Weight | Winnings | Points |
| Butch Williams & Sonny Beam | 4.21 | 16.40 | $1,500.00 | 110 |
| Trent McLaughlin & Dearal Rogers | 4.38 | 15.74 | $475.00 | 109 |
| Landon Jordan & Connor Horton | 4.68 | 15.42 | $347.00 | 108 |
| Chad Gainey & William Gainey | 4.46 | 14.75 | $140.00 | 107 |
| Jeff Norris & Jacob Norris | 3.69 | 14.71 | | 106 |
| Jim Davis & Zack Davis | 4.62 | 14.64 | $63.00 | 105 |
| Bob Weaver & Scott Floyd | 3.91 | 14.60 | | 104 |
| Danny Gibson | 4.32 | 14.38 | | 103 |
| Mark Healon & Tony Truitt | 3.46 | 13.46 | | 102 |
| Brent Neal & Max Price | 3.15 | 13.37 | | 101 |
| Craig Haven & Paul Wells | 3.57 | 13.21 | | 100 |
| Pat Whaley | 3.92 | 13.02 | | 99 |
| Greg Atkinson & Anitra Atkinson | 3.52 | 12.98 | | 98 |
| Robbie English & Scott Williams | 4.15 | 12.76 | | 97 |
| Stacey Seagars & Jonathan Hilton | 3.55 | 11.61 | | 96 |
| Peter Muller & Drake Aerial | 3.47 | 9.00 | | 95 |
| Zack Clayton & Billy Clayton | 0.00 | 0.00 | | 85 |
| Jonathan Dailey | 0.00 | 0.00 | | 85 |
| Gabe Hopkins & Bingham Higgins | 0.00 | 0.00 | | 85 |
| Donald Hinson & John Cowart | 0.00 | 0.00 | | 85 |
| Darryl Watson & Wayne Stover | 0.00 | 0.00 | | 85 |
| Total Entrys | | | $2,520.00 | |
| BONUS $ | | | $425.00 | |
| Total Paid At Ramp | | | $2,525.00 | |
| 2022 Wateree Spring Final Fund | | | $330.00 | |
| 2022 CATT Championship/Phantom Fund | | | $50.00 | |
| 2022 Wateree Spring Fund Total | | | $1,105.00 | |