Check this out!
2021 PHANTOM OUTDOORS INVITATIONAL CLASSIC

The 2021 PHANTOM OUTDOORS Invitational Classic will take place on Lake Hartwell Nov 5-6 and we are guaranteeing $10,000.00 to 1st Place!
Green Pond Landing & Event Center – 470 Green Pond Rd, Anderson, SC 29625
A team or solo angler must fish 2 CATT events to Qualify! You may fish the Invitational solo or with your partner or alternate partner your team used in any CATT event.
You can get in your 2 events by fishing any CATT Fall 2020,  CATT Spring 2021, CATT Summer 2021 & CATT Fall 2021!
Go to the Division page and tap on 2021 Phantom Outdoor Invitational Classic!
Next Lake Wateree Fall Qualifier is September 18th at Clearwater Cove Marina! You can scroll all the way down on the Wateree Division page top view the Fall Points!
Since we are still having some very hot weather we limited everyone to a 3 fish limit! Chad Gainey & Mack Kitchens weighed in 3 bass at 10.64 lbs to take the win and $571.00!
They also weighed in the Strike King/Lews 2nd BF at 4.18 lbs!
Bryson & Travis Motely took 2nd with 3 bass weighing 9.43 lbs! They weighed in the Academy BF at 4.58 lbs! Bryson & Travis took home $264.00!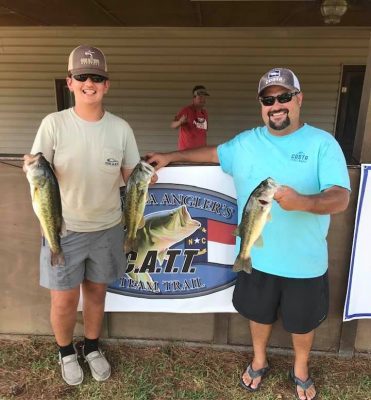 | | | | | |
| --- | --- | --- | --- | --- |
| Team | BF | Weight | Winnings | Points |
| Chad Gainey & Mack Kitchens | 4.18 | 10.64 | $571.00 | 110 |
| Travis Motley & Bryson Motley | 4.58 | 9.43 | $264.00 | 109 |
| Bubba Baker & Colden Baker | 0.00 | 8.17 | | 108 |
| Jason Ries & Roger McKee | 3.21 | 8.02 | | 107 |
| Steve Phillips | 3.17 | 7.85 | | 106 |
| Jeff Norris & Jacob Norris | 2.61 | 7.05 | | 105 |
| Kareem White & Jayln White | 3.21 | 6.94 | | 104 |
| Chad Rabon & Walt Almond | 0.00 | 6.20 | | 103 |
| Freddie Gamble & Latonya Blanding | 3.72 | 3.72 | | 102 |
| Barry Brown & Paul Gallowey | 0.00 | 1.04 | | 101 |
| Jermaine Roach & Steve Gelespie | 0.00 | 0.00 | | 91 |
| Marshall Gandy | 0.00 | 0.00 | | 91 |
| Total Entrys | | | $960.00 | |
| BONUS $ | | | $175.00 | |
| Total Paid At Ramp | | | $835.00 | |
| Wateree FALL 2021 Final Fund | | | $225.00 | |
| 2022 CATT Championship/Phantom Fund | | | $0.00 | |
| 2021 Wateree Fall Final Fund Total | | | $225.00 | |
| 2022 CATT Champ/Phantom  Fund Total | | | $0.00 | |