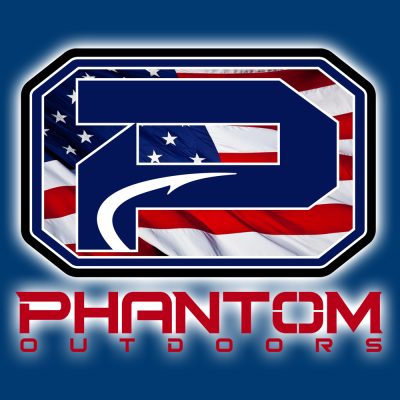 May 6, 2023! The 2023 Phantom Outdoors Santee Cooper edition!
$10,000

1st Place. No membership for this one! Tap on the link below for info! If you want to pay on line tap on 'Shop"! You can pay at the ramp PLUS we will have food served by the Skeeter Cooking Team!

2023 Phantom Outdoors Open Series – Carolina Anglers Team Trail (cattteamtrail.com)
Next Santee CATT is March 11 and is a

GOLD

$120 on line or $130 at the ramp!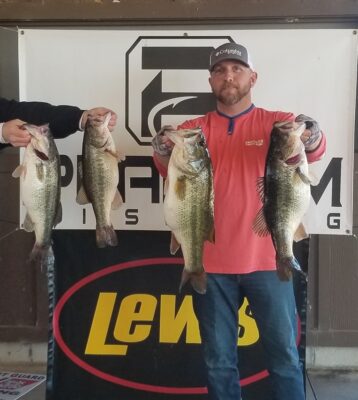 Jimmy Trigg brought in a SACK! 2- 8 pounders plus 3 more nice uns pushed his total weight to 32.76 lbs! His 8.19 lb BF took 2nd BF honors! Total winnings $802.00!

Wade Groom brought in another SACK weighing up at 25.19 lbs! Wade took home a boat load of cash! $400.00 for 2nd Place, $238.00 for the 1st BF at 8.34 lbs PLUS Wade took the Side pot of $700.00! Total winnings $1,338.00!
Bucky Clarke & Robert Clarke 3rd Place 24.23 lbs!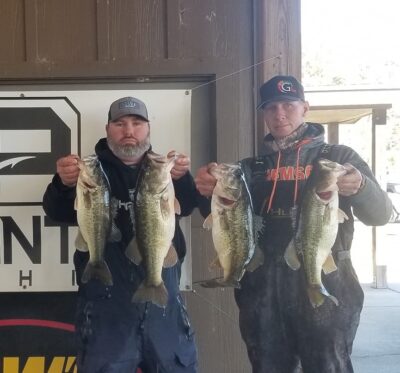 Michael Craven & Brian Crosby finished 4th with 21.88 lbs!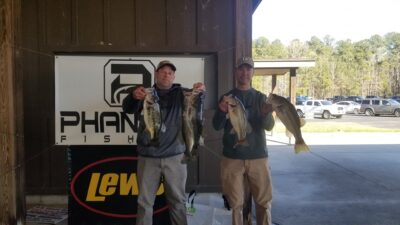 Brad Beatson & Brian Scott 5th Place 21.40 lbs! They take over the Points lead!
Justin Cromer & Mark Barnes 6th Place with 20.86 lbs!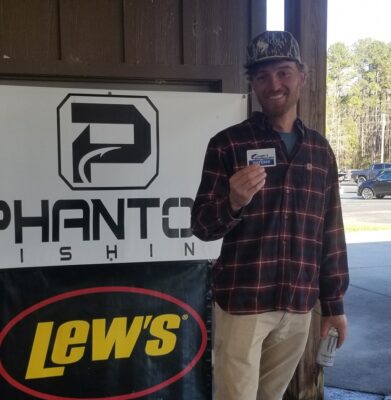 Will Timmons with his $40 Anglers Headquarters Gift Card!
| | | | | |
| --- | --- | --- | --- | --- |
| Team | BF | Weight | Winnings | Points |
| JIMMY TRIGG | 8.19 | 32.76 | $802.00 | 110 |
| WADE GROOMS | 8.34 | 25.19 | $1,338.00 | 109 |
| ROBERT CLARKE-BUCKY CLARKE | 7.62 | 24.23 | $300.00 | 108 |
| MICHAEL CRAVEN-BRIAN CROSBY | 5.59 | 21.88 | $175.00 | 107 |
| BRIAN SCOTT-BRAD BEATSON | 6.35 | 21.40 | $120.00 | 106 |
| JUSTIN CROMER-MARK BARNES | 0.00 | 20.86 | $100.00 | 105 |
| WILL TIMMONS-CASEY WARREN (S) | 5.30 | 20.71 | | 104 |
| BRADFORD BEAVERS-DWIGHT BEAVERS | 0.00 | 20.57 | | 103 |
| MAX TERRY-JAMIE GLASSCOCK | 5.97 | 19.90 | | 102 |
| TRIP MILLS-RONNIE MILLS | 0.00 | 17.78 | | 101 |
| BUGZY TERRY-COLLIN CRIBB | 6.84 | 17.40 | | 100 |
| PAUL GEDDINGS-RICKY IRICK | 5.51 | 17.31 | | 99 |
| MATTHEW NETTLES | 0.00 | 16.61 | | 98 |
| CHAD CROSBY-KEITH BRITT | 6.58 | 15.59 | | 97 |
| FREDDIE GIBBS-CLARK GIBBS | 0.00 | 14.94 | | 96 |
| WESLEY BILTON-TRAWICK BURCHMORE (S) | 4.92 | 14.80 | | 95 |
| ANDREW BULL-WILLIAM DIXON | 0.00 | 14.01 | | 94 |
| DAVE MURDOCK-STEVE BORTON | 0.00 | 11.34 | | 93 |
| RANDALL MILLER-MAC ALTMAN | 5.36 | 9.89 | | 92 |
| KEITH BROWN-TODD BROWN | 0.00 | 8.58 | | 91 |
| BENNETT LAWSHE-JEREMY HEWITT | 0.00 | 8.26 | | 90 |
| KEVIN BROCK | 7.97 | 7.97 | | 89 |
| TODD OLDS-BRIAN MAXWELL | 0.00 | 7.20 | | 88 |
| PATRICK-REECE WILLIAMS | 4.76 | 6.83 | | 87 |
| NICK GANT-PATRICK COOK | 0.00 | 0.00 | | 77 |
| BILLY WILLIS-GLENN PORTER | 0.00 | 0.00 | | 77 |
| BILL ROGERS-ROSE ROGERS | 0.00 | 0.00 | | 77 |
| J WEINBERG-PATRICK OLIVER | 0.00 | 0.00 | | 77 |
| ANDREW MCLEOD | 0.00 | 0.00 | | 77 |
| CHRIS SMITH-DAVID SKINNER | 0.00 | 0.00 | | 77 |
| JERED THOMPSON | 0.00 | 0.00 | | 77 |
| JASON MORSE-ZEKE LYNAM | 0.00 | 0.00 | | 77 |
| T.J. ANDERSON | 0.00 | 0.00 | | 77 |
| BRENT WAYNICK-EMMETT MCCAULEY | 0.00 | 0.00 | | 77 |
| Total Entrys | | | $2,720.00 | |
| BONUS $ | | | $700.00 | |
| Total Paid At Ramp | | | $2,845.00 | |
| 2023 Santee Cooper Spring Final Total | | | $475.00 | |
| CATT | | | $50.00 | |
| 2023 CATT Championship/Phantom Fund | | | $50.00 | |
| 2023 Santee Cooper Spring Final Total | | | $840.00 | |