Another great crowd guys! We will announce the CATT Championship date this week! Last year we had almost 180 teams! Lets break 200 in 2020!
Next Kerr Lake Fall Qualifier and the last is November 10! Remember you only have to enter 1 Qualifier to be eligible to enter the Kerr Fall Final!
Jordan Sanderlin & Andrew George took home $2,106.00 with 5 bass weighing 21.20 lbs! They weighed in a Kerr WHOPPER for BF at 9.02 lbs!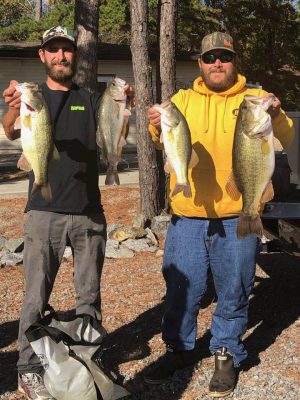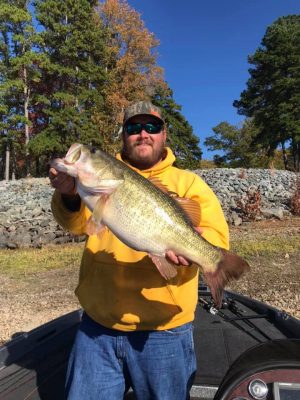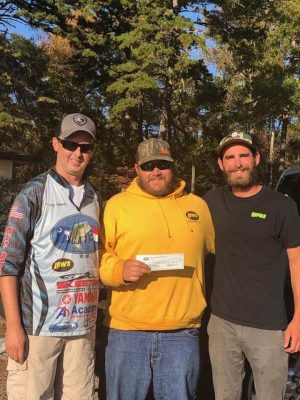 Donnie Coleman & Darell Small finished 2nd with 5 bass weighing 16.94 lbs!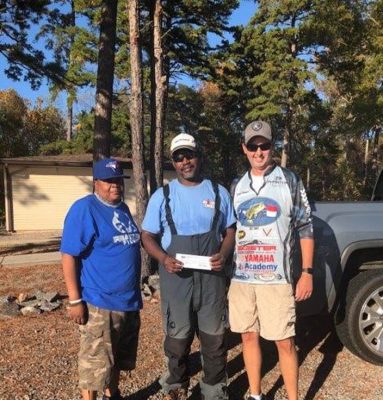 Dennis Reedy & Tommy Marrow finished 3rd with 16.37 lbs!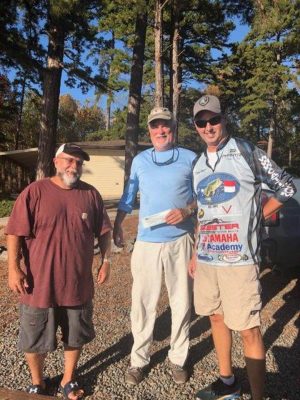 Scott Moser & Bobby Overby took 4th with 16.06 lbs and weighed in the 2nd BF–a 5.25 lb Smallmouth!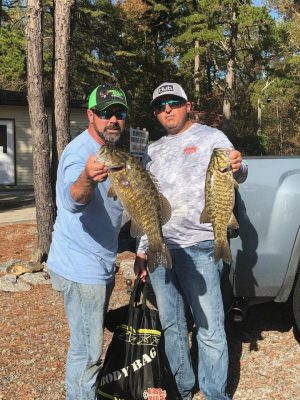 | | | | | |
| --- | --- | --- | --- | --- |
| 48 Teams | BF | Weight | Winnings | Points |
| Jordan Sandelin – Andrew George | 9.02 | 21.20 | $2,106.00 | 110 |
| Donnie Coleman – Darell Small | 5.00 | 16.94 | $1,110.00 | 109 |
| Tommy Marrow- Dennis Reedy | 4.70 | 16.37 | $670.00 | 108 |
| Scott Moser – Bobby Overby | 5.25 | 16.06 | $419.00 | 107 |
| Brandon Pritchett – Matt Foster | 3.52 | 14.88 | $175.00 | 106 |
| Gerald Beck – Rodney Sorrells | 3.30 | 14.59 | $130.00 | 105 |
| Jeffery Porter – Nathan Reeves | 4.26 | 14.39 | $120.00 | 104 |
| Phil Smith- Lonnie Whitfield | 4.21 | 14.18 | $115.00 | 103 |
| Doug Stallings – Seth Ellis | 3.91 | 14.18 | $90.00 | 102 |
| Derrick Bowden – Matt Little | 4.85 | 12.65 | | 101 |
| Eddie Glasscock- Billy Dunn | 4.23 | 12.33 | | 100 |
| Francis Martin – Jeremy Turner | 0.00 | 11.96 | | 99 |
| Clay Ausley – Ken McNeil | 5.08 | 11.79 | | 98 |
| Tom Wilkerson | 3.03 | 11.76 | | 97 |
| Robbie Mayton – Kevin Bostic | 0.00 | 11.74 | | 96 |
| Michael Garner – Billy Shelton | 3.89 | 11.62 | | 95 |
| Rick Clements – Elton Clements | 2.96 | 11.45 | | 94 |
| William Hubbard – Brian Calloway | 3.20 | 11.27 | | 93 |
| Trey Nichols – Chad Fara | 0.00 | 11.11 | | 92 |
| Wayne Andrews – Will Zerull | 0.00 | 11.07 | | 91 |
| David Farrington – Barry Hopson | 3.16 | 11.02 | | 90 |
| Bryan Cottrell- Brandon Cottrell | 0.00 | 10.79 | | 89 |
| Denny Gilbert- Charlie Reed | 0.00 | 10.78 | | 88 |
| Monte Aleman- Kevin Aleman | 0.00 | 10.60 | | 87 |
| Mark Inman – Bryan Welch | 0.00 | 10.55 | | 86 |
| Kent Pearson – Jimmy Ferguson | 0.00 | 10.11 | | 85 |
| KC Pope – Eric Royster | 0.00 | 10.07 | | 84 |
| Tyler Trent- Richard Cooper | 0.00 | 10.02 | | 83 |
| Bobby Clark – Tommy Hughes | 0.00 | 9.76 | | 82 |
| Michael Trivette – Neil Eckburg | 0.00 | 9.57 | | 81 |
| Randy Black- Mikey Anderson | 0.00 | 9.45 | | 80 |
| Bryson Peed – Josh Fletcher | 0.00 | 9.13 | | 79 |
| David Bullock – Jimmy Henderson | 3.14 | 9.08 | | 78 |
| Billy Orr – John Parson | 0.00 | 9.05 | | 77 |
| Paul Rigsbee – Cory Leonard | 0.00 | 8.87 | | 76 |
| Donnie Avant – Randy Waterman | 2.73 | 7.99 | | 75 |
| Evan Flemmings – Matt Fuhr | 0.00 | 7.36 | | 74 |
| Charlie Gunter – Reggie Norflett | 0.00 | 4.93 | | 73 |
| Mike Cole – Marty Wilson | 0.00 | 4.77 | | 72 |
| Jake Osbourne – Keith Dutton | 0.00 | 3.49 | | 71 |
| Edward Townsend Dexter Hurley | 0.00 | 3.47 | | 70 |
| Gary Horsley – David Dehart | 0.00 | 0.00 | | 69 |
| Raeford Fairchild – Joe Smith | 0.00 | 0.00 | | 69 |
| David Avant – Pam Pellerin | 0.00 | 0.00 | | 69 |
| Mike McMillian | 0.00 | 0.00 | | 69 |
| Greg Lahr – Joseph Lahr | 0.00 | 0.00 | | 69 |
| James Sutton – Michale McLamb | 0.00 | 0.00 | | 69 |
| Jay Fogleman- Jeff Clifton | 0.00 | 0.00 | | 69 |
| Total Entrys | | | $3,840.00 | |
| BONUS $ | | | $1,650.00 | |
| Total Paid At Ramp | | | $4,935.00 | |
| Kerr 2019 FALL Final Fund | | | $475.00 | |
| 2020 CATT Championship/Phantom Fund | | | $50.00 | |
| 2019 Kerr FALL Final Fund Total | | | $995.00 | |
| 2020 CATT Championship/Phantom Total | | | $1,350.00 | |