TOURNAMENT DIRECTOR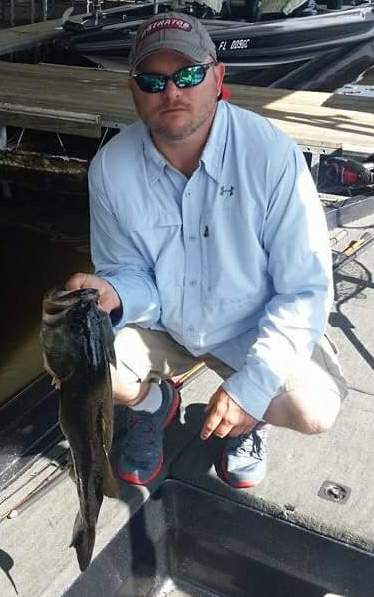 Derrick Mcleod, Sumter SC
TOURNAMENT INFO
2018 Santee Cooper Spring Membership - $35 Per Person
Reg CATT - $80 Entry   $90 at Ramp
CATT GOLD - $120 Entry  $130 at Ramp
Final - $120 Entry $130 at Ramp
Blastoff Position is Determined By Order Of Payment
Teams May Use a Sub & may fish solo and you can Qualify solo for the Santee Cooper Spring Final
2019 TOURNAMENT SCHEDULE
| | | |
| --- | --- | --- |
| EVENT | DATE | RAMP |
| Qualifier 1 | February 9 - $80 Entry | John C Land |
| Qualifier 2 | February 16 - $80 Entry | John C Land |
| Qualifier 3 | February 23 - $120 Gold | John C Land |
| Qualifier 4 | March 23 - $120 Gold | John C Land |
| Qualifier 5 | March 30 - $80 Entry | John C Land |
| Qualifier 6 | April 13 - $120 Gold | Blacks Camp |
| Qualifier 7 | May 4 - $80 Entry | John C Land |
| Final | May 11 - $120 Final | John C Land |
Enter 1 Santee Cooper Spring CATT Qualifier and be eligible to enter the Santee Cooper 2019 Spring Final!
2019 Phantom Outdoors Invitational
Presented by Phantom Outdoors Tournament Grade Fishing Apparel!

Enter 1 CATT Event in 2019 at any CATT Trail before July 27th and you're eligible to enter!
Bucksport Marina, Waccamaw River
July 27th
$5,000.00 1st Place
$200 Entry Fee
Platinum BONUS $100 (Paying 1 Place)
Gold BONUS $50 (Paying up to 3 Places)
Silver BONUS $25 (Paying up to 3 Places)
Blastoff # Determined by Order of Payment!
Qualify by Entering 1 CATT Event! (Finals Included)
Paying 2 BF Places
Paying 1 Place for Every 6 Teams Entered!
POINT STANDINGS
Mobile devices may scroll left and right
| | | | | | | | | | |
| --- | --- | --- | --- | --- | --- | --- | --- | --- | --- |
| Place | Team | February 9, 2019 | February 16, 2019 | February 23, 2019 | March 23, 2019 | March 30, 2019 | April 13, 2019 | May 4, 2019 | Total |
| 1 | Elvis Peagler - Brian Peagler | 99 | 102 | 102 | 102 | 103 | 100 | 107 | 715 |
| 2 | Patrick Williams-Ray Spence | 102 | 103 | 86 | 107 | 108 | 97 | 99 | 702 |
| 3 | Billy McIntosh - Rick McLean | 103 | 106 | 88 | 103 | 107 | 101 | 93 | 701 |
| 4 | Max Terry - Bugsy Terry | 89 | 101 | 100 | 105 | 0 | 85 | 110 | 590 |
| 5 | John Wilson - Cody Armstrong | 97 | 93 | 87 | 101 | 100 | 87 | 0 | 565 |
| 6 | Horace Scott Sr -Horace Scott Jr. | 100 | 92 | 91 | 0 | 102 | 88 | 90 | 563 |
| 7 | Larry Avins - Joe Avin | 0 | 109 | 94 | 100 | 0 | 103 | 97 | 503 |
| 8 | Mike Watson - Craig McFadden | 0 | 0 | 0 | 109 | 109 | 82 | 108 | 408 |
| 9 | Freddie & Clark Gibbs | 0 | 105 | 0 | 100 | 0 | 108 | 90 | 403 |
| 10 | Mario & Reid Colangelo | 0 | 0 | 103 | 0 | 104 | 89 | 94 | 390 |
| 11 | Steve Borton-Tristen Rodgers | 0 | 90 | 93 | 100 | 0 | 0 | 91 | 374 |
| 12 | Casey Warren - Nick Gant | 98 | 89 | 86 | 100 | 0 | 0 | 0 | 373 |
| 13 | Brian Scott - Brad Beatson | 110 | 108 | 109 | 0 | 0 | 0 | 0 | 327 |
| 14 | Joshua Brogden - Davy Goodman | 106 | 0 | 101 | 100 | 0 | 0 | 0 | 307 |
| 15 | Bucky DeBerry | 105 | 100 | 0 | 100 | 0 | 0 | 0 | 305 |
| 16 | TJ Anderson-Will Timmons | 0 | 99 | 104 | 0 | 101 | 0 | 0 | 304 |
| 17 | Hunter & Ashley Hoffmyer | 0 | 0 | 0 | 0 | 110 | 98 | 92 | 300 |
| 18 | Don Pendarvis - Bobby Gibbs | 101 | 96 | 99 | 0 | 0 | 0 | 0 | 296 |
| 19 | Lex Costas - Xan Costas | 0 | 0 | 0 | 108 | 0 | 82 | 101 | 291 |
| 20 | Hugh McCutchen-Jamie Blackburn | 0 | 95 | 0 | 100 | 0 | 0 | 90 | 285 |
| 21 | John Miller - John Miller II | 91 | 89 | 0 | 100 | 0 | 0 | 0 | 280 |
| 22 | Jamie Partee - Donnie McCord | 87 | 89 | 0 | 100 | 0 | 0 | 0 | 276 |
| 23 | Sean Lewis - Kevin Kane | 87 | 0 | 86 | 100 | 0 | 0 | 0 | 273 |
| 24 | Gary Elsey - Mark Hutson | 109 | 0 | 0 | 0 | 0 | 110 | 0 | 219 |
| 25 | Robert Clarke-Lonnie Jones | 107 | 110 | 0 | 0 | 0 | 0 | 0 | 217 |
| 26 | Mack Altman - Keith Tyler | 0 | 0 | 0 | 0 | 0 | 106 | 109 | 215 |
| 27 | Brent Waynick - Emmett McCauley | 0 | 0 | 0 | 110 | 0 | 104 | 0 | 214 |
| 28 | Ken Ellis - Chuck Howard | 0 | 0 | 105 | 0 | 0 | 0 | 105 | 210 |
| 29 | Ed Paul - Eddie Paul | 0 | 0 | 106 | 100 | 0 | 0 | 0 | 206 |
| 30 | Bruce Andrews - Mitchell Gordon | 0 | 0 | 96 | 100 | 0 | 0 | 0 | 196 |
| 31 | Chris Scott - Michael Barkley | 104 | 89 | 0 | 0 | 0 | 0 | 0 | 193 |
| 32 | Patrick Cook - Mack Cook | 0 | 0 | 0 | 0 | 0 | 94 | 98 | 192 |
| 33 | Dalton Hughes - Mason Miles | 0 | 0 | 0 | 100 | 0 | 0 | 90 | 190 |
| 34 | Carlton Tompkins-Joel Barfield | 0 | 97 | 86 | 0 | 0 | 0 | 0 | 183 |
| 35 | Greg Creech - Chris McDuffie | 0 | 0 | 0 | 100 | 0 | 82 | 0 | 182 |
| 36 | Chad Crosby - Steve Crosby | 0 | 0 | 89 | 0 | 0 | 91 | 0 | 180 |
| 37 | Dave Murdock-Justin Wood | 0 | 94 | 86 | 0 | 0 | 0 | 0 | 180 |
| 38 | Gordon Owens-Barry Simms | 0 | 91 | 0 | 0 | 0 | 83 | 0 | 174 |
| 39 | Marc Deschennes - Christy Medlin | 0 | 0 | 86 | 0 | 0 | 84 | 0 | 170 |
| 40 | James Clements - Fred Clements | 0 | 0 | 110 | 0 | 0 | 0 | 0 | 110 |
| 41 | Brent Riley - Nathan Burgess | 0 | 0 | 0 | 0 | 0 | 109 | 0 | 109 |
| 42 | Alex Dempsey | 108 | 0 | 0 | 0 | 0 | 0 | 0 | 108 |
| 43 | Ryan Thompson | 0 | 0 | 108 | 0 | 0 | 0 | 0 | 108 |
| 44 | Bunn Tyson-Thad Driggers | 0 | 107 | 0 | 0 | 0 | 0 | 0 | 107 |
| 45 | Tommy Williams - Thomas Hardwick | 0 | 0 | 107 | 0 | 0 | 0 | 0 | 107 |
| 46 | Anthony Driggers - Ryan Driggers | 0 | 0 | 0 | 0 | 0 | 107 | 0 | 107 |
| 47 | Juston Boykin - Nick Moye | 0 | 0 | 0 | 0 | 106 | 0 | 0 | 106 |
| 48 | Trez Wiensges - Wesley Bilton | 0 | 0 | 0 | 106 | 0 | 0 | 0 | 106 |
| 49 | Danny Lowery - Perry Hollway | 0 | 0 | 0 | 0 | 0 | 0 | 106 | 106 |
| 50 | Casey Stevens - Chapman Fountain | 0 | 0 | 0 | 0 | 105 | 0 | 0 | 105 |
| 51 | Wade Grooms | 0 | 0 | 0 | 0 | 0 | 105 | 0 | 105 |
| 52 | Randell-Westley Barrineau | 0 | 104 | 0 | 0 | 0 | 0 | 0 | 104 |
| 53 | Kevin Pierce -Neil Miles | 0 | 0 | 0 | 0 | 0 | 0 | 104 | 104 |
| 54 | Jamie Glasscock - Jim Smoak | 0 | 0 | 0 | 0 | 0 | 0 | 103 | 103 |
| 55 | Michael Craven - Brian Crosby | 0 | 0 | 0 | 0 | 0 | 102 | 0 | 102 |
| 56 | Freddie Gamble - Latonya Blanding | 0 | 0 | 0 | 0 | 0 | 0 | 102 | 102 |
| 57 | Brian Davis - David Leonard | 0 | 0 | 0 | 100 | 0 | 0 | 0 | 100 |
| 58 | Cole Poplin - Brian Flowers | 0 | 0 | 0 | 0 | 100 | 0 | 0 | 100 |
| 59 | Gary Pope - Mark Johnson | 0 | 0 | 0 | 0 | 100 | 0 | 0 | 100 |
| 60 | Jason Morse | 0 | 0 | 0 | 0 | 100 | 0 | 0 | 100 |
| 61 | Jay McCutchen - Josh Courtney | 0 | 0 | 0 | 0 | 100 | 0 | 0 | 100 |
| 62 | Jeremy Sessions | 0 | 0 | 0 | 0 | 100 | 0 | 0 | 100 |
| 63 | Josh & Jack Miller | 0 | 0 | 0 | 100 | 0 | 0 | 0 | 100 |
| 64 | Van Turbeville | 0 | 0 | 0 | 0 | 100 | 0 | 0 | 100 |
| 65 | Sam Hopkins - Craig Mathews | 0 | 0 | 0 | 0 | 0 | 0 | 100 | 100 |
| 66 | Todd Smith - Jamie Luccareli | 0 | 0 | 0 | 0 | 0 | 99 | 0 | 99 |
| 67 | Ben Smith | 0 | 98 | 0 | 0 | 0 | 0 | 0 | 98 |
| 68 | Bryan Miller - Austin Miller | 0 | 0 | 98 | 0 | 0 | 0 | 0 | 98 |
| 69 | Sean Skee - Scott Frye | 0 | 0 | 97 | 0 | 0 | 0 | 0 | 97 |
| 70 | Randall Miller - Mac Altman | 96 | 0 | 0 | 0 | 0 | 0 | 0 | 96 |
| 71 | Jason Miles | 0 | 0 | 0 | 0 | 0 | 96 | 0 | 96 |
| 72 | Keith Britt - Jerry Montjoy | 0 | 0 | 0 | 0 | 0 | 0 | 96 | 96 |
| 73 | James Gibbons - Bucky Black | 95 | 0 | 0 | 0 | 0 | 0 | 0 | 95 |
| 74 | Winston Martin - Neal Martin | 0 | 0 | 95 | 0 | 0 | 0 | 0 | 95 |
| 75 | Michael Campbell - Kevin Green | 0 | 0 | 0 | 0 | 0 | 95 | 0 | 95 |
| 76 | Thad Driggers - Steven Walker | 0 | 0 | 0 | 0 | 0 | 0 | 95 | 95 |
| 77 | Cody Brunson - Chris Dowey | 94 | 0 | 0 | 0 | 0 | 0 | 0 | 94 |
| 78 | Brett Mitchell | 93 | 0 | 0 | 0 | 0 | 0 | 0 | 93 |
| 79 | Jess Williams - Ryan Steen | 0 | 0 | 0 | 0 | 0 | 93 | 0 | 93 |
| 81 | Chapman Fountain | 0 | 0 | 0 | 0 | 92 | 0 | 0 | 92 |
| 82 | Buddy Holms | 0 | 0 | 92 | 0 | 0 | 0 | 0 | 92 |
| 83 | Wesley Bilton - Cary Bilton | 92 | 0 | 0 | 0 | 0 | 0 | 0 | 92 |
| 84 | Denny Stacey - Fisher Hartman | 90 | 0 | 0 | 0 | 0 | 0 | 0 | 90 |
| 85 | Mike King - Chris Crawford | 0 | 0 | 90 | 0 | 0 | 0 | 0 | 90 |
| 86 | Wayne Marlow - Winston Martin | 0 | 0 | 0 | 0 | 0 | 90 | 0 | 90 |
| 87 | Cody Fillyaw - Austin Powell | 0 | 0 | 0 | 0 | 0 | 0 | 90 | 90 |
| 88 | Danny Shanz | 0 | 0 | 0 | 0 | 0 | 0 | 90 | 90 |
| 89 | Grayson Cook - River Altman | 0 | 0 | 0 | 0 | 0 | 0 | 90 | 90 |
| 90 | Greg Walker - Ben Cox | 0 | 0 | 0 | 0 | 0 | 0 | 90 | 90 |
| 91 | Nathan Griffith - Jared Griffith | 0 | 0 | 0 | 0 | 0 | 0 | 90 | 90 |
| 92 | Rodney Reed - Jamie Yates | 0 | 0 | 0 | 0 | 0 | 0 | 90 | 90 |
| 93 | Todd Gaymon - Dave Rodgers | 0 | 0 | 0 | 0 | 0 | 0 | 90 | 90 |
| 94 | Brandon Patrick | 0 | 89 | 0 | 0 | 0 | 0 | 0 | 89 |
| 95 | Judd Bolen-Olin Hayden | 0 | 89 | 0 | 0 | 0 | 0 | 0 | 89 |
| 96 | Keith Shelton-Chris Rice | 0 | 89 | 0 | 0 | 0 | 0 | 0 | 89 |
| 97 | Zeke Lyman-Jason Morse | 0 | 89 | 0 | 0 | 0 | 0 | 0 | 89 |
| 98 | Bo Chappell | 88 | 0 | 0 | 0 | 0 | 0 | 0 | 88 |
| 99 | David Waldrop - Nick McPherson | 87 | 0 | 0 | 0 | 0 | 0 | 0 | 87 |
| 100 | Van Smith - Jason Smith | 87 | 0 | 0 | 0 | 0 | 0 | 0 | 87 |
| 101 | Brandon Evans - Morgan Strange | 0 | 0 | 86 | 0 | 0 | 0 | 0 | 86 |
| 102 | Bryce Mathews - Lin Coker | 0 | 0 | 86 | 0 | 0 | 0 | 0 | 86 |
| 103 | Bryson McCord - Ben Cox | 0 | 0 | 86 | 0 | 0 | 0 | 0 | 86 |
| 104 | Daniel Howell | 0 | 0 | 86 | 0 | 0 | 0 | 0 | 86 |
| 105 | Donnie McCord - Shawn Collins | 0 | 0 | 86 | 0 | 0 | 0 | 0 | 86 |
| 106 | Mike Edge - Dwayne Wilson | 0 | 0 | 0 | 0 | 0 | 86 | 0 | 86 |
| 107 | Will Timmons - Chris Coker | 0 | 0 | 0 | 0 | 0 | 82 | 0 | 82 |
| 108 | Ben Cox - Chase Marshall | 0 | 0 | 0 | 0 | 0 | 82 | 0 | 82 |
| 109 | Brian Crenshaw - Gregg Boone | 0 | 0 | 0 | 0 | 0 | 82 | 0 | 82 |
| 110 | Bryan Cook - Koby Harvey | 0 | 0 | 0 | 0 | 0 | 82 | 0 | 82 |
| 111 | Christopher McCormick | 0 | 0 | 0 | 0 | 0 | 82 | 0 | 82 |
| 112 | Jeffrey Fralick - Jame Glasscock | 0 | 0 | 0 | 0 | 0 | 82 | 0 | 82 |