TOURNAMENT DIRECTOR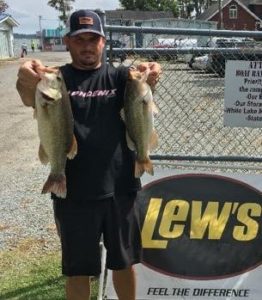 Chris Savage
bean_0577@yahoo.com
2018 SENC Spring Membership - $35 Per Person
Reg CATT - $80 Entry  $90 at Ramp
Final - $120 Entry $130 at Ramp  
100% Payback on Your Entry Fees!
Blastoff Position is Determined By Order Of Payment
Teams May Use a Sub
You may fish solo and you can Qualify solo for the SENC Final.
2018 SPRING SCHEDULE
Event
Date
Location
Qualifier 1
March 3
Lake Waccamaw - Dupree Ramp
Qualifier 2
March 31
White Lake - White Lake Marina
Qualifier 3
April 21
Sutton Lake - Sutton Ramp
Qualifier 4
May 19
Cape Fear - Elwells Ferry
Final
June 16
Cape Fear - Lock and Dam #1
Optional $25 Side Pot
Enter 1  SENC  Spring Qualifier & Qualify for the SENC Spring Final
Enter 3 SENC Spring Qualifiers to be eligible to enter the June 2-3, 2018 CATT Championship on Kerr - $10,000.00 1st Place!
If you entered 3 of the 2017 SENC Fall Qualifiers You're Qualified!
Click On Championship Link on Homepage For More Info!
You can qualify for 2 Championships!    
2017 FALL POINT STANDINGS
Mobile devices may scroll left and right
| | | | | | | |
| --- | --- | --- | --- | --- | --- | --- |
| Place | Team | July 29 | August 12 | September 2 | October 7 | Total |
| 1 | Chris Savage - Michael Campbell | 110 | 110 | 110 | 220 | 330 |
| 2 | Jason Dew - Tom Elliott | 0 | 0 | 0 | 218 | 218 |
| 3 | Austin Storms - Marc Moore | 109 | 107 | 0 | 0 | 216 |
| 4 | Mike Lanier - Norman Mullinax | 0 | 0 | 0 | 216 | 216 |
| 5 | Mike Garrell - Kristen Long | 0 | 0 | 0 | 214 | 214 |
| 6 | Adam Watts - Patrick Hollis | 0 | 0 | 0 | 212 | 212 |
| 7 | Charles Davis | 0 | 0 | 0 | 210 | 210 |
| 8 | Joe High | 0 | 0 | 0 | 210 | 210 |
| 9 | Roby Wyott - Hunter Willowby | 0 | 0 | 0 | 210 | 210 |
| 10 | Jermey Jacobs - Fisher Reeves | 0 | 109 | 0 | 0 | 109 |
| 11 | Christain Garrell - Eric Buie | 0 | 0 | 109 | 0 | 109 |
| 12 | Travis Preist - Ricky Preist | 108 | 0 | 0 | 0 | 108 |
| 13 | Shawn Hicken | 0 | 0 | 108 | 210 | 108 |
| 14 | Luke Nance - Ethan Watson | 0 | 106 | 0 | 0 | 106 |