Next Lake Anna CATT is this coming Saturday March 21 at Sturgeon Creek Marina!
John Doyle & Chris Mccann won with 5 bass weighing 16.53 lbs! They also weighed in the 2nd BF at 4.70 lbs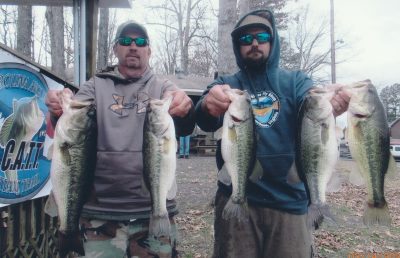 2nd Place went to Matt Martin & Chris Anthony with a limit weighing 15.35 lbs!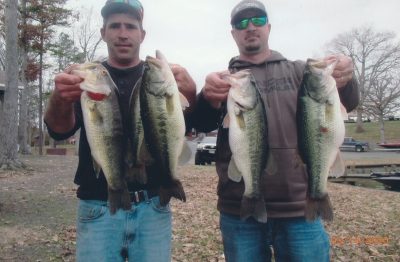 Josh Mullins & Jonathan Mullins claimed 3rd with 15.24 lbs!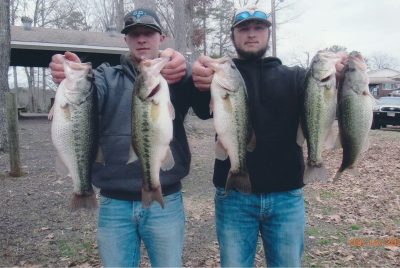 Gene Hall & Scott Taylor weighed the 1st BF at 7.49 lbs!

| | | | | |
| --- | --- | --- | --- | --- |
| 9 Teams | BF | Weight | Winnings | Points |
| John Doyle/Taylor Mccann | 4.70 | 16.53 | $627.00 | 110 |
| Matt Martin/Chris Anthony | 4.22 | 15.35 | $200.00 | 109 |
| Josh Mullins/Jonathan Mullins | 4.30 | 15.24 | | 108 |
| Andre Powell | 0.00 | 12.50 | | 107 |
| Gene Hall/Scott Taylor | 7.49 | 10.07 | $63.00 | 106 |
| Turner Hart/Dalton Purcell | 0.00 | 8.41 | | 105 |
| Paul Watson/ Melissa Watson | 3.04 | 6.60 | | 104 |
| Clayton Gatewood/Jeff Parish | 0.00 | 0.00 | | 103 |
| Nolan Broaddus/Kody Sekuterski | 0.00 | 0.00 | | 103 |
| Total Entrys | | | $1,080.00 | |
| BONUS $ | | | $100.00 | |
| Total Paid At Ramp | | | $890.00 | |
| Anna Spring 2020 Final Fund | | | $205.00 | |
| 2020 CATT Championship/Phantom Fund | | | $35.00 | |
| 2020 Anna Spring Final Fund Total | | | $205.00 | |
| 2020 CATT Championship/Phantom Fund Total | | | $3,040.00 | |