We had a great year on Lake Gaston! When all was said and done this past weekend the Gaston CATT Trail had paid back $36,560.00! Thanks to Cory Byrum for running a great series this past year! The 2022 Gaston schedules will be posted soon!
Shane Doughtie & Even White took 1st place at the Gaston Fall Final with 5 bass weighing 14.10 lbs! They collected $1,830.00!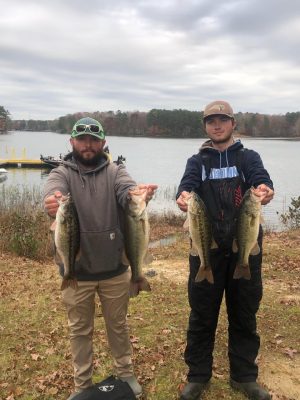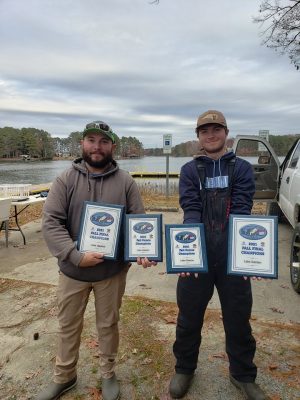 Robby Butler & Michael Midgette were 3rd with 12.13 lbs!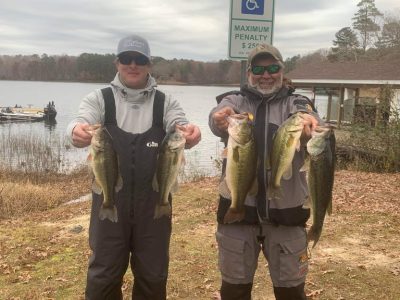 | | | | |
| --- | --- | --- | --- |
| Team | BF | Weight | Winnings |
| Shane Doughtie Evan White | 3.71 | 14.10 | $1,830.00 |
| John Edwards Jr Michael Bryant | 4.53 | 12.43 | $1,490.00 |
| Robby Butler Michael Midgette | 0.00 | 12.13 | $500.00 |
| Billy Shelton Michael Garner | 3.77 | 12.04 | $100.00 |
| Cory Byrum Jesse Medlin | 0.00 | 11.84 | |
| Kenneth Mcneil David Walton | 0.00 | 10.17 | |
| Scott Griffin Jay Allen | 3.45 | 10.16 | |
| Ivan Morris Janet Morris | 0.00 | 9.52 | |
| Chuck Murry Randy Groves | 3.24 | 7.30 | |
| Michael Pembolton | 0.00 | 7.27 | |
| Ricky Todd Jerry Cullom | 0.00 | 6.64 | |
| Carter Rowland James Joyner | 0.00 | 4.90 | |
| Chris Clary Joey Scott | 0.00 | 0.00 | |
| Rick Morris David Waak | 0.00 | 0.00 | |
| Michael Scott William Scott | 0.00 | 0.00 | |
| Total Entrys | | | $1,680.00 |
| Final Fund | | | $1,530.00 |
| 2021 Lake Gaston Final Total Payback | | | $3,920.00 |
| 2021 Lake Gaston FALL  Total Payback | | | $15,275.00 |
| 2021 GRAND TOTAL Lake Gaston Payback | | | $36,560.00 |