Next Lake Murray CATT is March 7 at Billy Dreher Island State Park!

For you guys fishing the 2020 CATT Lake Murray Spring Trail! The Academy Receipt Program will be in effect! Bring your Academy receipts to the Director on tourney day and for every $25 spent at Academy in the past year you will receive 2 raffle tickets! At the Lake Murray Spring Final we will draw for a $100, $75, $50 & $25 Academy Gift Card PLUS we will have Academy H2O products included in the drawing! Another great benefit when you shop Academy!
USE PHANTOMCATT15 AT CHECKOUT TO RECEIVE 15% OFF YOUR PHANTOM OUTDOORS TOURNAMENT GRADE FISHING APPAREL ORDER! CLICK ON THE PHANTOM LOGO TO BEGIN SHOPPING!
Scott Farmer & CJ Freeman weigh in 5 bass at 23.41 lbs and take 1st Place!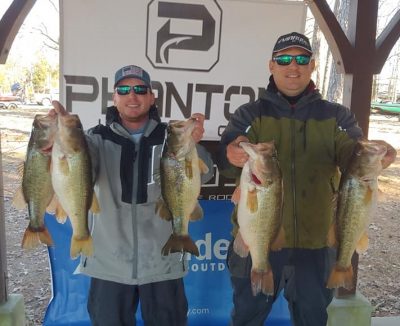 2nd went to Johnny Mayer & Chris Epting with 18.64 lbs!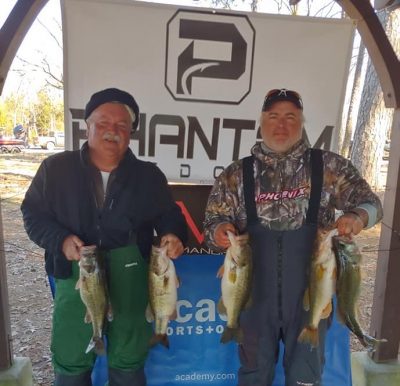 3rd TJ Francis &Roger Farr with 16.35 lbs!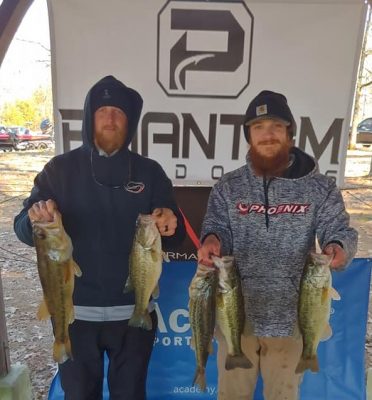 Academy Sports BF was brought in buy Rhet Manus & Doug Lown  weighing 6.29 lbs! They received a $25 Academy Gift Card!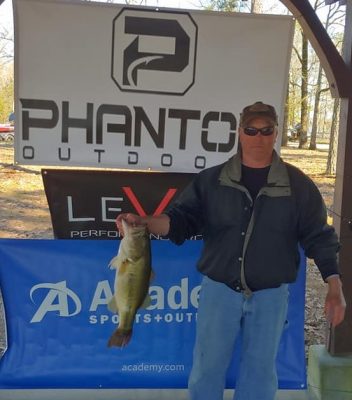 | | | | | |
| --- | --- | --- | --- | --- |
| 20 Teams | BF | Weight | Winnings | Points |
| Scott Farmer – CJ Freeman | 6.27 | 23.41 | $885.00 | 110 |
| Johnny Mayer – Chris Epting | 0.00 | 18.64 | $275.00 | 109 |
| Roger Farr – TJ Francis | 3.89 | 16.35 | $265.00 | 108 |
| Wade Amick – Zach Huffstetler | 4.23 | 15.86 | $100.00 | 107 |
| Doug Lown – Rhet Manus | 6.29 | 15.74 | $140.00 | 106 |
| Michael Maxfield | 4.94 | 14.77 | | 105 |
| Randall Driggers | 4.51 | 13.43 | | 104 |
| Peyton Frick – Cody Page | 3.25 | 11.52 | | 103 |
| Howard Stephens – Paul Ham | 0.00 | 9.10 | | 102 |
| Bobby Edwards – Phillip Stuuts | 4.62 | 7.81 | | 101 |
| Joe Quinn – Wyatt McBee | 3.57 | 6.65 | | 100 |
| Jason Ries – Roger McKee | 0.00 | 0.00 | | 99 |
| Chad Hastings | 0.00 | 0.00 | | 99 |
| Neil Huffstetler – Charle Sansbury | 0.00 | 0.00 | | 99 |
| Sam Browne – Casey Jackson | 0.00 | 0.00 | | 99 |
| Joseph Metts – Joe Lindler | 0.00 | 0.00 | | 99 |
| Emmentt Maynor – Karson Grubbs | 0.00 | 0.00 | | 99 |
| Elliott Lavisky – Ross Lowder | 0.00 | 0.00 | | 99 |
| Mark Krengel – Ron Wood | 0.00 | 0.00 | | 99 |
| Total Entrys | | | $1,520.00 | |
| BONUS $$ | | | $325.00 | |
| Total Paid At Ramp | | | $1,525.00 | |
| Murray Spring Final Fund | | | $270.00 | |
| 2020 CATT Championship Fund | | | $50.00 | |
| 2020 Murray Spring Final Fund | | | $935.00 | |
| 2020  CATT /Phantom Championship | | | $2,460.00 | |