Next Lake Murray FALL CATT is Nov 23rd! Remember guys entry is only $60 for this Trail! We had a great crowd for this one with 17 teams entered!
Tim Harmon & Emment Maynor brought is a great sack of bass weighing 19.07 lbs! They took home $495.00 for the win!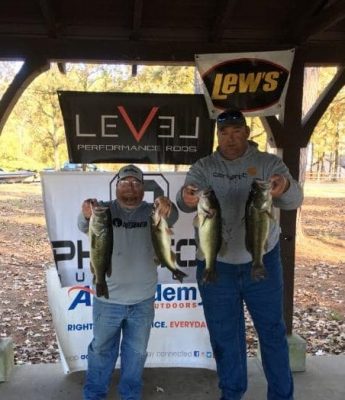 2nd went to Johnny Mayer & Scott Roton with 18.81 lbs! They weighed in the BF at 5.43 lbs and took home the BONUS $! All total – $570.00!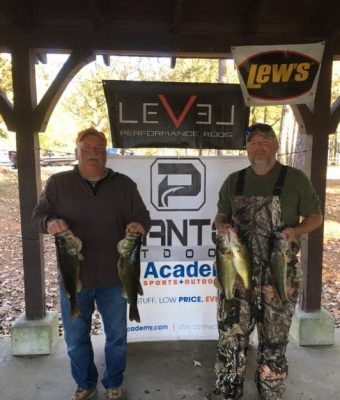 Darryl Starkey & Jamie Hyatt finished 3rd with 16.83 lbs!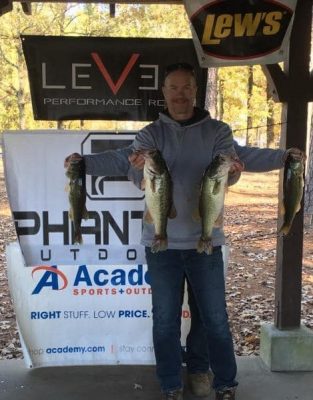 | | | | | |
| --- | --- | --- | --- | --- |
| 17 Teams | BF | Weight | Winnings | Points |
| Emment Maynor – Tim Harmon | 4.48 | 19.07 | $495.00 | 110 |
| Johnny Mayer – Scott Roton | 5.43 | 18.81 | $570.00 | 109 |
| Darryl Starkey – Jamie Hyatt | 4.46 | 16.83 | $95.00 | 108 |
| Doug Lown – Rhett Manus | 5.35 | 16.66 | | 107 |
| George Berry | 4.43 | 13.36 | | 106 |
| Bernie Dreher – Reese Turner | 3.89 | 13.12 | | 105 |
| Tom Rubbo – Clay Porter | 4.23 | 12.66 | | 104 |
| Phillip Anderson – Russ Padget | 3.07 | 11.29 | | 103 |
| John Mitchell – Claudell Monroe | 2.45 | 10.39 | | 102 |
| Larry Moss – Ray Petit | 2.69 | 10.10 | | 101 |
| Mark Richardson – Rhett Richardson | 2.69 | 8.17 | | 100 |
| Joseph Keplar – Robert Keplar | 1.34 | 1.34 | | 99 |
| Chad Hastings | 0.00 | 0.00 | | 98 |
| John Parker | 0.00 | 0.00 | | 98 |
| Chris Marshall – Travis England | 0.00 | 0.00 | | 98 |
| Tim Huffstetler – Neil Huffstetler | 0.00 | 0.00 | | 98 |
| Justin McGrady – Clayton Watts | 0.00 | 0.00 | | 98 |
| Total Entrys | | | $1,020.00 | |
| BONUS $$ | | | $300.00 | |
| Total Paid At Ramp | | | $1,160.00 | |
| Murray 2019 Fall Final Fund | | | $120.00 | |
| 2020 CATT Championship/Phantom Fund | | | $10.00 | |
| 2919 Murray Fall Final Fund Total | | | $430.00 | |
| 2020  CATT Championship/Phantom Fund Total | | | $1,660.00 | |