Remember guys, you only have to enter 3 Qualifiers to be eligible to enter the Norman Final! If you fished the Cage tournament that counted as a Qualifier! The last Norman Qualifier is Dec 29th at Pinnacle!
Also the money is listed at the bottom of each CATT event! This one was $80 per team entry and we pay back 1 place for every 5 teams entered! We paid back 2 places in the side pot as well!
Tim Chapman & Mike Stephens took the win and $1,125.00 with 14.04 lbs! Great job guys!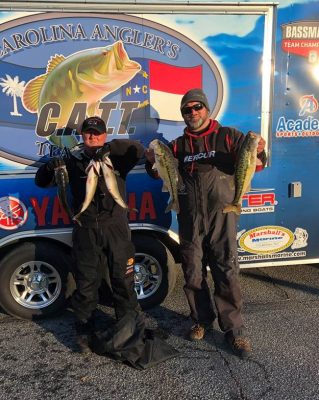 2nd went to Steve Addington with 13.97 lbs and Steve took home $600.00!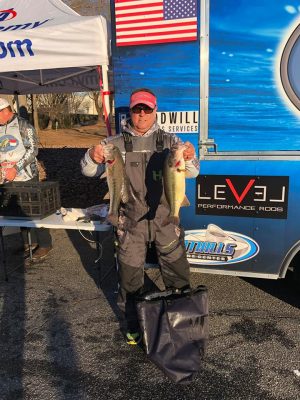 3rd went to Kelly Logan & Jason Wilson with 13.22 lbs and they took home $460.00!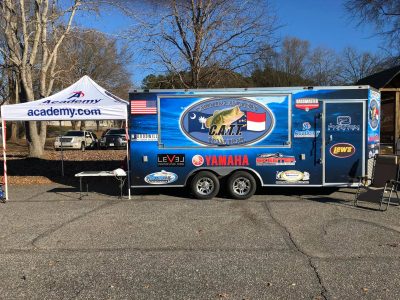 Check out the rest of the pics and we'll see you next Saturday!
| | | | | |
| --- | --- | --- | --- | --- |
| | Big | Total | Total | |
| 30 Teams | Fish | Weight | Winnings | Points |
| Tim Chapman – Mike Stephens | 3.55 | 14.04 | $1,125.00 | 110 |
| Steve Addington | 3.68 | 13.97 | $600.00 | 109 |
| Kelly Logan – Jason Wilson | 5.16 | 13.22 | $460.00 | 108 |
| Roger Hoover – Scott Hamrick | 3.62 | 13.17 | $130.00 | 107 |
| Mike Ray – Orlando Giles | 2.65 | 11.98 | $110.00 | 106 |
| Rick Poplin – Maurice Freeze | 2.26 | 11.29 | $100.00 | 105 |
| Dylan Fulk | 3.62 | 11.21 | | 104 |
| Craig Chambers – Derek Cummings | 3.39 | 11.09 | | 103 |
| Eric Vanglehoff – Nate McGeathy | 3.34 | 10.93 | | 102 |
| Thomas Hardwick – Tommy Williams | 0.00 | 10.35 | | 101 |
| Johnny Allen – Jerry Pruitt | 2.72 | 9.99 | | 100 |
| Scott & Dwight Beattie | 2.16 | 9.52 | | 99 |
| Kevin Toler – Rodney Lambert | 0.00 | 8.88 | | 98 |
| Jody & Jay Wright | 2.99 | 8.84 | | 97 |
| Aaron Jordan – Adam Locklear | 1.84 | 8.02 | | 96 |
| David & Kenny Beard | 0.00 | 7.65 | | 95 |
| Marty Williams – Robbie Walser | 0.00 | 7.46 | | 94 |
| Matt McBee – Charlie Brock | 3.68 | 7.44 | | 93 |
| Bill Grier | 0.00 | 6.66 | | 92 |
| Warren Ray – Ronnie Jennings | 2.70 | 2.70 | | 91 |
| Tony Nekson – Travis Kilby | 2.18 | 2.18 | | 90 |
| Errol Duckett – Zoie Vazquez | 1.14 | 1.14 | | 89 |
| Jimmy LeShock – Chris Baumgardner | 0.00 | 0.00 | | 88 |
| George Lauster – Bryan Forsee | 0.00 | 0.00 | | 88 |
| Dale Phillips | 0.00 | 0.00 | | 88 |
| Nick Miller – Brandon Brickweg | 0.00 | 0.00 | | 88 |
| Rob Spears | 0.00 | 0.00 | | 88 |
| CJ D'Addario – Robbie Fairweather | 0.00 | 0.00 | | 88 |
| Jason Land – Conner Usher | 0.00 | 0.00 | | 88 |
| Todd & Hayden Hammond | 0.00 | 0.00 | | 88 |
| Total Entrys | | | $2,400.00 | |
| BONUS $ | | | $650.00 | |
| Total Paid At Ramp | | | $2,525.00 | |
| Norman Fall 2018 Final Fund | | | $475.00 | |
| 2019 CATT Championship Fund | | | $50.00 | |
| 2018 Norman Fall Final Fund Total | | | $2,460.00 | |
| 2019  CATT Championship Fund Total | | | $2,390.00 | |