Next CATT Lake Norman Open is this coming Saturday at Pinnacle! $60 Entry & optional $25 Side Pot!
Here are the results from Saturday's CATT Open on Lake Norman. We had 22 boats in the field with 13 weighing in resulting in payouts for the TOP 4.
4th place belonged to

Ethan Hospedales

who brought 5 fish to the scales weighing a total of 11.60 LBS. This won Ethan a payday of $70.00.
3rd place was won by the Pierott family of

Michael Pierlott

and

Max Pierlott

weighing in 5 fish for a total weight of 12.05 LBS winning them a check for $115.00. Good job fellas!
2nd place was won by another family tandem. This was the duo of

Preston Harris

and

Stanton Harris

who brought us 5 alive for a total weight of 12.49 LBS. This won them a check for $225.00. Congratulations to you both!
Our BIG FISH winner for the day did not make out top five but brought in their personal best of 5.22 LBS. This was the team of

Lee Whitworth

and

Isaiah Lane

. They will get to split a check for $110.00 for their efforts. Great catch gents!
1st place was won with a 5 fish sack weighing in at 13.77 LBS. The team of

Chris Goodwin

and

Joey Randall

were the big winners for today bring home a check for 1st place of $450.00 PLUS their entry into the SIDE POT won them an additional 500.00 for a grand payday of $950.00. Awesome job by you both…BIG CONGRATS!
Next week is the last week of the season. We will be taking off out of Pinnacle Landing / Lake Norman at 6 AM returning at 1 PM for weigh in. It is $60.00 per boat with an optional $25.00 side pot. All are welcome so come on out and let's make the final spring tourney a good one!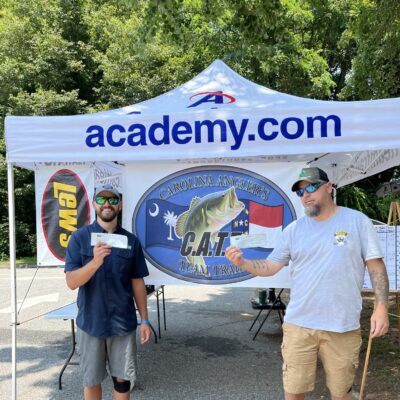 | | | | |
| --- | --- | --- | --- |
| Team | Bf | Weight | Winnings |
| CHRIS GOODWIN / JOEY RANDALL | 4.80 | 13.77 | $950.00 |
| PRESTON HARRIS / STANTON HARRIS | 4.28 | 12.49 | $225.00 |
| MICHAEL PIERLOTT / MAX PIERLOTT | 0.00 | 12.05 | $115.00 |
| ETHAN HOSPENDALES | 0.00 | 11.60 | $70.00 |
| JOEL PORTER | 5.00 | 10.64 | |
| DAVID BEARD / KENNY BEARD | 0.00 | 9.41 | |
| GARRETT SMITH / JASON JONES | 0.00 | 9.05 | |
| MATT BLANKENSHIP / COREY ROSINSKY | 0.00 | 8.70 | |
| LEE WHITWORTH / ISAIAH LANE | 5.22 | 7.89 | $110.00 |
| LEE HOYLE / ROBBY MORGAN | 0.00 | 6.45 | |
| KEVIN STOWELL SR / DAKOTA HARVEY | 0.00 | 6.28 | |
| MICHAEL GROVES | 0.00 | 3.90 | |
| CHAD MIDKIFF | 0.00 | 0.00 | |
| SAILOR WHITEHEAD / JEFF LOTIERZO | 0.00 | 0.00 | |
| JOEL NYSTROM / FONDA SETSER | 0.00 | 0.00 | |
| DANIEL RAY | 0.00 | 0.00 | |
| BRIAN WHITWORTH | 0.00 | 0.00 | |
| ZACH PRINGLE / KEITH WOOD | 0.00 | 0.00 | |
| CHUCK DOUTHIT / CHASE DOUTHIT | 0.00 | 0.00 | |
| T.J. RUMPF | 0.00 | 0.00 | |
| SAM HAYWOOD | 0.00 | 0.00 | |