Next Wateree Spring Qualifier is this Saturday at Molly Creek March 12h and is a Regular CATT Qualifier! $80 on line or $90 at the ramp!
Jacob & Jeff Norris made it 2 in a row with 5 bass weighing 21.62 lbs taking 1st Place and the Side Pot! $1,223.00 payday! Great job!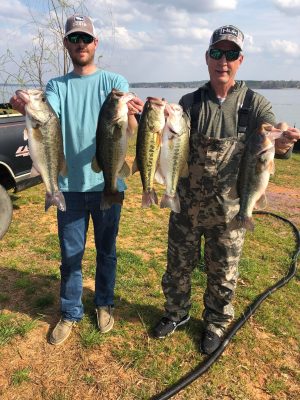 Mack Kitchens & Chad Gainey took 2nd with 18.30 lbs! They weighed in the Academy BF at 5.82 lbs! They also received a $25 Academy Gift Card!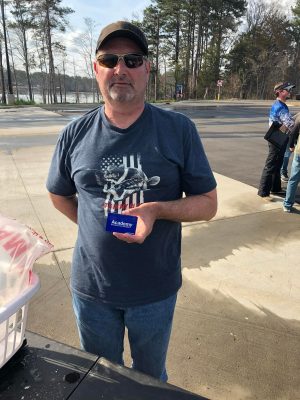 Donald Hinson & John Coward claimed 3rd with 16.26 lbs!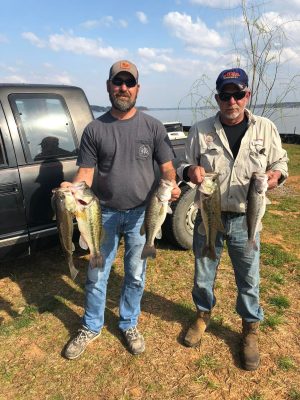 | | | | | |
| --- | --- | --- | --- | --- |
| Team | BF | Weight | Winnings | Points |
| Jeff Norris & Jacob Norris | 5.62 | 21.62 | $1,223.00 | 110 |
| Chad Gainey & Mack Kitchens | 5.82 | 18.30 | $512.00 | 109 |
| Donald Hinson & John Coward | 3.80 | 16.26 | $140.00 | 108 |
| Ray Dowey & Chanon Dowey | 4.47 | 15.21 | | 107 |
| Paul Wells & Craig Haven | 3.72 | 14.60 | | 106 |
| Robbie English & Scott Williams | 5.50 | 14.06 | | 105 |
| Phillip Anderson & Russ Padgett | 3.53 | 14.03 | | 104 |
| Jerry Freezon | 3.79 | 13.83 | | 103 |
| Shane Cantley & Michael Richardson | 3.17 | 13.68 | | 102 |
| Joshua Osment | 4.82 | 12.97 | | 101 |
| Brent Neal & Max Price | 3.94 | 11.92 | | 100 |
| Donnie Maiers & Dean Benfield | 3.68 | 11.12 | | 99 |
| Scott Floyd & Bob Weaver | 2.73 | 10.72 | | 98 |
| Butch Williams & David Ethridge | 3.04 | 9.97 | | 97 |
| Chad Sincliar & Caleb Conner | 0.00 | 0.00 | | 87 |
| Jay Adams & Tony C | 0.00 | 0.00 | | 87 |
| Total Entrys | | | $1,920.00 | |
| BONUS $ | | | $350.00 | |
| Total Paid At Ramp | | | $1,875.00 | |
| 2022 Wateree Spring Final Fund | | | $300.00 | |
| 2022 CATT Championship/Phantom Fund | | | $50.00 | |
| 2022 Wateree Spring Fund Total | | | $775.00 | |