Next Lake Wateree Summer CATT is May 28 and is a Gold $120 entry or $130 at the ramp!
Dearal Rodgers & Trent McLaughlin win with 5 bass weighing 18.60 lbs! They also weighed in the 2nd BF at 4.49 lbs and took home $1,016.00!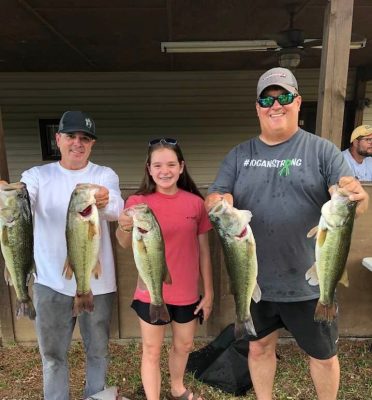 Butch Williams & Max Price earned 2nd Place with 5 bass weighing 17.69 lbs!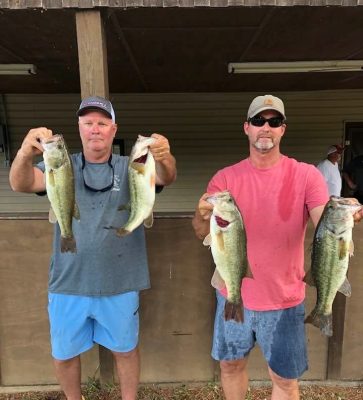 Paul Wells & Craig Haven finished 3rd with 15.98 lbs and weighed the 1st BF at 5.22 lbs!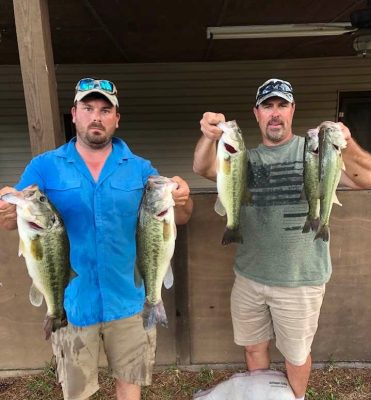 Jeff & Jacob Norris 4th with 15.07 lbs!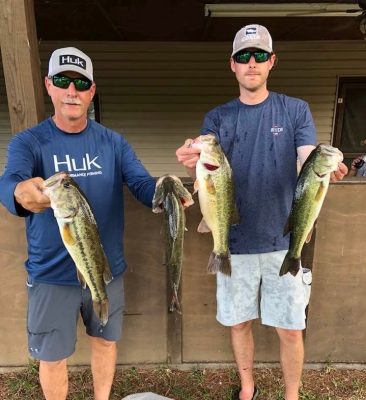 Wesley & Cole Jackson 5th with 14.53 lbs!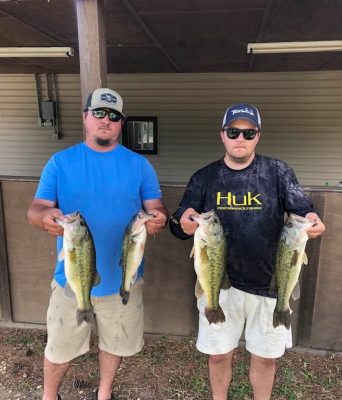 6th Place Ray & Chanon Dowey 14.50 lbs!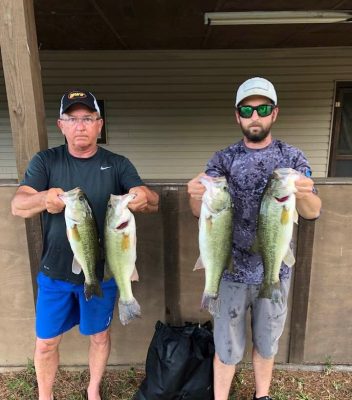 | | | | | |
| --- | --- | --- | --- | --- |
| Team | BF | Weight | Winnings | Points |
| Dearal Rodgers & Trent McLaughlin | 4.49 | 18.60 | $1,016.00 | 110 |
| Butch Williams & Max Price | 4.11 | 17.69 | $300.00 | 109 |
| Paul Wells & Craig Haven | 5.22 | 15.98 | $354.00 | 108 |
| Jeff Norris & Jacob Norris | 3.94 | 15.07 | $100.00 | 107 |
| Cole Jackson & Wesley Jackson | 3.78 | 14.53 | | 106 |
| Ray Dowey & Chanon Dowey | 3.47 | 14.50 | | 105 |
| Sawyer Sparrow & Stephen Sparrow | 3.84 | 12.20 | | 104 |
| Jason Ries & Roger McKee | 2.78 | 10.58 | | 103 |
| Chad Gainey & Mack Kitchens | 2.17 | 9.98 | | 102 |
| Jeff Reynolds & Scott Robinson | 3.22 | 9.93 | | 101 |
| Jerry Freezon | 2.02 | 7.97 | | 100 |
| Landon Jordon & Rhett Bowers | 4.28 | 7.44 | | 99 |
| Darrell Fenton | 0.00 | 5.93 | | 98 |
| Mark Healon & Ella Healon | 2.96 | 5.14 | | 97 |
| Scott Floyd | 0.00 | 2.10 | | 96 |
| Chad Rabon & Walt Almond | 0.00 | 0.00 | | 86 |
| Billy Hilton | 0.00 | 0.00 | | 86 |
| Jay Adams Jr. | 0.00 | 0.00 | | 86 |
| Ronald Figueroa & Robbert Nowlin | 0.00 | 0.00 | | 86 |
| Donnie Maiers & Dean Benfield | 0.00 | 0.00 | | 86 |
| Greg Atkinson & Brent Kelly | 0.00 | 0.00 | | 86 |
| Anthony Medlin | 0.00 | 0.00 | | 86 |
| Total Entrys | | | $1,760.00 | |
| BONUS $ | | | $450.00 | |
| Total Paid At Ramp | | | $1,770.00 | |
| 2022 Wateree Summer Final Fund | | | $340.00 | |
| 2022 CATT Championship/Phantom Fund | | | $50.00 | |
| 2022 Wateree Summer Fund Total | | | $340.00 | |