We wrapped up another great Spring Trail on Lake Murray with 22 teams entering the 2018 CATT Lake Murray Spring Final!
Rhet Manus & Doug Lown took 1st Place with 5 bass weighing up at a whopping 26.46 lbs! They also weighed in the 1st BF at 8.93 lbs and took home a total of $3,027.00! They received a Lews Mach Speed Spool Baitcast reel for that 1 bite!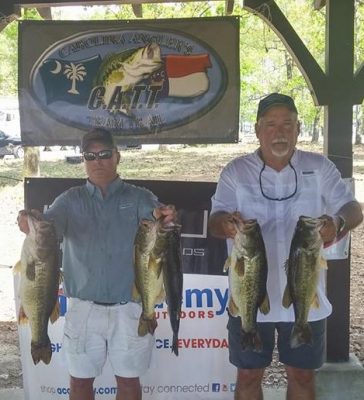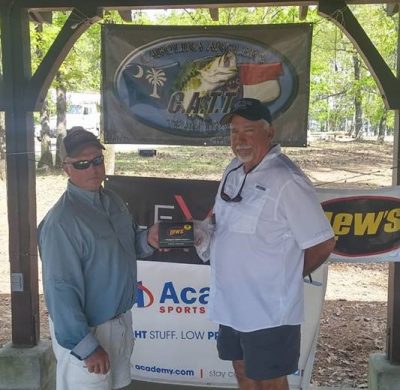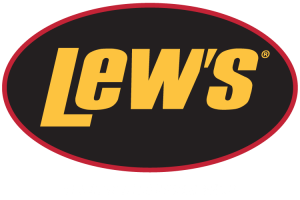 2nd Place went to Phillip Anderson & Russ Padgett with a limit weighing 22.28 lbs and they weighed in the 2nd BF at 6.20 lbs! Phillip & Russ took home $1,063.00 and a Lews Mach Speed Stick!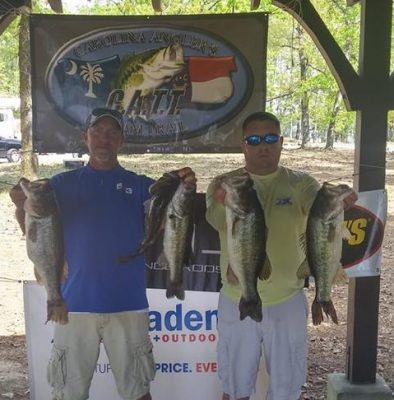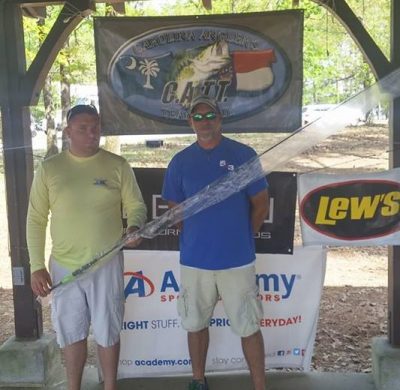 Clay Riddle & Dave Franklin took 3rd with 17.74 lbs!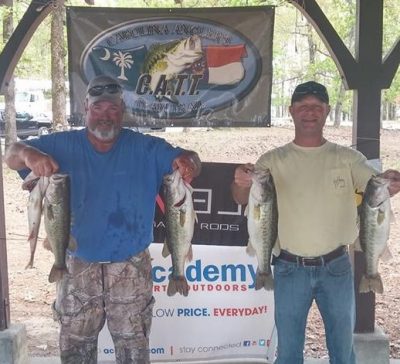 Terry Morris & Bobby Martin took home the Academy Gift Card!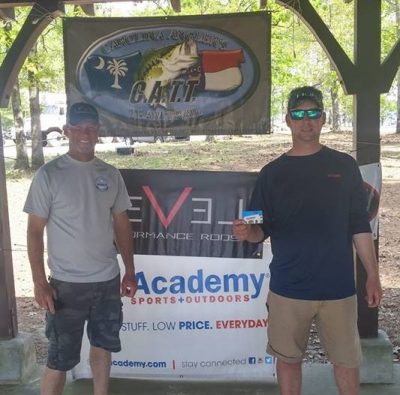 | | | | |
| --- | --- | --- | --- |
|   | Big | Total | Total |
| 22 Teams | Fish | Weight | Winnings |
| Doug Lown – Rhet Manus  Bonus $ & BF | 8.93 | 26.46 | $3,027.00 |
| Phillip Anderson – Russ Padgett  2nd BF | 6.20 | 22.28 | $1,063.00 |
| Clay Riddle – Dave Franklin | 4.57 | 17.74 | $300.00 |
| Tim Sox – Kevin Fulmer | 4.80 | 17.59 | $150.00 |
| Les Westberry – Dean Chapman | 4.20 | 16.88 | |
| Cody Page | 4.16 | 16.74 | |
| Bobby Martin – Terry Morris | 5.06 | 16.49 | |
| Keith Chichester – Baylen Moore | 4.05 | 15.86 | |
| Howard Stephens | 3.78 | 15.56 | |
| Will Anderson – Kyle Cannon | 0.00 | 15.32 | |
| Mark Krengel | 3.91 | 13.99 | |
| Roger Farr – David Farr | 3.34 | 13.79 | |
| Curtis Jones | 3.30 | 10.80 | |
| Mark Richardson | 3.71 | 9.94 | |
| Bobby McPherson – Wayne Blackwell | 3.74 | 6.86 | |
| Dan McGlohorn – Gary McGlohorn | 0.00 | 0.00 | |
| Tim Whitman – Christopher Shiflet | 0.00 | 0.00 | |
| Rtodd Garner – Robert Fowler | 0.00 | 0.00 | |
| Scott Martin – Ryan Martin | 0.00 | 0.00 | |
| Neil Huffstetler – Tim Huffstetler | 0.00 | 0.00 | |
| George Berry | 0.00 | 0.00 | |
| Zach Blair – Matt Arms | 0.00 | 0.00 | |
| Total Entrys |   |   | $2,520.00 |
| BONUS $ |   |   | $380.00 |
| Murray Spring Final Fund |   |   | $1,635.00 |
| Total Paid At Ramp Cash & Prizes |   |   | $4,945.00 |
| Total Paid Spring 2017 Lake Murray |   |   | $16,155.00 |