Next is the 2023 CATT Old North Spring Final June 17, 2023, on Falls Lake! 1st Place is a minimum of $8,000.00!
So far the 2023 Old North CATT Trail has paid back over $53,000.00 with the Old North Final still to come!
Only enter 4 Old North Spring Qualifiers to be eligible to enter the Old North Spring Final
Fishing solo or with a sub counts toward a Teams Final Qualification
Blastoff Position is Determined By Order Of Payment
You can fish the Old North Spring Final with your partner, solo or with a sub your team used in an Old North Spring Qualifier.
NO NEW SUBS AT THE OLD NORTH SPRING FINAL.
You may fish solo and you can Qualify solo for the Old North Spring Final.

2023 Old North Spring Point Winners Fish 2024 Old North Spring Qualifiers Free! That team will be Lucas Lobaugh – Jeremy Moody with a total of 669 points! Congrats guys!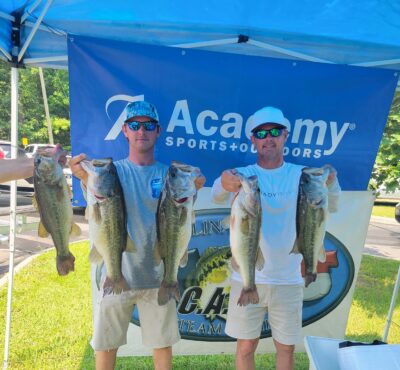 Park Beasley & Jeff Beasley win Falls Lake with 5 bass weighing 24.39 lbs and take home $3,000.00!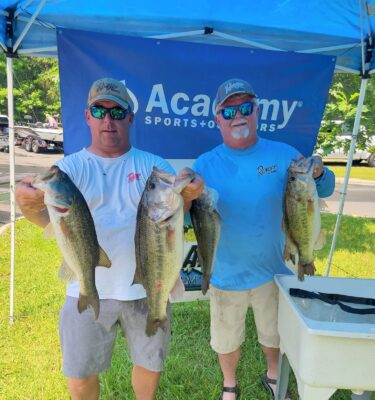 Brian Robson & Randy Robson claimed 2nd with 22.42 lbs PLUS brought in the 1st Academy BF at 7.29 lbs! They earned $2,005.00!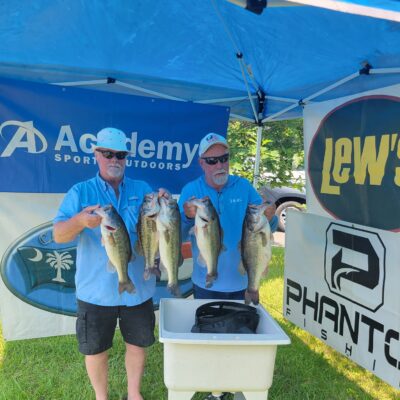 David & Bobby Matthews finished 3rd with 21.85 lbs! Add in the 2nd BF at 6.83 lbs and they collected $1,090.00!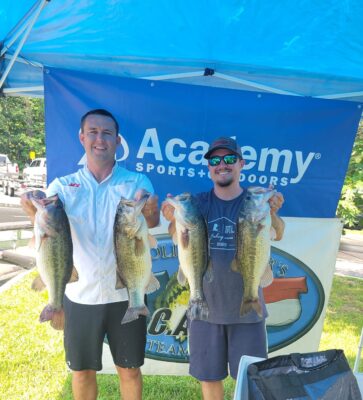 Paul Owens & Tyler Faggert 4th with 21.66 lbs!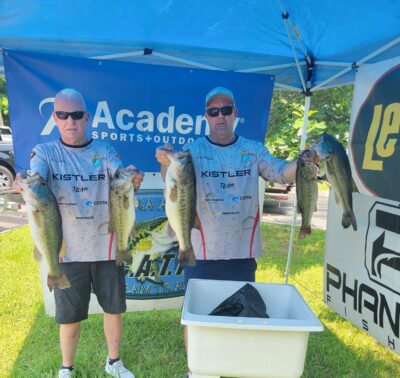 Larry Godfrey & John McClelland 5th Place with 20.34 lbs!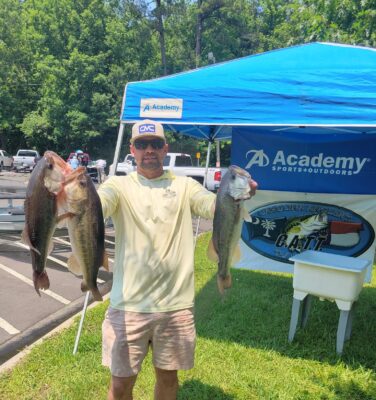 6th Place with 19.97 lbs! Chad Fara & Stephen Lasher!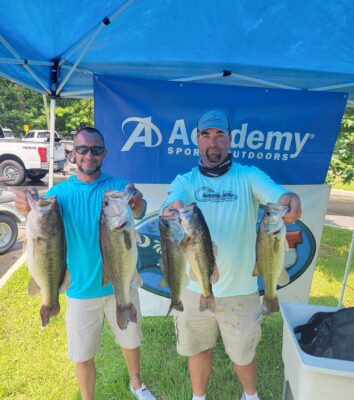 Jeremy Moody & Jesse Wise 7th Place 19.96 lbs!
Eric Schell & Todd Smith 8th with 17.75 lbs!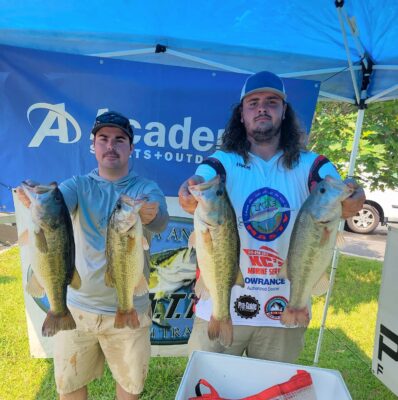 Tyler Goss and Owen Penhallow: 9th with 17.53 lbs!

Chad Craven – Ben Cannon last money spot with 16.93 lbs!
| | | | | |
| --- | --- | --- | --- | --- |
| Team | BF | Weight | Winnings | Points |
| Jeff Beasley – Park Beasley | 5.84 | 24.39 | $3,000.00 | 110 |
| Randy Robson – Brian Robson | 7.29 | 22.42 | $2,005.00 | 109 |
| David Matthews – Bobby Matthews | 6.83 | 21.85 | $1,090.00 | 108 |
| Paul Owens – Tyler Faggert | 0.00 | 21.66 | $500.00 | 107 |
| John McClelland – Larry Godfrey | 6.28 | 20.34 | $375.00 | 106 |
| Chad Fara – Steven Lasher | 5.24 | 19.97 | $270.00 | 105 |
| Lucas Lobaugh – Jeremy Moody | 6.30 | 19.96 | $220.00 | 104 |
| Eric Schell – Todd Smith | 5.17 | 17.75 | $175.00 | 103 |
| Owen Pinhollow – Tyler Goss | 5.47 | 17.53 | $140.00 | 102 |
| Chad Craven – Ben Cannon | 0.00 | 16.93 | $120.00 | 101 |
| James Wall – Michael Alverson | 5.30 | 16.69 | | 100 |
| Jonathan Holloway – Britton Oquin | 0.00 | 15.84 | | 99 |
| Justin Rhew | 4.96 | 15.80 | | 98 |
| Johnny Wilder – Michael Harris | 0.00 | 15.73 | | 97 |
| DJ MYSLINSKI – DEAN MYSLINKSI | 0.00 | 15.49 | | 96 |
| Bryson Peed – Mike Corbishley | 0.00 | 15.38 | | 95 |
| Larry Hipps – Dean Larison | 4.69 | 15.04 | | 94 |
| Alec Lower – Richard Lower | 0.00 | 14.25 | | 93 |
| Bud Whitt – Spencer Moody | 0.00 | 13.63 | | 92 |
| Jerry Marshburn – Chuck Byrd | 0.00 | 13.55 | | 91 |
| David Bullock – Jimmy Henderson | 0.00 | 13.52 | | 90 |
| Doug Johnson – Rob Payne | 0.00 | 13.32 | | 89 |
| Mike & Jonathan Rhew | 0.00 | 13.06 | | 88 |
| Billy West – Curtis Vaughn | 0.00 | 13.01 | | 87 |
| Josh Hooks – Tyler Trent | 0.00 | 12.59 | | 86 |
| Calton Hall – Jason Riggs | 0.00 | 12.54 | | 85 |
| David Hall – Dustin Hall | 4.39 | 12.21 | | 84 |
| Jerry Dean – Robert Dean | 0.00 | 12.18 | | 83 |
| Mark Williams – Tim Goad | 0.00 | 12.15 | | 82 |
| Travis Watson – Shannon Stewart | 0.00 | 11.43 | | 81 |
| Preston Jacobs – Adam Bessette | 0.00 | 11.25 | | 80 |
| Johnny Howard – William Howard | 0.00 | 10.91 | | 79 |
| Thomas Sheffer – Gavin Sheffer | 0.00 | 10.52 | | 78 |
| Mike Marchant – Bradley McLaurin | 6.53 | 10.28 | | 77 |
| David Walton – Justin Young | 0.00 | 10.16 | | 76 |
| Allen White – Mike Vaughn | 0.00 | 10.09 | | 75 |
| Roby Wyatt – Mike Prytula | 0.00 | 9.10 | | 74 |
| John Hutchins – Justin Hutchins | 0.00 | 8.77 | | 73 |
| Matthew Jones – Sonny Tindal | 0.00 | 8.59 | | 72 |
| David Farmer – Will White | 0.00 | 8.32 | | 71 |
| Todd Sumner – Rich Z | 4.58 | 8.18 | | 70 |
| Mike Salguero – Jared Hutchins | 0.00 | 7.77 | | 69 |
| Joe Osborne – John Piltcher | 0.00 | 0.00 | | 59 |
| Derick Wright – Dane Butler | 0.00 | 0.00 | | 59 |
| Doug Stallings – Seth Ellis | 0.00 | 0.00 | | 59 |
| Matthew Watkins – Avery Watkins | 0.00 | 0.00 | | 59 |
| Tony Fofi – Mark Mohler | 0.00 | 0.00 | | 59 |
| Justin Ingle – Lee Gay | 0.00 | 0.00 | | 59 |
| Bo Adams – Brian Fritts | 0.00 | 0.00 | | 59 |
| Billy Bledsoe – Brian McDonald | 0.00 | 0.00 | | 59 |
| Total Entrys | | | $7,000.00 | |
| BONUS $ | | | $1,950.00 | |
| Total Paid At Ramp | | | $7,875.00 | |
| Old North 2023 Spring Final Fund | | | $880.00 | |
| CATT | | | $50.00 | |
| 2023 CATT Championship Fund | | | $50.00 | |
| 2023 Old North Spring Final Fund Total | | | $6,400.00 | |