Next Old North CATT is June 8 at Kerr Lake! The Old North Points Race is tight! Next year we will go back to a 7 Qualifier format at the Old North! The Old North Points Winners will receivee free entry to all 2020 Old North Qualifiers which is a $1,120.00 value!
Scott Smith & Tony Woodard weigh in a heavy 5 bass limit weighing up at 28.12 lbs! Add in the BF at 7.43 lbs and they took home $2,717.00!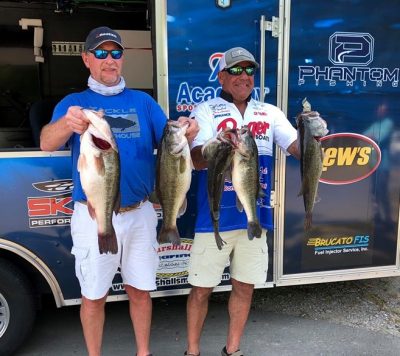 Mikey Marchant & Bradley Mclaurin 2nd with 23.57 lbs!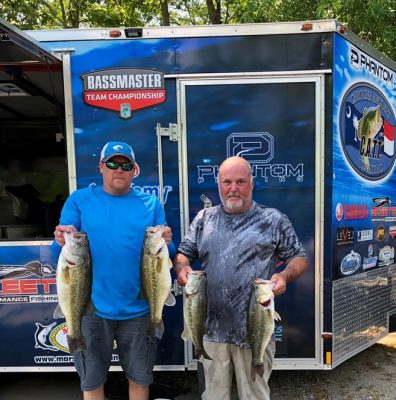 Brian West & Jonathan Holloway 3rd with 22.79 lbs!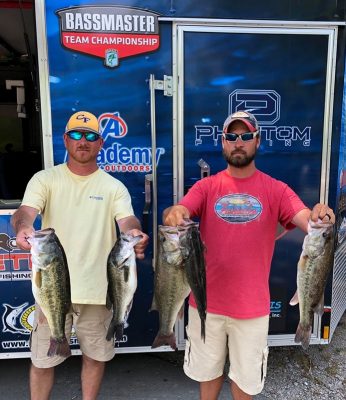 Todd Sumner & Chuck Bolton 4th 22.53 lbs!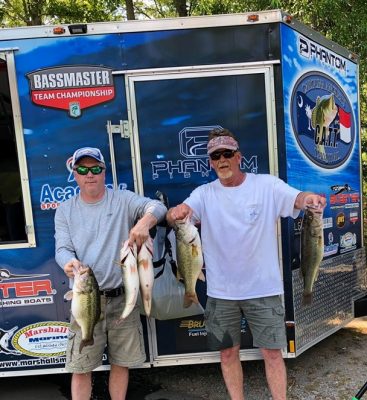 Chase & Tony Stanley 5th 20.86 lbs!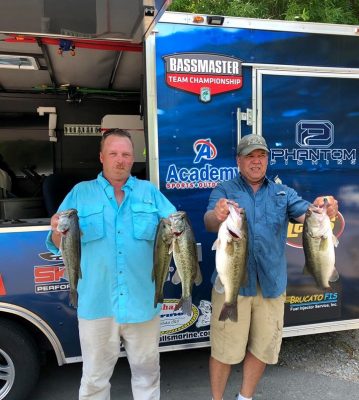 | | | | | |
| --- | --- | --- | --- | --- |
| | Big | Total | Total | |
| 32 Teams | Fish | Weight | Winnings | Points |
| Scott Smith / Tony Woodard | 7.43 | 28.12 | $2,717.00 | 110 |
| Bradley McLaurin / Mikey Marchant | 6.57 | 23.57 | $825.00 | 109 |
| Jonathan Holloway / Brian West | 6.38 | 22.79 | $855.00 | 108 |
| Todd Sumner / Chuck Bolton | 5.97 | 22.53 | $465.00 | 107 |
| Tony & Chase Stanley | 6.79 | 20.86 | $318.00 | 106 |
| Cody Amen / Colin Ford | 4.95 | 20.71 | $175.00 | 105 |
| Tom Saywell / Bradd Carrao | 6.04 | 20.47 | | 104 |
| Rick Dunstan / Josh Huff | 4.76 | 18.57 | | 103 |
| Jeff Shaw / James Richmond | 5.94 | 17.67 | | 102 |
| Tommy Marrow / Dennis Reedy | 4.77 | 16.62 | | 101 |
| Jeff Brown / Ron  Johnson | 4.53 | 16.26 | | 100 |
| Rich Z / Jamie Olive | 4.07 | 15.66 | | 99 |
| Charles Stewart / Matt Dean | 5.29 | 15.26 | | 98 |
| Todd Staker / Scott Woodson | 3.50 | 15.24 | | 97 |
| Chad Craven / Ben Cannon | 3.65 | 14.85 | | 96 |
| Alec & Richard Lower | 4.42 | 14.67 | | 95 |
| Keith & Dennis Allen | 5.77 | 14.27 | | 94 |
| Johnny & William Howard | 5.63 | 14.00 | | 93 |
| John McClland / Eric Schell | 4.49 | 13.32 | | 92 |
| Richard & Hunter Petty | 3.65 | 12.79 | | 91 |
| Jordan & Mark Young | 2.74 | 11.04 | | 90 |
| Mark Antonelli / Chris Inscoe | 0.00 | 9.01 | | 89 |
| Mike Cole / Vinson Nettles | 0.00 | 8.92 | | 88 |
| Terry Gibbons / Ronnie Thompson | 4.08 | 8.19 | | 87 |
| Tery Amen | 0.00 | 7.23 | | 86 |
| Randy Black / Mikey Anderson | 0.00 | 5.75 | | 85 |
| Kyle Romhor / Tim Cantwell | 0.00 | 1.78 | | 84 |
| Jeremy Sabo | 0.00 | 0.00 | | 83 |
| Eric Stainback | 0.00 | 0.00 | | 83 |
| Trevor Hulmam | 0.00 | 0.00 | | 83 |
| Mike White | 0.00 | 0.00 | | 83 |
| Zack Davenport  / Wesley Tucker | 0.00 | 0.00 | | 83 |
| Total Entrys | | | $5,120.00 | |
| BONUS $ | | | $1,020.00 | |
| Total Paid At Ramp | | | $5,355.00 | |
| Old North 2019 Spring Final Fund | | | $490.00 | |
| 2019 CATT Championship Fund | | | $50.00 | |
| 2019 Old North Spring Final Fund Total | | | $3,150.00 | |
| 2019 CATT Championship Fund Total | | | $5,565.00 | |