The third tournament went out of Pembroke Creek Saturday. Once again anglers were met with a cold front. If this weather trend continues we may have to consider renaming the Division the Cold Front CATT. But once again this group of anglers proved they could overcome the adverse conditions and bring good limits of bass to the scales. Setting themselves apart from the group was the team of Eddie Tipton and Bob Gomez who took home $2,200.00 for their win!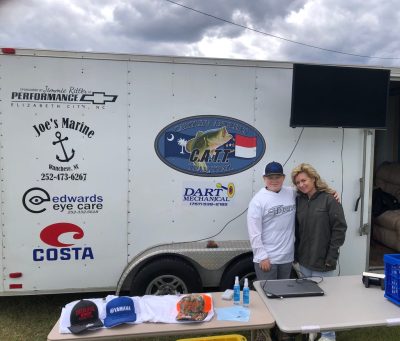 Our next Tournament will be April 23rd on Pasquotank River at Waterfront Park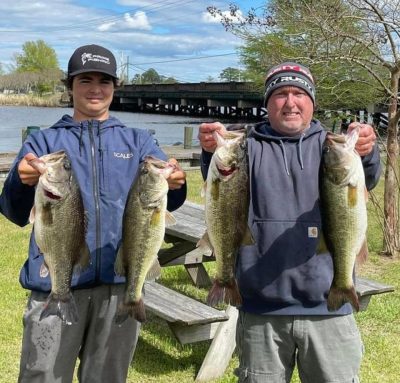 1. Eddie Tipton/Bob Gomez 21.10 lbs $2,200.00!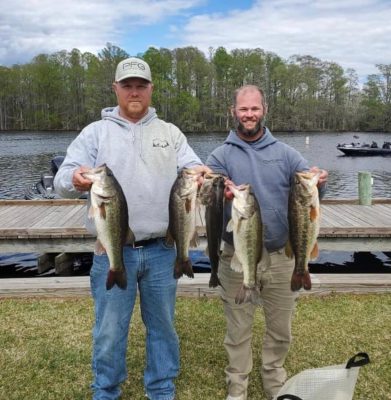 2. Michael Evans/Brian Meadows 19.12 lbs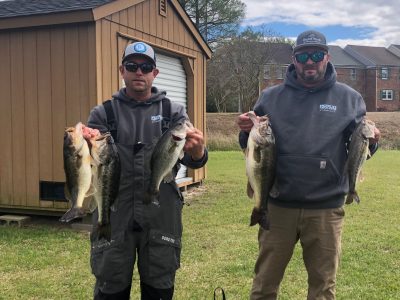 3. Ronnie Ketchum/Benny Hendricks 18.19 lbs 2nd big fish 6.94lb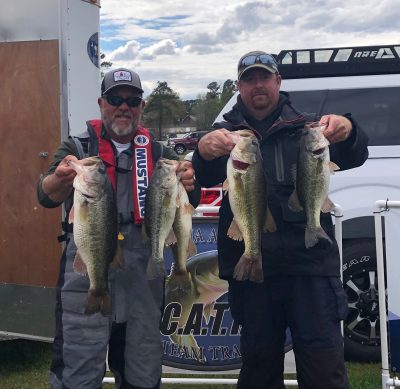 4. Chris Turner/Quintin Chappell 17.90 lbs 1st big fish 7.82 lbs
5. Wayne Hayes/Andy Morath 17.80 lbs
6. Billy Saunders/Brian Jackson 17.62 lbs
7. Scooter Lilley/Josh Powell 17.29 lbs
8.Tommy Houlroyd/Brandon Overton 15.91 lbs
Team
BF
Weight
Winnings
Points
Bob Gomez/ Eddie Tipton
5.47
21.10
$2,200.00
110
Brian Meadows/ Michael Evans
5.52
19.12
$750.00
109
Ronnie Ketchum/ Bennie Hendricks
18.19
$585.00
108
Chris Turner/ Quintin Chapell
7.82
17.90
$620.00
107
Wayne Hayes/ Andy Morath
5.76
17.80
$275.00
106
BillySaunders/ Brian Jackson
5.45
17.62
$200.00
105
Scooter Lilly/ Josh Powell
17.29
$150.00
104
Tommy Houlroyd/ Brandon Overton
4.32
15.91
$120.00
103
Mark Ingram/Bob Clarkson
5.60
15.89
102
Kenneth Moore
4.86
15.71
101
Mike Knapp/ Ben Knapp
5.80
15.47
100
Scott Rock/ Jaden Rock
15.47
99
Jason Law/ Terry Lovell
5.52
15.16
98
Gary Debrito/ Derek Goodman
4.76
14.60
97
Darren Saunders/ Dave Parker
0.00
14.30
96
Jobie Walker/ Chris Napier
4.62
14.21
95
Charlie Reed/ Jeremy Gatewood
0.00
14.11
94
Jordan Sanderlin/ Andrew George
0.00
14.08
93
Brandon Johnson/ Eugene Foushee
3.97
14.07
92
Brian Cooper/ Mike Evans
13.30
91
Ray Cobb/ Mark Moretz
4.96
13.25
90
Al Biagioni/ John LaRock
4.38
13.18
89
Zach Boslau/ Jimmie Ritter
5.26
12.75
88
Matt Anderson
5.75
12.39
87
Ken Kipler/ Shawn Dunlap
12.27
86
Tony Baker
0.00
11.56
85
Jim Dick/ Greg Dick
3.81
10.95
84
Doug Larson
0.00
10.82
83
Kirk Nixon/ Trent Nixon
0.00
10.32
82
Larry Barefoot/ Roy Acey
9.92
81
Douglas Hewitt/ William Heighter
0.00
9.77
80
David Shaffer/ Scott Shaffer
5.54
9.38
79
Tommy Banks/ Bubba Banks
0.00
8.88
78
David Ward/ Vern Townsend
4.62
8.44
77
Rick Plemmons/ Chris Pike
0.00
8.06
76
Steve Brickhouse/ James Williams
0.00
4.54
75
Joe Glazebrook/ Nick Koenig
0.00
0.00
65
Brian Richardson/ David Buchanan
0.00
0.00
65
Richard Browder/ Scottie White
0.00
0.00
65
Nicholas Meek/ Kyle Verkullen
0.00
0.00
65
Adam Britton/ Riley Britton
0.00
0.00
65
Total Entrys
$4,800.00
BONUS $
$600.00
Total Paid At Ramp
$4,900.00
2022 Tidewater Final Fund
$400.00
2022 CATT Championship Fund
$50.00
2022 Tidewater Final Fund Total
$1,265.00