Next Yadkin Qualifier is on High Rock Sept 10th!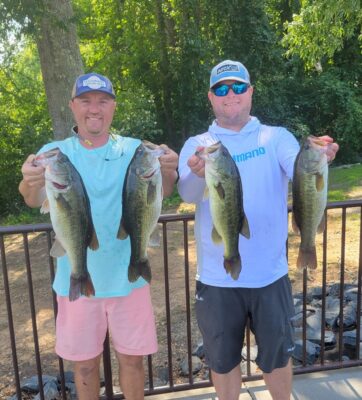 Ethan Cox & Cody Thompson took 1st Place with 5 bass weighing 15.81 lbs!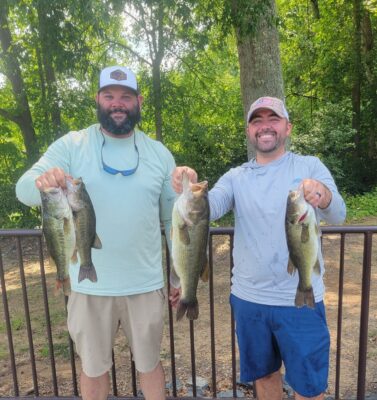 Brendon Yeckley & Alston Presson 2nd with 13.44 lbs and the Academy BF at 4.92 lbs!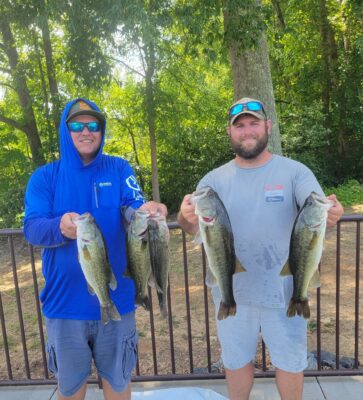 Bradley Culler & Cody Stegall 3rd Place 13.219 lbs!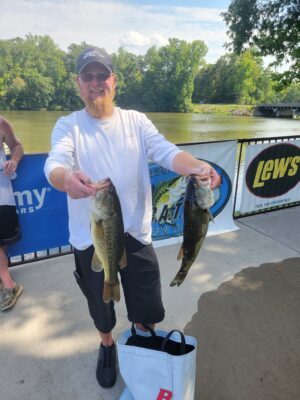 Travis Donaldson & Lee Endicott 4th 12.25 lbs!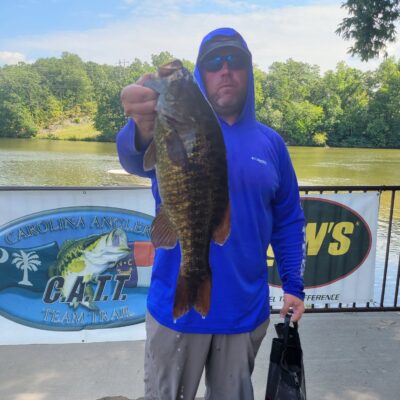 Zach Gooch with a nice Smallmouth!
| | | | | |
| --- | --- | --- | --- | --- |
| Team | BF | Weight | Winnings | Points |
| Ethan Cox – Cody Thompson | 4.00 | 15.81 | $981.00 | 110 |
| Brendon Yeckley – Alston Presson | 4.92 | 13.44 | $519.00 | 109 |
| Bradley Culler – Cody Stegall | 3.67 | 13.29 | $200.00 | 108 |
| Travis Donaldson – Lee Endicott | 0.00 | 12.25 | $110.00 | 107 |
| Jeremy Talbert – Matt Talbert | 5.36 | 11.92 | $275.00 | 106 |
| Zach Gooch – Derek Taylor | 3.61 | 11.31 | | 105 |
| RM Parker – Corey Gibson | 0.00 | 11.18 | | 104 |
| Chad Poteat – Maurice Freeze | 0.00 | 11.02 | | 103 |
| Austin Garland – Mike Smith | 3.29 | 10.22 | | 102 |
| Traydon Freeze – Mason Crayton | 0.00 | 9.15 | | 101 |
| Bud Ratliff – Corey Ricketts | 4.19 | 7.60 | | 100 |
| Mike Kiser – Matt Stanley | 2.66 | 7.39 | | 99 |
| Mike Allen – Thomas Furr | 0.00 | 6.47 | | 98 |
| Zach Schelsi – Zach Schelsi | 0.00 | 5.41 | | 97 |
| Richard McDuffie – Susan McDuffie | 0.00 | 3.79 | | 96 |
| Billy Marshall – Alan McKinney | 0.00 | 3.59 | | 95 |
| Kevin Stowell Sr – Dakota Harvey | 0.00 | 3.41 | | 94 |
| Robin Collins – Ronnie White | 0.00 | 0.00 | | 84 |
| Bart Hill – Wyatt Hill | 0.00 | 0.00 | | 84 |
| Mark Mohler – Greham Bosch | 0.00 | 0.00 | | 84 |
| Bryce Owen – Austin Lynthacun | 0.00 | 0.00 | | 84 |
| Jason Thomas | 0.00 | 0.00 | | 84 |
| Mike White – Tim West | 0.00 | 0.00 | | 84 |
| Lee Williams – Gavin Williams | 0.00 | 0.00 | | 84 |
| Robert Branson – Andrew Wilson | 0.00 | 0.00 | | 84 |
| Total Entrys | | | $2,000.00 | |
| BONUS $ | | | $575.00 | |
| Total Paid At Ramp | | | $2,085.00 | |
| CATT | | | $50.00 | |
| 2023 Yadkin Fall Final Fund | | | $390.00 | |
| 2023 CATT Championship Fund | | | $50.00 | |
| 2023 Yadkin Fall Final Fund Total | | | $810.00 | |