What a weekend! The 2019 CATT Championship was brought to you by Academy Sports! There are plenty of Academy Sports locations in South & North  Carolina to choose from! Academy offers great sporting goods for outdoor activities! Also you can find sporting good for all major and weekend sports! Please visit an Academy location in the Carolinas near you!
Huge thanks to  the good people at Vance County Tourism! What a great host and we will be back! If you're looking for a great lake to spend some time on visit Kerr Lake!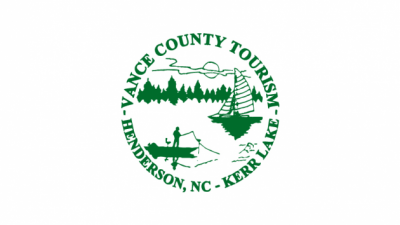 Also we would like to thank our other sponsors for being a huge part of CATT! Skeeter Boats, Lews, Phantom Outdoors, Level Performance Rods, BrucatoFIS, Goodwill Industries of NWNC, CarolinaPostFrame, wackyriggers.com and TH Marine!
We had some great help with the pictures! Brian & Danielle from THEBASSCAST.COM provided some excellent pictures at the weigh in! Thanks!!! Please visit THEBASSCAST.COM  for up to date tournament results and info! Click on the logo!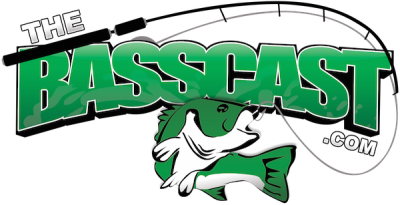 We had 176 teams enter the 2019 CATT Academy Championship on Kerr Lake launching from the Nutbush Ramp in Kerr State Park 10 minutes from Henderson, NC! Temperatures were in the high 60's am to high 80's pm and the fishing was HOT! The 1st day of competition saw 167 teams weigh in! We saw several bass over 5 lbs brought to the scales and several bags over 15 lbs! All in all the fishing was very good for the 1st weekend in June!
The fishing was excellent for Cavin Young of Prince George, Va and Rob Wells of Kill Devil Hills, NC…matter of a fact it paid very well! Day 1 they weighed in 16.21 lbs and followed up the 2nd Day with the heaviest bag of the 2-day Championship at 20.93 lbs! Their 2 Day total of 10 bass 37.14 lbs blew the field away and is the heaviest 2 Day weight we've had at Kerr since we started coming to Kerr in 2012! They also weighed in the 1st Lews BF at 6.85 lbs! 1st Place, 1st BF and add in the BONUS they collected $17,800.00 in tournament winnings…another $7,000 in the Triton Gold Program which totaled up to $24,800.00 in cash PLUS another $450.00 in prizes! $25,250.00 total! The prizes included 2 – $25 Academy Gift Cards and 2 Lews Mach Custom Speed Stick! After the dust had settled Cavin & Rob walked away with a boatload of $$$ for fishing the CATT Trial in 2019!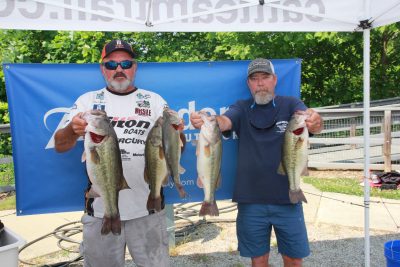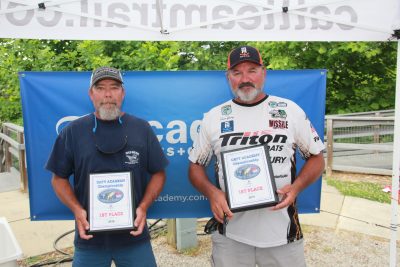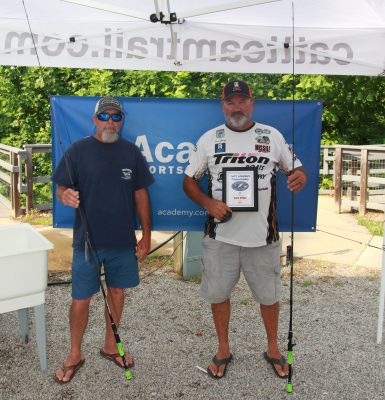 2nd Place went to Gerald Beck & Rodney Sorrel with a 2 Day total of 31.79 lbs! They earned $8,200.00!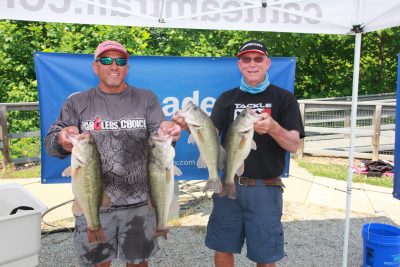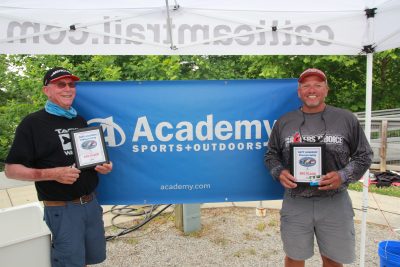 3rd place went to Tim Grein & Richard Cooper with a 10 bass limit weighing 29.94 lbs! They pocketed $4,100.00!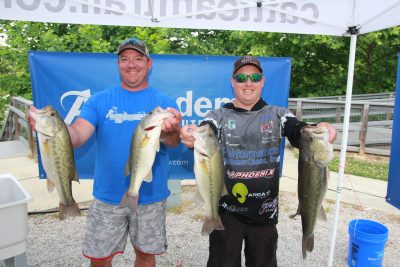 Coming in 4th were Maurice Oaks & Bryan Humphries with a 10 bass limit at 29.81 lbs! They earned $2,000.00!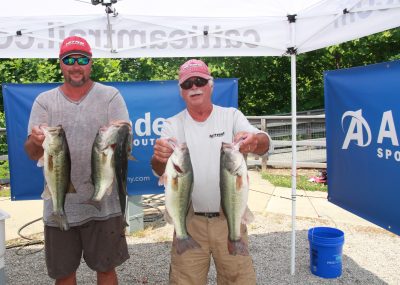 Steven Griggs & Jimmy Wall finished 5th with a 2 Day 10 bass limit at 29.39 lbs! They collected $3,200.00!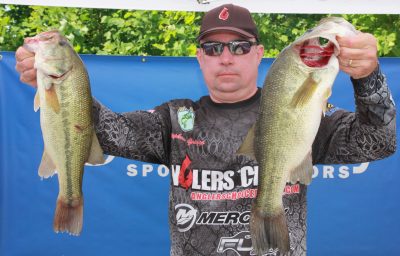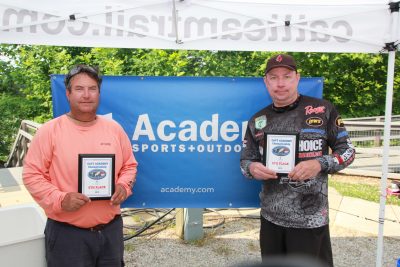 Josh & Mike Queen weighed in the 2nd BF at 6.26 lbs and received $750.00 PLUS 2 Lews Mach Custom Speed Sticks! Total value $1,150.00!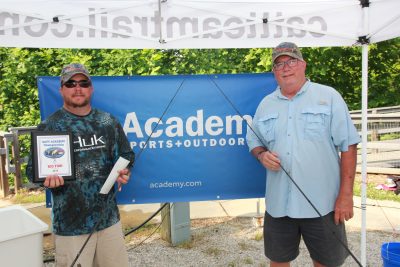 MORE PICTURES COMING!
| | | | | | | |
| --- | --- | --- | --- | --- | --- | --- |
| 176 Teams | BF | Day 1 WT | BF | Day 2 WT | Weight | Winnings |
| Cavin Young / Rob Wells | 5.61 | 16.21 | 6.85 | 20.93 | 37.14 | $25,250.00 |
| Rodney Sorrell / Gerald Beck | 0.00 | 14.92 | 0.00 | 16.87 | 31.79 | $8,200.00 |
| Richard Cooper / Tim Grein | 4.77 | 16.25 | 4.50 | 13.69 | 29.94 | $4,100.00 |
| Bryan Humphries / Maurice Oaks | 0.00 | 15.01 | 0.00 | 14.80 | 29.81 | $2,000.00 |
| Steven Griggs / Jimmy Wall | 5.28 | 15.46 | 0.00 | 13.93 | 29.39 | $3,200.00 |
| Mark Inman / Bryan Welch | 0.00 | 13.66 | 0.00 | 15.63 | 29.29 | $1,500.00 |
| Joshua Lanaville / Timothy Davis | 0.00 | 13.37 | 0.00 | 15.80 | 29.17 | $1,300.00 |
| Martin Villa / Tim Garner | 5.39 | 17.57 | 0.00 | 11.54 | 29.11 | $1,200.00 |
| Mark Cooper / Steve Roberts | 0.00 | 14.41 | 0.00 | 14.69 | 29.10 | $1,100.00 |
| David Wright / Jeff Coble | 0.00 | 14.66 | 0.00 | 14.21 | 28.87 | $1,000.00 |
| William Samples / Tyler Purcell | 0.00 | 12.34 | 5.10 | 16.50 | 28.84 | $900.00 |
| George Lambeth / Herby Young | 0.00 | 15.90 | 0.00 | 12.72 | 28.62 | $700.00 |
| Brian Calloway / William Howard | 0.00 | 11.13 | 0.00 | 17.35 | 28.48 | $600.00 |
| Andy Somonco / Wayne Andrews | 0.00 | 12.99 | 0.00 | 15.36 | 28.35 | $550.00 |
| Josh & Mike Queen | 0.00 | 12.08 | 6.26 | 16.16 | 28.24 | $750.00 |
| Don Potete / Johnny Allen | 0.00 | 13.42 | 0.00 | 14.68 | 28.10 | $475.00 |
| Scott Moser / Travis Owens | 5.23 | 15.01 | 0.00 | 12.81 | 27.82 | $450.00 |
| Monte Aleman / Kevin Aleman | 0.00 | 13.05 | 0.00 | 14.76 | 27.81 | $425.00 |
| Paul Smith / Jason Lloyd | 0.00 | 12.13 | 0.00 | 15.57 | 27.70 | $400.00 |
| Rick & Rick Tilley Jr. | 0.00 | 13.33 | 4.61 | 14.37 | 27.70 | $375.00 |
| Billy Dunn / Eddie Glascock | 5.73 | 14.64 | 0.00 | 12.93 | 27.57 | $350.00 |
| Jonathan Holloway / Brian West | 0.00 | 12.92 | 0.00 | 14.63 | 27.55 | $325.00 |
| Marty Williams / Jerry Bono | 0.00 | 15.86 | 0.00 | 11.64 | 27.50 | $300.00 |
| Chuck Murray / Randy Groves | 0.00 | 13.49 | 0.00 | 13.94 | 27.43 | $275.00 |
| Nathan Dellinger / Bron Hemphill | 0.00 | 14.68 | 0.00 | 12.72 | 27.40 | $260.00 |
| Jacob Lloyd / Tyler Trent | 0.00 | 16.09 | 0.00 | 11.28 | 27.37 | $240.00 |
| Kyle Whisnant / Jimbo Ball | 0.00 | 11.75 | 0.00 | 15.40 | 27.15 | $230.00 |
| Cameron Lineback / Chris Barnes | 0.00 | 13.97 | 0.00 | 13.11 | 27.08 | $220.00 |
| Jason Wilson / kelly Logan | 0.00 | 12.91 | 0.00 | 14.04 | 26.95 | |
| Adam & Gene Richardson | 0.00 | 12.03 | 0.00 | 14.71 | 26.74 | |
| Craig Chambers/Derrik Cummings | 0.00 | 13.40 | 0.00 | 13.19 | 26.59 | |
| Ivan Morris & Janet Morris | 0.00 | 13.02 | 0.00 | 13.40 | 26.42 | |
| Michael Chlomoudis/Marty Warren | 0.00 | 13.69 | 0.00 | 12.63 | 26.32 | |
| Shane Sharpe / Will Mitchell | 4.15 | 16.06 | 0.00 | 10.13 | 26.19 | |
| Maurice Freeze / Rick Poplin | 0.00 | 12.34 | 5.07 | 13.76 | 26.10 | |
| Flash Butts / Shawn Hammock | 0.00 | 11.41 | 0.00 | 14.26 | 25.67 | |
| Zack & Larry Whitt | 2.35 | 10.29 | 0.00 | 15.26 | 25.55 | |
| Edward Townsend / Gene Williams | 0.00 | 12.51 | 0.00 | 12.79 | 25.30 | |
| Jason & Danny Houchins | 0.00 | 12.20 | 0.00 | 12.93 | 25.13 | |
| Jim Sampson / Craig Ferguson | 0.00 | 11.88 | 0.00 | 12.99 | 24.87 | |
| Todd Farris / Josh Goode | 0.00 | 9.31 | 4.76 | 15.40 | 24.71 | |
| Randy Wedington / Ronnie Smith | 0.00 | 11.25 | 0.00 | 13.42 | 24.67 | |
| Allen White / Mike Vaughn | 0.00 | 12.13 | 0.00 | 12.53 | 24.66 | |
| Jeff Hayden / Benny Cannon | 4.56 | 12.62 | 0.00 | 11.94 | 24.56 | |
| Marcus Leech / Tim Chapman | 0.00 | 11.81 | 0.00 | 12.62 | 24.43 | |
| Paul Kemp / Scooter Lilly | 0.00 | 11.40 | 0.00 | 12.91 | 24.31 | |
| Cory Leonard / Paul Rigsbee | 4.52 | 11.31 | 0.00 | 12.85 | 24.16 | |
| Roy & April Barrow | 4.15 | 13.64 | 0.00 | 10.46 | 24.10 | |
| Jason Dew / Tom Elliott | 0.00 | 13.71 | 0.00 | 10.28 | 23.99 | |
| Scott Faulkner / Tony Brewer | 0.00 | 11.36 | 0.00 | 12.62 | 23.98 | |
| Mike Marchant / Bradley McLaurin | 0.00 | 12.97 | 0.00 | 10.94 | 23.91 | |
| Keith Joyce / Mark Robertson | 0.00 | 12.69 | 0.00 | 11.09 | 23.78 | |
| Dan Funderburke / Butch Drew | 4.64 | 12.95 | 0.00 | 10.82 | 23.77 | |
| Shane Douthie / Wesley Cashwell | 0.00 | 10.72 | 4.82 | 12.83 | 23.55 | |
| Tony & Chase Stanley | 0.00 | 13.01 | 0.00 | 10.48 | 23.49 | |
| Will Vickery / Dee Kidd | 4.51 | 12.88 | 0.00 | 10.28 | 23.16 | |
| Thomas Simmerson / Doug Young | 0.00 | 11.28 | 0.00 | 11.85 | 23.13 | |
| Scott Woodson / Todd Staker | 0.00 | 10.45 | 0.00 | 12.64 | 23.09 | |
| David & Brent Enos | 4.50 | 13.33 | 0.00 | 9.58 | 22.91 | |
| Tommy Marrow / Dennis Reedy | 0.00 | 12.91 | 0.00 | 9.93 | 22.84 | |
| Jake Osborn / Keith Dutton | 0.00 | 11.08 | 5.39 | 11.75 | 22.83 | |
| Evan Fleming / Matt Fuhr | 0.00 | 10.36 | 0.00 | 12.43 | 22.79 | |
| Ray Griffin / Francis Martin | 0.00 | 10.01 | 0.00 | 12.41 | 22.42 | |
| Billy Bledsoe / Brian McDonald | 0.00 | 11.06 | 0.00 | 11.17 | 22.23 | |
| Tim Thurman / Thomas Jarrell | 0.00 | 13.61 | 0.00 | 8.57 | 22.18 | |
| Richard Owen / Austin Minton | 0.00 | 11.22 | 0.00 | 10.92 | 22.14 | |
| Ray Hogge / Donnie Daniel | 0.00 | 9.96 | 0.00 | 12.14 | 22.10 | |
| Steven Coleman / Aaron Caldwell | 0.00 | 15.04 | 0.00 | 7.04 | 22.08 | |
| Orlando Giles / Mike Ray | 0.00 | 9.62 | 0.00 | 12.44 | 22.06 | |
| Terry Amen / Chuck Darden | 0.00 | 11.82 | 0.00 | 10.23 | 22.05 | |
| Tommy Morgan / Brian Meyers | 0.00 | 12.76 | 0.00 | 9.24 | 22.00 | |
| Justis Bobbit / Cullen Ports | 0.00 | 11.90 | 0.00 | 10.04 | 21.94 | |
| Mike Davis / Dean Talbert | 0.00 | 10.57 | 0.00 | 11.22 | 21.79 | |
| Ronnie & Jim Britt | 0.00 | 12.52 | 0.00 | 9.17 | 21.69 | |
| Elvis & Brian Peagler | 0.00 | 7.98 | 0.00 | 13.65 | 21.63 | |
| Patrick & Kevin Williams | 0.00 | 11.79 | 0.00 | 9.75 | 21.54 | |
| Chris Brummett / Ben Hudson | 0.00 | 11.54 | 0.00 | 9.97 | 21.51 | |
| Donnie Avant / Randy Waterman | 0.00 | 9.28 | 0.00 | 12.17 | 21.45 | |
| Glenn Long / Vern Fleming | 0.00 | 11.60 | 0.00 | 9.83 | 21.43 | |
| Brian Kirkpatrick / Eddie Fore | 0.00 | 10.38 | 0.00 | 11.02 | 21.40 | |
| Matt Powers / Justin Medeiros | 0.00 | 8.97 | 0.00 | 12.37 | 21.34 | |
| Carl Enos / Derek Moyer | 0.00 | 9.43 | 0.00 | 11.73 | 21.16 | |
| Jimmy Conrad / James Condrey | 0.00 | 9.96 | 0.00 | 11.08 | 21.04 | |
| David Jones / Tony Toombs | 0.00 | 11.07 | 0.00 | 9.84 | 20.91 | |
| Don Gregg / Kurt Hilderbrand | 0.00 | 10.25 | 0.00 | 10.64 | 20.89 | |
| Jamie Olive / Rich Szczerbala | 0.00 | 11.46 | 0.00 | 9.33 | 20.79 | |
| Stump Bledsoe / Glenn Elliott | 0.00 | 16.04 | 0.00 | 4.71 | 20.75 | |
| Ronnie Thompson / Terry Gibons | 0.00 | 10.58 | 0.00 | 10.16 | 20.74 | |
| Mark Antonelli / Chris Inscoe | 0.00 | 12.22 | 0.00 | 8.28 | 20.50 | |
| Randy Black / Mikey Anderson | 0.00 | 11.32 | 0.00 | 9.13 | 20.45 | |
| Robin Collins / Ronnie White | 0.00 | 11.40 | 0.00 | 8.88 | 20.28 | |
| Mike Ellis / Mark Faircloth | 0.00 | 6.90 | 0.00 | 13.34 | 20.24 | |
| Jim Freeland / Chad Child | 0.00 | 8.12 | 0.00 | 11.95 | 20.07 | |
| Thomas Vickers / Brian Huskins | 0.00 | 12.84 | 0.00 | 7.13 | 19.97 | |
| Chris Baumgardner/Jimmy Leshock | 0.00 | 11.16 | 0.00 | 8.79 | 19.95 | |
| Joseph & Chris Dehart | 0.00 | 15.55 | 0.00 | 4.36 | 19.91 | |
| James Griffin / Robert Whitehurst | 0.00 | 9.34 | 0.00 | 10.56 | 19.90 | |
| Ellis Jones / Brian Cotrell | 0.00 | 9.61 | 0.00 | 10.21 | 19.82 | |
| James & Delores Davis | 0.00 | 9.72 | 0.00 | 10.04 | 19.76 | |
| Aaron Jordan / Jake Frye | 0.00 | 9.42 | 0.00 | 10.26 | 19.68 | |
| Keith Westrick / Jonathan Foster | 0.00 | 15.58 | 0.00 | 3.96 | 19.54 | |
| Randy Carr / Mike Eggers | 0.00 | 10.97 | 0.00 | 8.54 | 19.51 | |
| Greg Creech / Chris McDuffie | 0.00 | 8.25 | 4.73 | 11.23 | 19.48 | |
| Brendon & Jeremy Kent | 0.00 | 8.12 | 0.00 | 11.35 | 19.47 | |
| Michael Toney | 0.00 | 9.20 | 0.00 | 10.22 | 19.42 | |
| K C Choosakul / Tim Pinhollow | 0.00 | 9.35 | 0.00 | 10.05 | 19.40 | |
| Tim Wiltfong / Jay Fuhr | 0.00 | 9.22 | 0.00 | 9.96 | 19.18 | |
| Ryan & Carter Harrell | 0.00 | 9.83 | 0.00 | 9.29 | 19.12 | |
| Jay & Tate Fogleman | 0.00 | 8.06 | 0.00 | 11.03 | 19.09 | |
| Larry Inman / Garth Joyce | 0.00 | 9.15 | 0.00 | 9.76 | 18.91 | |
| Zeb West / Harold Herring | 0.00 | 8.97 | 0.00 | 9.76 | 18.73 | |
| Dennis & Keith Allen | 0.00 | 9.21 | 0.00 | 9.51 | 18.72 | |
| Walt Bowen / Mark Jackson | 0.00 | 9.02 | 0.00 | 9.64 | 18.66 | |
| Charlie Reed | 0.00 | 8.48 | 0.00 | 9.94 | 18.42 | |
| Matthew Little / Derrick Bowden | 0.00 | 9.69 | 0.00 | 8.37 | 18.06 | |
| Mike White / Dana Moore | 0.00 | 8.21 | 0.00 | 9.76 | 17.97 | |
| Ken McNeil / Clay Ausley | 0.00 | 8.79 | 0.00 | 9.15 | 17.94 | |
| Bubba Haywood / David Frye | 0.00 | 12.20 | 0.00 | 5.59 | 17.79 | |
| JT Palmore / Bobby Crisman | 0.00 | 7.66 | 0.00 | 10.06 | 17.72 | |
| Ryan Parnell / Dustin Guthrie | 0.00 | 10.56 | 0.00 | 6.66 | 17.22 | |
| Dennis Duncan / Mark Morez | 0.00 | 3.20 | 5.83 | 13.24 | 16.44 | |
| Jeremy Gatewood / Jared Allbritten | 0.00 | 5.90 | 0.00 | 10.22 | 16.12 | |
| Kevin & Joey Dawson | 4.92 | 16.01 | 0.00 | 0.00 | 16.01 | |
| Mack Lowe / Robert Walser | 0.00 | 5.18 | 0.00 | 10.04 | 15.22 | |
| Michael Cox / Michael Cardin | 4.55 | 13.41 | 0.00 | 0.00 | 13.41 | |
| Sam Terry / Jacob Lee | 0.00 | 12.87 | 0.00 | 0.00 | 12.87 | |
| Dale Phillips | 0.00 | 12.63 | 0.00 | 0.00 | 12.63 | |
| John Parker / Randy Moss | 0.00 | 12.26 | 0.00 | 0.00 | 12.26 | |
| Cody Amen / Colin Ford | 0.00 | 12.23 | 0.00 | 0.00 | 12.23 | |
| Craig Wright / Mickey Begeron | 0.00 | 11.81 | 0.00 | 0.00 | 11.81 | |
| Jordan & Mark Young | 0.00 | 3.97 | 0.00 | 7.49 | 11.46 | |
| Brian Howard / David Ford | 4.33 | 11.36 | 0.00 | 0.00 | 11.36 | |
| Todd Haynes / Jeremy Talbert | 0.00 | 11.36 | 0.00 | 0.00 | 11.36 | |
| Warren Ray | 0.00 | 5.45 | 0.00 | 5.90 | 11.35 | |
| Brian Davis / David Leonard | 0.00 | 11.29 | 0.00 | 0.00 | 11.29 | |
| William Clements / Roger Walters | 0.00 | 11.22 | 0.00 | 0.00 | 11.22 | |
| Ronnie Ketchum / Benny Hendricks | 0.00 | 11.04 | 0.00 | 0.00 | 11.04 | |
| David Allen / Clayton Mullins | 0.00 | 10.99 | 0.00 | 0.00 | 10.99 | |
| Ron Wolfarth | 0.00 | 10.45 | 0.00 | 0.00 | 10.45 | |
| Harvey Reese / Gary Smith | 2.94 | 10.42 | 0.00 | 0.00 | 10.42 | |
| Mike Cole / Vinson Nettles | 0.00 | 10.41 | 0.00 | 0.00 | 10.41 | |
| Tony Axt / Bo Grovener | 0.00 | 10.40 | 0.00 | 0.00 | 10.40 | |
| Charles Stewart / Matt Dean | 0.00 | 9.79 | 0.00 | 0.00 | 9.79 | |
| Michael Birr / Joe Trinke | 0.00 | 9.66 | 0.00 | 0.00 | 9.66 | |
| Alex King / Matt Norraas | 4.71 | 9.63 | 0.00 | 0.00 | 9.63 | |
| Bryson Peed / Jonathan Jones | 0.00 | 9.51 | 0.00 | 0.00 | 9.51 | |
| Brittan Oquin / Jason Suggs | 0.00 | 9.41 | 0.00 | 0.00 | 9.41 | |
| Jimmy & Ralph Tayler | 0.00 | 9.10 | 0.00 | 0.00 | 9.10 | |
| Zack Davenport / Wesley Tucker | 0.00 | 8.74 | 0.00 | 0.00 | 8.74 | |
| Rick Corn Sr / Rick Corn | 0.00 | 8.23 | 0.00 | 0.00 | 8.23 | |
| Rick Dunstan / Josh Huff | 0.00 | 8.09 | 0.00 | 0.00 | 8.09 | |
| Travis Kilby / Doug Moore | 0.00 | 8.08 | 0.00 | 0.00 | 8.08 | |
| Jimmy Henderson / David Bullock | 0.00 | 7.77 | 0.00 | 0.00 | 7.77 | |
| Scott Golden / Jesse Medlin | 0.00 | 7.61 | 0.00 | 0.00 | 7.61 | |
| Daniel Jenkins | 0.00 | 7.57 | 0.00 | 0.00 | 7.57 | |
| Jeff Brown / Ron Johnson | 0.00 | 6.86 | 0.00 | 0.00 | 6.86 | |
| Tony Woodard / Scott Smith | 0.00 | 6.81 | 0.00 | 0.00 | 6.81 | |
| Jonathan & Nathan Canady | 0.00 | 6.50 | 0.00 | 0.00 | 6.50 | |
| Anthony Shawler / Lloyd Sanderlin | 0.00 | 6.38 | 0.00 | 0.00 | 6.38 | |
| Zack & Greg Gooch | 0.00 | 5.64 | 0.00 | 0.00 | 5.64 | |
| Charlie Gunter / Reggie Norflett | 0.00 | 4.86 | 0.00 | 0.00 | 4.86 | |
| Wayne Taylor / John Doyle | 0.00 | 4.43 | 0.00 | 0.00 | 4.43 | |
| Paul Worthington | 3.58 | 3.58 | 0.00 | 0.00 | 3.58 | |
| Ben Dalton / Colin Bennet | 0.00 | 3.16 | 0.00 | 0.00 | 3.16 | |
| Mike Franklin / Frank Bowers | 0.00 | 2.90 | 0.00 | 0.00 | 2.90 | |
| David Dehart / Gary Horsley | 0.00 | 2.80 | 0.00 | 0.00 | 2.80 | |
| Bart Gore / Dylan Gore | 0.00 | 1.85 | 0.00 | 0.00 | 1.85 | |
| Casey & Keaton Dalton | 0.00 | 0.00 | 0.00 | 0.00 | 0.00 | |
| Johnny & William Howard | 0.00 | 0.00 | 0.00 | 0.00 | 0.00 | |
| Hal Blackwelder / Cliff Swann | 0.00 | 0.00 | 0.00 | 0.00 | 0.00 | |
| Jesse Stanley | 0.00 | 0.00 | 0.00 | 0.00 | 0.00 | |
| Brian Bartholomew / Tom Peele | 0.00 | 0.00 | 0.00 | 0.00 | 0.00 | |
| Larry Gunn / Harold Caldwell | 0.00 | 0.00 | 0.00 | 0.00 | 0.00 | |
| John McCllend / Eric Schell | 0.00 | 0.00 | 0.00 | 0.00 | 0.00 | |
| Spencer Barrow / Robert Perkins | 0.00 | 0.00 | 0.00 | 0.00 | 0.00 | |
| Danny & Petey Bost | 0.00 | 0.00 | 0.00 | 0.00 | 0.00 | |