Check out your local Academy Sports for some great deals!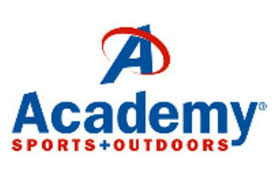 Next Santee Cooper CATT si this coming Saturday and is a GOLD event! $120 entry!
Robert Clarke & Lonnie Jones weighed in 5 nice uns at 25.15 lbs and they collected $1,115.00!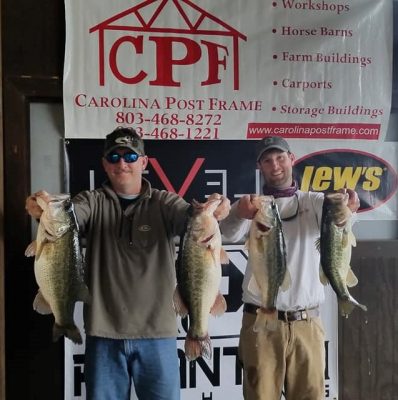 Joe Avin took 2nd with 24.85 lbs!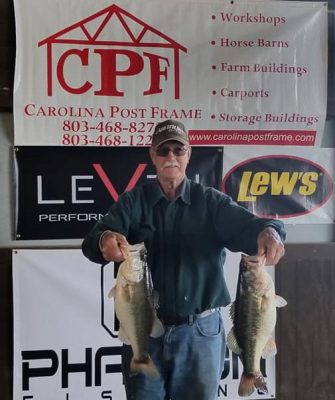 Brad Beatson & Brian Scott took 3rd!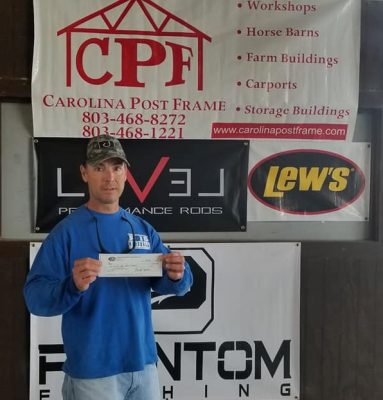 Bunn Tyson & Thad Driggers 4th!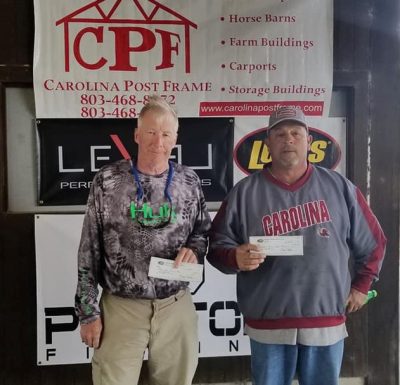 | | | | | |
| --- | --- | --- | --- | --- |
| | Big | Total | Total | |
| 29 Teams | Fish | Weight | Winnings | Points |
| Robert Clarke-Lonnie Jones | 0.00 | 25.15 | $1,125.00 | 110 |
| Joe Avin | 0.00 | 24.85 | $360.00 | 109 |
| Brian Scott-Brad Beatson | 0.00 | 21.58 | $250.00 | 108 |
| Bunn Tyson-Thad Driggers | 7.48 | 21.15 | $197.00 | 107 |
| Cory Alsbrook-Rick McLean | 0.00 | 20.15 | $110.00 | 106 |
| Freddie Gibbs | 0.00 | 20.10 | | 105 |
| Randell-Westley Barrineau | 0.00 | 16.91 | | 104 |
| Patrick Williams-Ray Spence | 0.00 | 16.45 | | 103 |
| Elvis-Brian Peagler | 0.00 | 16.18 | | 102 |
| Brent Waynick-Max Terry | 0.00 | 16.17 | | 101 |
| Bucky Deberry | 0.00 | 13.42 | | 100 |
| TJ Anderson-Will Timmons | 0.00 | 13.01 | | 99 |
| Ben Smith | 0.00 | 12.88 | | 98 |
| Carlton Tompkins-Joel Barfield | 0.00 | 12.56 | | 97 |
| Don Pendavis-Bobby Gibbs | 0.00 | 12.26 | | 96 |
| Hugh McCutchen-Jamie Blackburn | 0.00 | 11.96 | | 95 |
| Dave Murdock-Justin Wood | 0.00 | 10.28 | | 94 |
| John Wilson-Cody Armstrong | 0.00 | 10.00 | | 93 |
| Horace Scott Sr -Horace Scott Jr. | 0.00 | 9.69 | | 92 |
| Gordon Owens-Barry Simms | 8.00 | 8.00 | $203.00 | 91 |
| Steve Borton-Tristen Rodgers | 0.00 | 1.79 | | 90 |
| Chris Scott-Michael Barkley | 0.00 | 0.00 | | 89 |
| Chad Pennell-Casey Warren | 0.00 | 0.00 | | 89 |
| Keith Shelton-Chris Rice | 0.00 | 0.00 | | 89 |
| Zeke Lyman-Jason Morse | 0.00 | 0.00 | | 89 |
| John Miller-John Miller II | 0.00 | 0.00 | | 89 |
| Brandon Patrick | 0.00 | 0.00 | | 89 |
| Jamie Partee-Donnie McCord | 0.00 | 0.00 | | 89 |
| Judd Bolen-Olin Hayden | 0.00 | 0.00 | | 89 |
| Total Entrys | | | $2,320.00 | |
| BONUS $ | | | $525.00 | |
| Total Paid At Ramp | | | $2,245.00 | |
| Santee Cooper 2019 Spring Final Fund | | | $500.00 | |
| 2019 CATT Championship Fund | | | $60.00 | |
| 2019 Santee Cooper Spring Final Fund Total | | | $960.00 | |
| 2019 CATT Championship Fund Total | | | $2,865.00 | |