Fishing is really picking up on the Cooper River! Come out and join us at the next one April 7th! You only have to enter 1 to be eligible to enter the Final! Entry fee is only $50 at the Cooper River!
Bill Lawshe & Jeremy Hewitt took the win Saturday at Cypress Gardens with 5 bass weighing 24.79 lbs anchored by the BF at 7.16 lbs. With the BONUS added in Jeremy & Bill took home $830.00!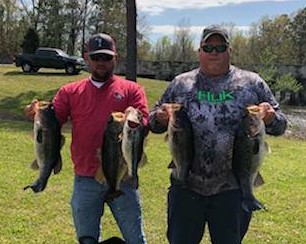 Bill & Jeremy!
2nd went to Andrew Baker & Matt Baker with another great limit weighing 24.14 lbs! They took home $220.00!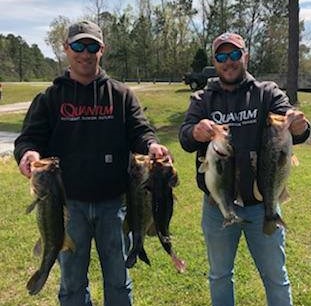 Andrew & Matt!
Bob Letizi & Derrick Nixon took 3rd with 20.70 lbs worth $110.00!
Last money paying place went to Kyle Welch & John Campbell with 19.80 lbs and they earned $65.00

| | | | | |
| --- | --- | --- | --- | --- |
|  21 Teams | Big | Total |   |   |
| Team | Fish | Weight | Winnings | Points |
| Jeremy Hewitt – Bill Lawshe  BF & BONUS $ | 7.16 | 24.79 | $830.00 | 110 |
| Andrew Baker – Matt Baker | 0.00 | 24.14 | $220.00 | 109 |
| Bob Letizi – Derrick Nixon | 0.00 | 20.70 | $110.00 | 108 |
| Kyle Welch  – John Campbell | 0.00 | 19.80 | $65.00 | 107 |
| Will Thompson – Doug Robertson | 0.00 | 15.69 | | 106 |
| Wesley Ragland – Chandler Ackerman | 0.00 | 15.41 | | 105 |
| Ronnie Powell –  Josh Timmons | 0.00 | 14.48 | | 104 |
| Joseph Giampa – Gene Youngs | 0.00 | 14.20 | | 103 |
| Travis Gatlin – Grant Powell | 0.00 | 13.32 | | 102 |
| James Evans Jason Riley | 0.00 | 11.72 | | 101 |
| Dylan McConnell Dave McConnell | 0.00 | 11.45 | | 100 |
| Brian Beoddy – Corey Tollpa | 0.00 | 10.75 | | 99 |
| Allen Bowzard Leah Bowzard | 0.00 | 10.09 | | 98 |
| William Gregory – James Roy Jr Robison | 0.00 | 9.70 | | 97 |
| Adam Rodenhouse – Megan Palluani | 0.00 | 9.63 | | 96 |
| Anthony Galloway – Ken Anderson | 0.00 | 7.66 | | 95 |
| Casey Leach | 0.00 | 2.60 | | 94 |
| Anthony Amerson | 0.00 | 0.00 | | 93 |
| Scott Perrine – Brian Nordyke | 0.00 | 0.00 | | 93 |
| Fred Cruise | 0.00 | 0.00 | | 93 |
| Andy Driggers – Jimmy Butler | 0.00 | 0.00 | | 93 |
| Total Entrys |   |   | $1,050.00 | |
| BONUS $ |   |   | $300.00 | |
| Total Paid At Ramp |   |   | $1,225.00 | |
| Cooper River 2018 Spring Final Fund |   |   | $125.00 | |
| 2018 CATT Championship Fund |   |   | $0.00 | |
|   |   |   |   | |
| Cooper River 2018 Spring Final Fund Total |   |   | $380.00 | |
| 2018 CATT Championship Fund |   |   | $3,525.00 | |