Get your Phantom Apparel at a discount! Use PHANTOMCATT15 and receive 15% off your next order!
Click on the Phantom logo to get started!

Guys we have had a great year on the Cooper River! Thanks for fishing CATT!!
The Cooper River Fall Final is Nov 17th! Check the points to see if you're qualified! You only had to enter 1 Qualifier to be eligible!
Bubba Dennis & Randy Gibson win the points and will fish free at the Fall Final plus blastoff #1!
Also we will be awarding Lews products at the Final!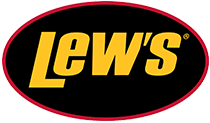 Kyle Welch & Wayne Clifton weighed in 5 bass at 12.81 lbs good enough for 1st Place and $610.00!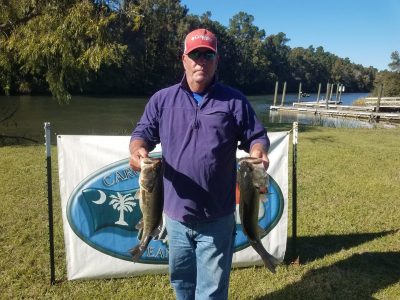 2nd went to John & Grace Campbell with 12.20 lbs worth $290.00!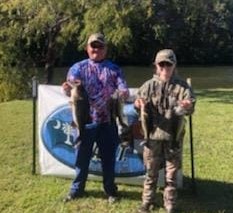 3rd was Joseph Giampa & Gene Youngs with 11.54 lbs!
Charlene Leach with a nice un!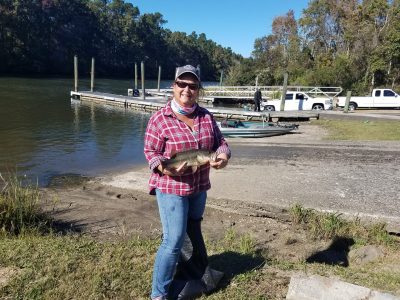 | | | | | |
| --- | --- | --- | --- | --- |
| | Big | Total | Total | |
| 18 Teams | Fish | Weight | Winnings | Points |
| Kyle Welch/Wayne Clifton   BONUS $ | 4.76 | 12.81 | $610.00 | 220 |
| John Campbell/Grace Campbell  BF | 5.80 | 12.20 | $290.00 | 218 |
| Joe Giampa/Gene Youngs | 3.30 | 11.54 | $100.00 | 216 |
| Darrell Knies | 4.57 | 10.57 | | 214 |
| Bubba Dennis/Randy Gibson | 0.00 | 10.03 | | 212 |
| James Ray Robinson Jr./William Gregory | 4.54 | 10.03 | | 210 |
| Andy Rutledge 8.00 | 0.00 | 8.00 | | 208 |
| Allen Boward/Leah Boward | 0.00 | 7.86 | | 206 |
| Casey Leach/Charlene Leach | 0.00 | 7.10 | | 204 |
| Matt Baker/Andrew Baker | 0.00 | 7.00 | | 202 |
| Jonathan Brindle/Justin Harvey | 0.00 | 6.98 | | 200 |
| Dave McConnell/Dillion McConnell | 0.00 | 6.89 | | 198 |
| James Evans/Jason Riley | 0.00 | 6.77 | | 196 |
| Quinton Jones/Clinton Jones | 0.00 | 6.54 | | 194 |
| Jonathan Singletary/Austin Barnes | 0.00 | 6.24 | | 192 |
| Anthony Amerson | 0.00 | 0.00 | | 190 |
| Jimmy Butler/Chris Perriani | 0.00 | 0.00 | | 190 |
| Robbie Harrelson | 0.00 | 0.00 | | 190 |
| Total Entrys | | | $900.00 | |
| BONUS $ | | | $260.00 | |
| Total Paid At Ramp | | | $1,000.00 | |
| Cooper River 2018 Fall Final Fund | | | $150.00 | |
| 2019 CATT Championship Fund | | | $10.00 | |
| Cooper River 2018 Fall Final Fund Total | | | $670.00 | |
| 2019 CATT Championship Fund | | | $1,935.00 | |