Next Cooper River CATT is this coming Saturday March 5th at Cypress Gardens!
Scott Perrine & Chad Pennell brought in 5 bass weighing 17.35 lbs good enough for the win and $1,050.00!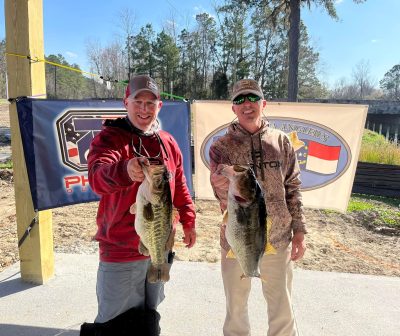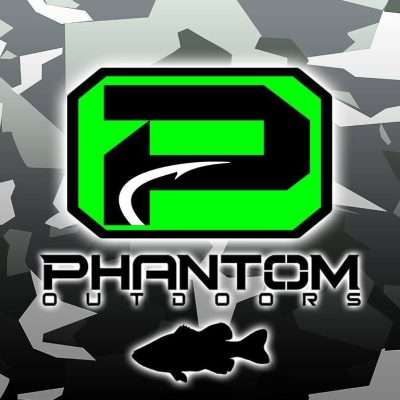 David Driggers & Darrell Glenn 2nd with 16.65 lbs!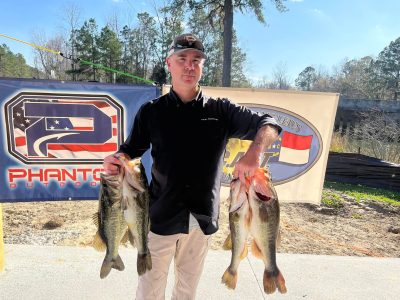 Dwayne Reine 3rd with 15.98 lbs!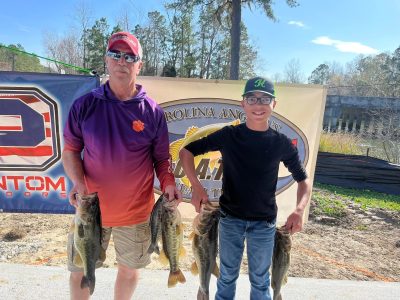 4th Bubba Dennis & Jay Ayers 15.43 lbs!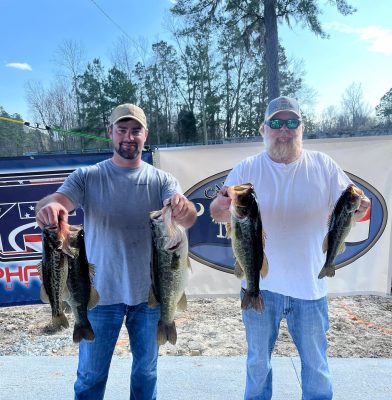 Chris Peirano 5th 14.43 lbs!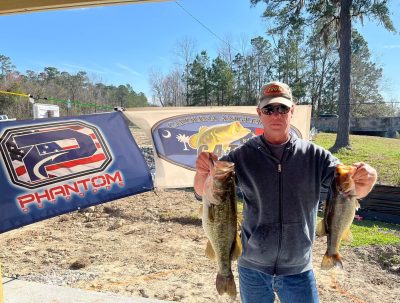 6th and BF! Jonathan Brindle & Justin Harvey 14.35 lbs & 6.82 lbs!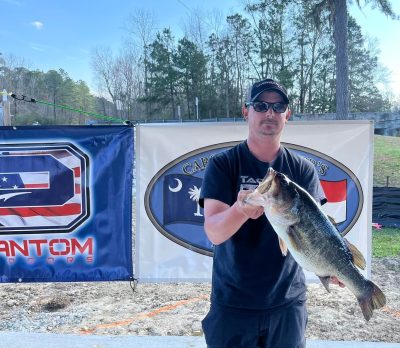 | | | | | |
| --- | --- | --- | --- | --- |
| Team | BF | Weight | Winnings | Points |
| Scott Perrine – Chad Penell | 0.00 | 17.35 | $1,050.00 | 110 |
| David Driggers – Darrell Glenn | 0.00 | 16.65 | $275.00 | 109 |
| Dwayne Reine | 0.00 | 15.98 | $165.00 | 108 |
| Bubba Dennis – Jay Ayers | 0.00 | 15.43 | $125.00 | 107 |
| Chris Peirano | 0.00 | 14.43 | $100.00 | 106 |
| Jonathan Brindel – Justin Harvey | 6.82 | 14.35 | $225.00 | 105 |
| Todd Thompson – Jimmy King | 0.00 | 12.81 | | 104 |
| Chris Blanchette – Tyler Bary | 0.00 | 12.68 | | 103 |
| Matt Baker – Andrew Baker | 0.00 | 11.64 | | 102 |
| Tripp Meland | 0.00 | 11.35 | | 101 |
| Gary Pope – Mark Johnson | 0.00 | 10.71 | | 100 |
| Travis Gatlin – Grant Powell | 0.00 | 9.53 | | 99 |
| Greg Benton – Dean Beanton | 0.00 | 8.93 | | 98 |
| Edward Punchak – Michael DiBello | 0.00 | 8.75 | | 97 |
| Garvin Miles | 0.00 | 8.36 | | 96 |
| Landy Filyaw Jr.  – Chris Weaver | 0.00 | 7.98 | | 95 |
| Randy Gibson – Jermey Hernedez | 0.00 | 7.93 | | 94 |
| Tom Siworki – Griffin Craine | 0.00 | 7.88 | | 93 |
| Paul Pagnato – Steven Robinson | 0.00 | 7.86 | | 92 |
| Jimmy Bihlear – TJ Bancroft | 0.00 | 7.78 | | 91 |
| Brian Suroweic – Walter Cumbee | 0.00 | 7.39 | | 90 |
| Darrell Knies | 0.00 | 7.16 | | 89 |
| Brian Eason- Billy Martini | 0.00 | 6.93 | | 88 |
| James Roy Robison Jr – William Gregory | 0.00 | 6.82 | | 87 |
| Ira Lewis – Ricky Badger | 0.00 | 6.01 | | 86 |
| Kyle Welch – James Fender | 0.00 | 4.98 | | 85 |
| Justin Craven – Michael Craven | 0.00 | 0.00 | | 75 |
| Paul Gaskins | 0.00 | 0.00 | | 75 |
| Frank Crawford – Matt Crawford | 0.00 | 0.00 | | 75 |
| Kaleb Bryant – Trey Cribb | 0.00 | 0.00 | | 75 |
| Total Entrys | | | $1,500.00 | |
| BONUS $ | | | $550.00 | |
| Total Paid At Ramp | | | $1,940.00 | |
| Cooper River 2022 Spring Final Fund | | | $100.00 | |
| 2022 CATT Championship Fund | | | $10.00 | |
| Cooper River 2022 Spring Final Fund Total | | | $265.00 | |