We had another great crowd at the Cooper River with 36 teams entered! The next Cooper River Spring Qualifier will be March 18! Hope to see you there!
March 25th is the Cooper River Phantom Open! $5,000 1st Place with 50 Boats entered!
Visit the Phantom Open Series Page to view more info! Tap on the link!
2023 Phantom Outdoors Open Series – Carolina Anglers Team Trail (cattteamtrail.com)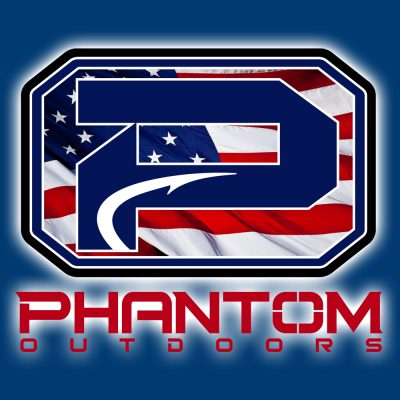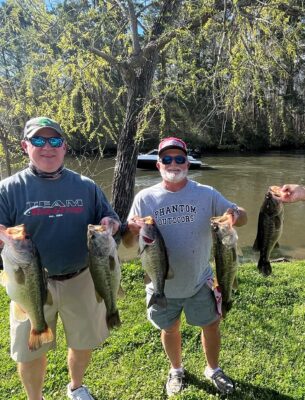 Jeff Parson & Michael Ard took 1st Place with a MEGA BAG! 26.90 lbs with a 6.36 lb kicker! Total winnings $1,225.00!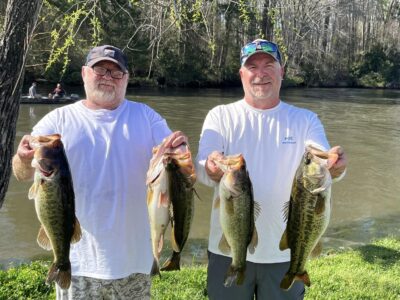 Bubba Dennis & Kevin Brock 2nd with 23.19 lbs!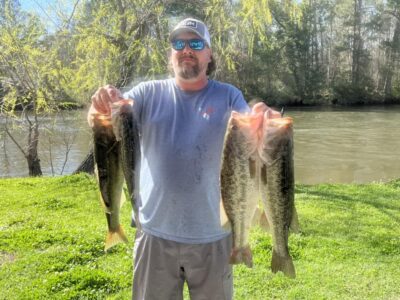 Justin Craven claimed 3rd with 22.95 lbs and weighed the Academy BF at 6.89 lbs!
4th Place Brian Surowiec – Walter Cumbee with 17.49 lbs!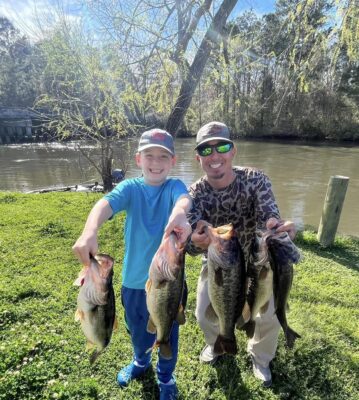 Beckett & Chad Pennell finished 5th with 16.00 lbs!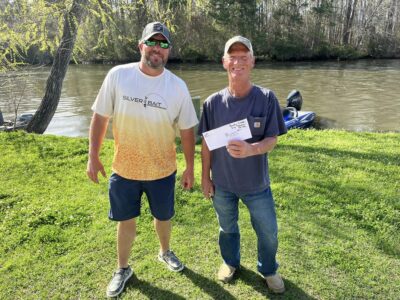 6th Place went to Bucky Clark & Kip Tanner with 14.42 lbs!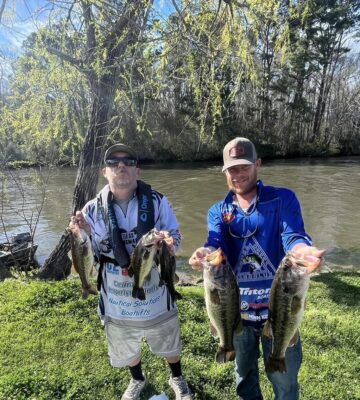 Jimmy Bihlear & TJ Bancroft took the last money spot with 14.18 lbs!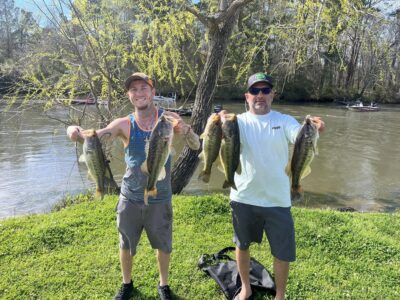 Justin & Joseph Giampa with a nice sack!
| | | | | |
| --- | --- | --- | --- | --- |
| Team | BF | Weight | Winnings | Points |
| Michael Ard – Jeff Parsons | 6.36 | 26.90 | $1,225.00 | 110 |
| Bubba Dennis – Kevin Brock | 5.69 | 23.19 | $300.00 | 109 |
| Justin Craven | 6.89 | 22.95 | $380.00 | 108 |
| Brian Surowiec – Walter Cumbee | 5.79 | 17.49 | $155.00 | 107 |
| Chad Pennell – Beckett Pennell | 4.68 | 16.00 | $130.00 | 106 |
| Bucky Clark – Kip Tanner | 5.18 | 14.42 | $100.00 | 105 |
| Jimmy Bihlear – TJ Bancroft | 4.71 | 14.18 | $75.00 | 104 |
| Randy Gibson Jr – Randy Gibson Sr | 3.89 | 13.28 | | 103 |
| Joseph Giampa – Justin Giampa | 4.33 | 12.77 | | 102 |
| Wendell Lampkin – Jayceon Lampkin | 4.19 | 11.79 | | 101 |
| JW Smith – Ben Nye | 0.00 | 11.60 | | 100 |
| Dale Hanna – Shawn Hanna | 4.08 | 11.58 | | 99 |
| James Fender – Kyle Welch | 5.43 | 11.09 | | 98 |
| Winkey Watford – Scottie Melton | 3.66 | 10.76 | | 97 |
| Jonathan Brindle – Justin Harvey | 5.53 | 10.63 | | 96 |
| John Campbell – Jarred Boles | 0.00 | 10.43 | | 95 |
| David Kelly – Brad Matthews | 3.30 | 9.42 | | 94 |
| Travis Gatlin – Grant Powell | 0.00 | 9.25 | | 93 |
| David Driggers – Driggers | 0.00 | 8.83 | | 92 |
| Andrew Baker – Charlie Baker | 0.00 | 8.76 | | 91 |
| Taylor Bond – Joe Hutchinson | 0.00 | 8.69 | | 90 |
| Greg Benton | 0.00 | 8.67 | | 89 |
| CJ Carrington – Davie Bowman | 0.00 | 7.63 | | 88 |
| Lance Lambert – David Murdaugh | 3.48 | 7.25 | | 87 |
| Willie Weatherford – Wyatt Weatherford | 0.00 | 7.12 | | 86 |
| Randall Drew – Ryan Drew | 0.00 | 5.32 | | 85 |
| Kyle Howard – Jason Kinder | 0.00 | 2.66 | | 84 |
| Kyle Larrick – Parker Brunson | 0.00 | 0.00 | | 74 |
| Shawn Benton – Logan Benton | 0.00 | 0.00 | | 74 |
| Todd Thompson – Jimmy King | 0.00 | 0.00 | | 74 |
| Derrick Nixon – Brian Riley | 0.00 | 0.00 | | 74 |
| Stephen Flook | 0.00 | 0.00 | | 74 |
| Todd Bunch | 0.00 | 0.00 | | 74 |
| Trey Cribb | 0.00 | 0.00 | | 74 |
| Glen Varner – Ervin Varner | 0.00 | 0.00 | | 74 |
| Chris Peirrano – Jim Butler | 0.00 | 0.00 | | 74 |
| Total Entrys | | | $1,800.00 | |
| BONUS $ | | | $775.00 | |
| Total Paid At Ramp | | | $2,365.00 | |
| Cooper River 2023 Spring Final Fund | | | $150.00 | |
| 2023 CATT Championship Fund | | | $35.00 | |
| Cooper River 2023 Spring Final Fund Total | | | $405.00 | |