We are having some big crowds on the Cooper River this Spring! Come join us for the next Cooper River CATT which is this coming Saturday April 3rd at Cypress Gardens! 54 teams are eligible to enter the Cooper River Final at this point! Only have to enter 1 Cooper River Qualifier to be eligible! To view the Cooper River points go to the Cooper River Division page and scroll all the way down!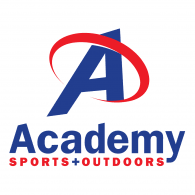 With 30 teams competing for the top spot Saturday at the Cooper River no doubt you had to catch em to come out on top! David Driggers did just that with 5 bass weighing 19.17 lbs good enough for 1st Place and $650.00!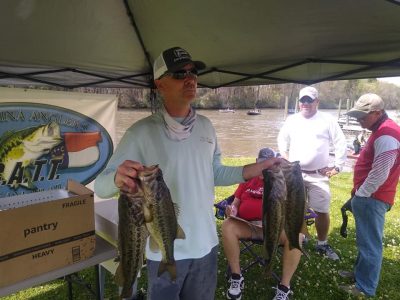 Close behind in 2nd Place was Justin Harvey & Jonathan Brindle with 19 lbs even! With the Side Pot added in they took home $825.00!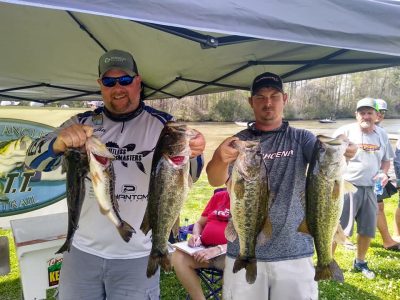 James Fender & Kyle Welch claimed 3rd with 15.89 lbs!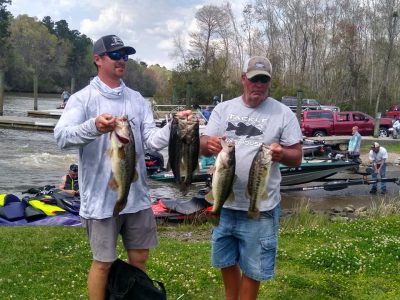 Travis Gatlin & Grant Powell 4th with 14.73 lbs!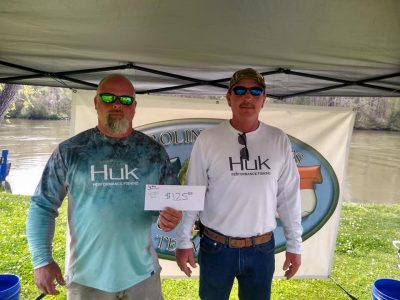 Matt & Andrew Baker 5th with 14.40 lbs!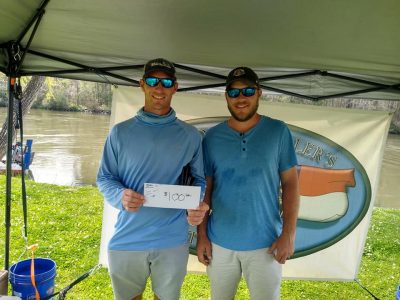 Dale & Shawn Hanna 6th 14.25 lbs!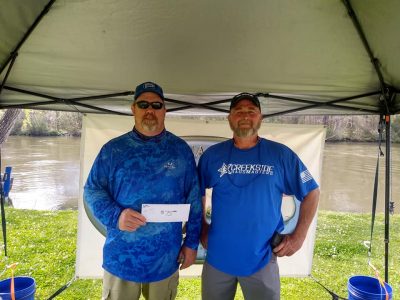 | | | | | |
| --- | --- | --- | --- | --- |
| 30 Teams | BF | Weight | Winnings | Points |
| David Driggers | 7.01 | 19.17 | $650.00 | 110 |
| Jonathan Brindle Justin Harvey | 0.00 | 19.00 | $825.00 | 109 |
| Kyle Welch James Fender | 0.00 | 15.89 | $165.00 | 108 |
| Travis Gatlin Grant Powell | 0.00 | 14.73 | $125.00 | 107 |
| Matt Baker Andrew Baker | 0.00 | 14.40 | $100.00 | 106 |
| Dale Hanna Shawn Hanna | 0.00 | 14.25 | $75.00 | 105 |
| Cody Wilson Alan Wilson | 0.00 | 14.09 | | 104 |
| Shawn Benton Logan Benton | 0.00 | 13.67 | | 103 |
| William Gregory James Roy Jr Robison | 0.00 | 13.65 | | 102 |
| Edward Punchak Michael Dibello | 0.00 | 12.85 | | 101 |
| Landy Filyaw Chris Weaver | 0.00 | 12.58 | | 100 |
| Nicholas Mcpherson David Waldrop | 0.00 | 12.50 | | 99 |
| John Campbell Grace Campbell | 0.00 | 12.39 | | 98 |
| James Butler Chris Peirano | 0.00 | 11.62 | | 97 |
| Wayne Clifton Shawn Thomas | 0.00 | 11.37 | | 96 |
| Darrel Knies | 0.00 | 11.27 | | 95 |
| Travis Osborn Gentry Manning | 0.00 | 11.10 | | 94 |
| Dale Lovelace | 0.00 | 9.65 | | 93 |
| Jeremy Hewitt Dalton Hewitt | 0.00 | 9.56 | | 92 |
| Winkey Watford | 0.00 | 8.95 | | 91 |
| Gavin Miles | 0.00 | 8.75 | | 90 |
| Johnny Brinson James White | 0.00 | 8.75 | | 90 |
| Clay Kolb Jeffrey Peralta | 0.00 | 8.29 | | 88 |
| Dave McConnell Dylan Mcconnell | 0.00 | 7.41 | | 87 |
| Andy Rutledge | 0.00 | 7.01 | | 86 |
| Jonathan Singletary Jonathan Singletary | 0.00 | 6.98 | | 85 |
| James Skelton | 0.00 | 6.94 | | 84 |
| Randy Gibson Jeremey Hernandez | 0.00 | 3.19 | | 83 |
| Chris David Henry Mueller | 0.00 | 0.00 | | 73 |
| Jimmy Bihlear Kevin Horn | 0.00 | 0.00 | | 73 |
| Total Entrys | | | $1,500.00 | |
| BONUS $ | | | $550.00 | |
| Total Paid At Ramp | | | $1,940.00 | |
| Cooper River 2021 Spring Final Fund | | | $100.00 | |
| 2021 CATT Championship Fund | | | $10.00 | |
| Cooper River 2021 Spring Final Fund Total | | | $330.00 | |
| 2021 CATT Championship Fund | | | $2,085.00 | |