Next Cooper River CATT is March 27 at Cypress Gardens!
We had a great crowd at the Cooper River with 31 teams entering the 2nd CATT Cooper River Spring Qualifier!
Jeremy Hernandez & Randy Gibson take 1st Placed with 5 bass weighing 20.22 lbs! They also weighed in the BF at 6.59 lbs and took home $1,180.00!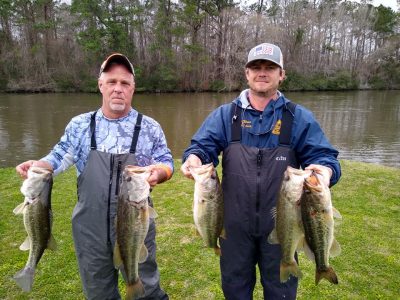 2nd Place with 19.13 lbs Chris Peirano & Jim Butler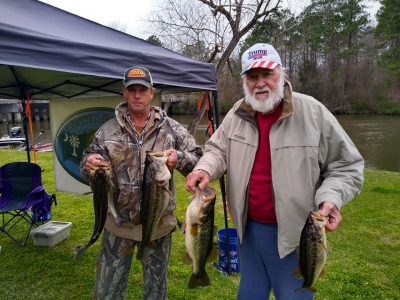 Grace & John Campbell 3rd with 19.08 lbs!
Michael Dibello & Edward Punchak 4th 16.89 lbs!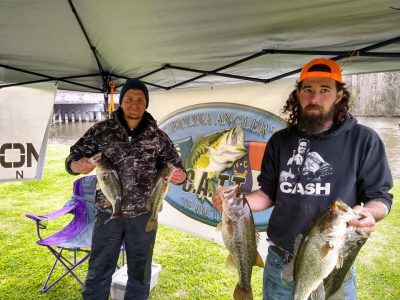 Check out the rest of the pictures form Saturdays Tournament!
| | | | | |
| --- | --- | --- | --- | --- |
| 31 Teams | BF | Weight | Winnings | Points |
| Randy Gibson Jeremey Hernandez | 6.59 | 20.22 | $1,180.00 | 110 |
| Chris Peirano Jim Butler | 0.00 | 19.13 | $280.00 | 109 |
| John Campbell Grace Campbell | 0.00 | 19.08 | $175.00 | 108 |
| Michael Dibello Edward Punchak | 0.00 | 16.89 | $130.00 | 107 |
| Kyle Welch James Fender | 0.00 | 15.72 | $100.00 | 106 |
| Johnny Brinson James White | 0.00 | 15.70 | $75.00 | 105 |
| Danny Snyder Corey Casey | 0.00 | 15.17 | | 104 |
| Travis Gatlin Grant Powell | 0.00 | 14.65 | | 103 |
| Justin Harvey Jonathan Brindle | 0.00 | 14.38 | | 102 |
| Matt Baker Andrew Baker | 0.00 | 14.14 | | 101 |
| Will Thompson Doug Robertson | 0.00 | 13.00 | | 100 |
| Clay Kolb Jeffrey Peralta | 0.00 | 12.90 | | 99 |
| Robbie Harrelson Hailey Rhoad | 0.00 | 12.87 | | 98 |
| Landy Filyaw Jr. Chris Weaver | 0.00 | 12.81 | | 97 |
| James Roy Jr Robison William Gregory | 0.00 | 12.31 | | 96 |
| Dale Hanna Shawn Hanna | 0.00 | 12.01 | | 95 |
| Wayne Clifton Micah Bennett | 0.00 | 10.62 | | 94 |
| Wade Cook Brian Howard | 0.00 | 10.28 | | 93 |
| Nick Lambert Brayden Scott | 0.00 | 9.20 | | 92 |
| Travis Osborn Gentry Manning | 0.00 | 9.02 | | 91 |
| Shawn Benton Logan Benton | 0.00 | 8.97 | | 90 |
| Mark Johnson Gary Pope | 0.00 | 8.15 | | 89 |
| Cj Cannington Cassie Burkett | 0.00 | 8.08 | | 88 |
| Casey Charlene Leach | 0.00 | 8.03 | | 87 |
| Andy Rutledge | 0.00 | 7.47 | | 86 |
| Gabriel Hornet Pearson | 0.00 | 7.36 | | 85 |
| Wendell Lampkin | 0.00 | 6.78 | | 84 |
| Scott McClellan Donnie McKenzie | 0.00 | 3.91 | | 83 |
| Roger Dennis Dale Bowman | 0.00 | 1.89 | | 82 |
| Joe Giampa | 0.00 | 0.00 | | 72 |
| Steve Chapman | 0.00 | 0.00 | | 72 |
| Total Entrys | | | $1,550.00 | |
| BONUS $ | | | $525.00 | |
| Total Paid At Ramp | | | $1,940.00 | |
| Cooper River 2021 Spring Final Fund | | | $115.00 | |
| 2021 CATT Championship Fund | | | $20.00 | |
| Cooper River 2021 Spring Final Fund Total | | | $230.00 | |
| 2021 CATT Championship Fund | | | $1,180.00 | |