Next and last 2022 Spring CATT Qualifier on Lake Murray is April 24th Sunday!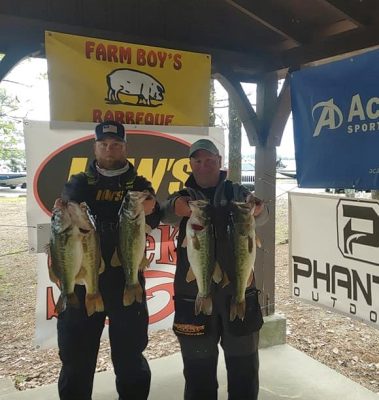 Josh Rennebaum & Jim Davis brought 5 bass weighing 23.20 lb good enough for the win this past weekend at Lake Murray! They also weighed the Academy BF at 6.78 lbs!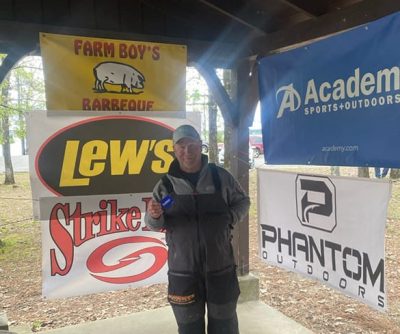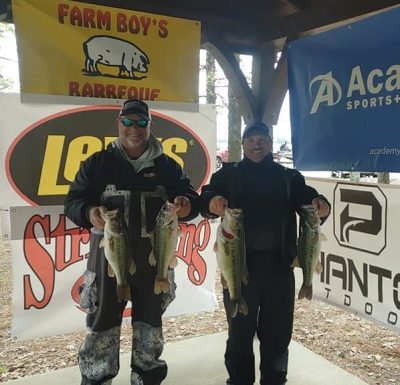 Wayne Jeffcoat & Kevin Banks took 2nd with 19.29 lbs!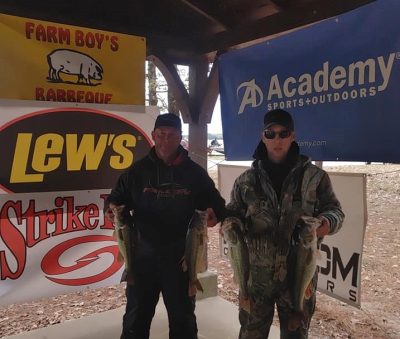 3rd went to Bobby Martin & Terry Jones with 17.49 lbs!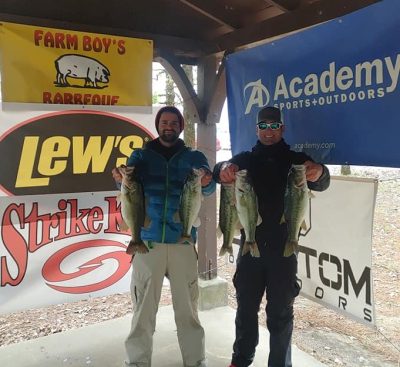 Chris Neal and Chad Hastings 4th with 17.45 lbs!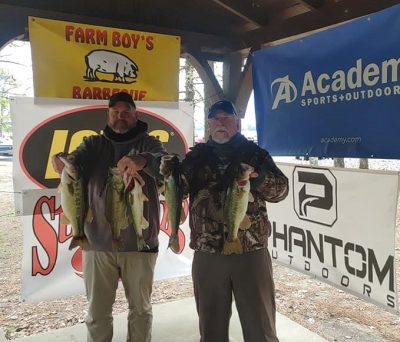 CBC & Bernie Dreher with their catch!
| | | | | |
| --- | --- | --- | --- | --- |
| Team | BF | Weight | Winnings | Points |
| Josh Rennebaum – Jim Davis | 6.78 | 23.20 | $858.00 | 110 |
| Wayne Jeffcoat – Kevn Banks | 5.70 | 19.29 | $332.00 | 109 |
| Bobby Martin – Terry Jones | 5.60 | 17.49 | $125.00 | 108 |
| Chad Hastings – Chris Neal | 4.37 | 17.45 | | 107 |
| Wade Amick – Zach Huffstetler | 4.21 | 16.54 | | 106 |
| Bernie Dreher – CBC Dreher | 4.36 | 15.93 | | 105 |
| Will Anderson – Kyle Cannon | 4.55 | 15.25 | | 104 |
| Johnny Mayer | 4.66 | 15.08 | | 103 |
| Wesley Sandifer | 3.38 | 14.21 | | 102 |
| Steve Pizzino – Curtis Jones | 3.30 | 12.92 | | 101 |
| Trey Grantham – Jonathan Stokes | 2.67 | 9.59 | | 100 |
| Russ Padgett – Meredith Havird | 4.39 | 9.34 | | 99 |
| Jason Ries – Roger McKee | 2.84 | 7.90 | | 98 |
| Trey Locklear – Jackson Locklear | 2.52 | 6.40 | | 97 |
| Thomas MacWhinnie – Tyler Rathburn | 2.48 | 2.48 | | 96 |
| Dalton Ballard – Hunter Adkins | 0.00 | 0.00 | | 86 |
| Michael Stribble – Blake Stribble | 0.00 | 0.00 | | 86 |
| Sean Anderson – George Berry | 0.00 | 0.00 | | 86 |
| Andy Lake – Phillip Anderson | 0.00 | 0.00 | | 86 |
| Total Entrys | | | $1,520.00 | |
| BONUS $ | | | $225.00 | |
| Total Paid At Ramp | | | $1,315.00 | |
| Murray 2022 Spring Final Fund | | | $330.00 | |
| 2022 CATT Championship Fund | | | $50.00 | |
| 2022 Murray Spring Final  Total | | | $1,835.00 | |