Next Cooper River Fall CATT is the Final Nov 20th at Cypress Gardens!
Kyle Welch & James Fenton win the 2021 Cooper River Fall Points and will fish the Cooper River Final Free!
It was a tough one! Bubba Dennis & Randy Gibson win with 8.88 lbs! They weighed in the BF at 5.04 lbs!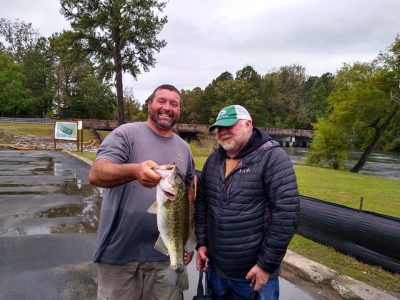 Matt Baker was 2nd with 8.32 lbs!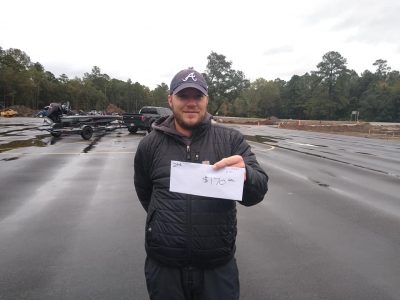 | | | | | |
| --- | --- | --- | --- | --- |
| Team | BF | Weight | Winnings | Points |
| Bubba Dennis Randy Gibson | 5.04 | 8.88 | $570.00 | 110 |
| Matt Baker | 0.00 | 8.32 | $170.00 | 109 |
| David Driggers | 0.00 | 7.82 | | 108 |
| Cody Wilson John Corriveau | 0.00 | 7.48 | | 107 |
| Kyle Welch James Fender | 0.00 | 7.25 | | 106 |
| Clay Kolb Jeffrey Peralta | 0.00 | 7.24 | | 105 |
| Michael Craven Justin Craven | 0.00 | 6.22 | | 104 |
| James Skelton | 0.00 | 3.07 | | 103 |
| Willie Weatherford Carlos Canals | 0.00 | 2.55 | | 102 |
| Glen Garner Ervin Garner | 0.00 | 0.00 | | 92 |
| Brian Crosby | 0.00 | 0.00 | | 92 |
| Joseph Giampa | 0.00 | 0.00 | | 92 |
| Jimmy Bihlear | 0.00 | 0.00 | | 92 |
| Billy Brinson Todd Thompson | 0.00 | 0.00 | | 92 |
| Total Entrys | | | $700.00 | |
| BONUS $ | | | $200.00 | |
| Total Paid At Ramp | | | $740.00 | |
| Cooper River 2021 Fall Final Fund | | | $140.00 | |
| 2022 CATT Championship Fund | | | $20.00 | |
| Cooper River 2021 Fall Final Fund Total | | | $630.00 | |