Next and Last Fall Cooper River CATT Qualifier is November 6th!
Michael Craven & Justin Craven win again with 5 bass weighing 13.29 lbs!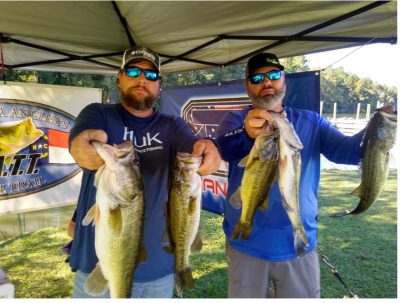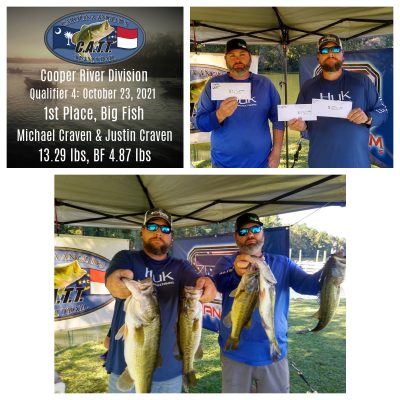 Bubba Dennis & Randy Gibson took 2nd with 12.35 lbs!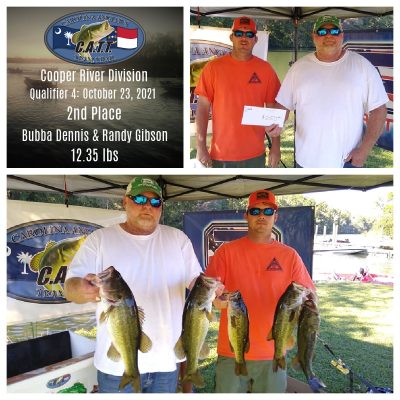 Kyle Welch & James Fender 3rd with 10.69 lbs!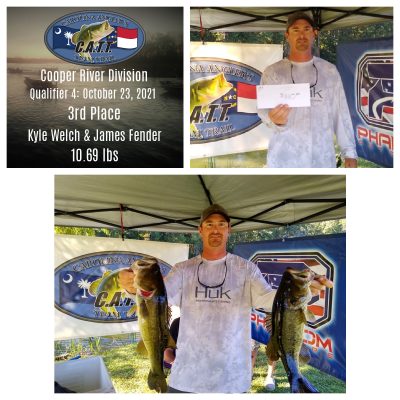 Cody Wilson & John Corriveau 4th with 9.82 lbs!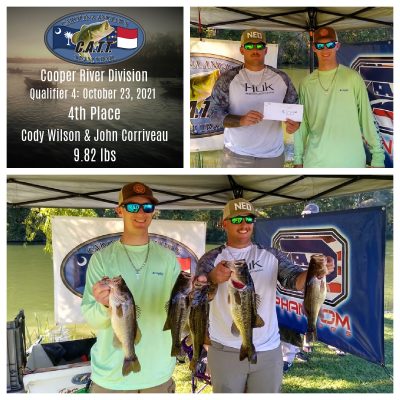 | | | | | |
| --- | --- | --- | --- | --- |
| Team | BF | Weight | Winnings | Points |
| Michael Craven Justin Craven | 4.87 | 13.29 | $1,055.00 | 110 |
| Bubba Dennis Randy Gibson | 0.00 | 12.35 | $250.00 | 109 |
| Kyle Welch James Fender | 0.00 | 10.69 | $140.00 | 108 |
| Cody Wilson – John Corriveau | 0.00 | 9.82 | $100.00 | 107 |
| Justin Harvey – Dawson Harvey | 0.00 | 9.71 | $80.00 | 106 |
| Corey Casey | 0.00 | 8.42 | | 105 |
| Glenn Garner Ervin Garner | 0.00 | 9.41 | | 104 |
| James Skelton | 0.00 | 7.91 | | 103 |
| Chance Powell Lane Powell | 0.00 | 7.83 | | 102 |
| Matt Baker Charlie Baker | 0.00 | 7.74 | | 101 |
| David Driggers – Darell Glenn | 0.00 | 7.52 | | 100 |
| John Campbell | 0.00 | 7.31 | | 99 |
| Casey & Charlene Leach | 0.00 | 6.69 | | 98 |
| Andy Rutledge | 0.00 | 6.30 | | 97 |
| Terry Silliman – Mitchell Bowers | 0.00 | 6.30 | | 96 |
| Billy Brinson Todd Thompson | 0.00 | 6.15 | | 95 |
| Joseph Giampa | 0.00 | 6.05 | | 94 |
| Darrel Knies | 0.00 | 4.39 | | 93 |
| Mitchell Ard | 0.00 | 3.37 | | 92 |
| Willie Weatherford Carlos Canals | 0.00 | 2.08 | | 91 |
| Johnny Watkins Aaron Watkins | 0.00 | 1.86 | | 90 |
| William Gregory James Roy Jr Robison | 0.00 | 0.00 | | 80 |
| Dale Hanna Shawn Hanna | 0.00 | 0.00 | | 80 |
| Brian Crosby | 0.00 | 0.00 | | 80 |
| Dwayne Reine | 0.00 | 0.00 | | 80 |
| Clay Kolb Jeffrey Peralta | 0.00 | 0.00 | | 80 |
| Total Entrys | | | $1,300.00 | |
| BONUS $ | | | $425.00 | |
| Total Paid At Ramp | | | $1,700.00 | |
| Cooper River 2021 Fall Final Fund | | | $100.00 | |
| 2022 CATT Championship Fund | | | $25.00 | |
| Cooper River 2021 Fall Final Fund Total | | | $490.00 | |
| 2022 CATT Championship Fund | | | $0.00 | |