Next Cooper River CATT is Sept 26 at Cypress Gardens!
We had a great crowd show up for the 1st Cooper River Fall Qualifier with 24 tams competing on a cloudy day! 
James Fender & Kyle Welch smacked em! They weighed in 5 bass at 22.03 lbs and took home $875.00!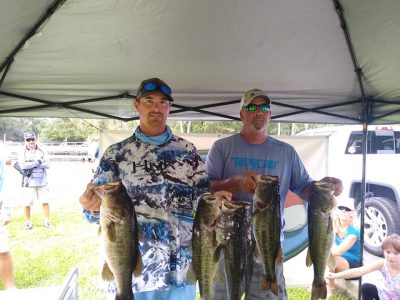 2nd went to Hunter Hackworth & Brian Brunson with a limit weighing 15.04 lbs and they weighed in the BF at 8.29 lbs!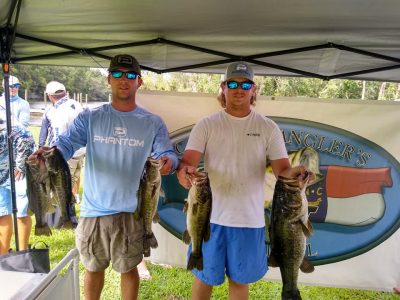 Justin Craven finished 3rd with 14.60 lbs!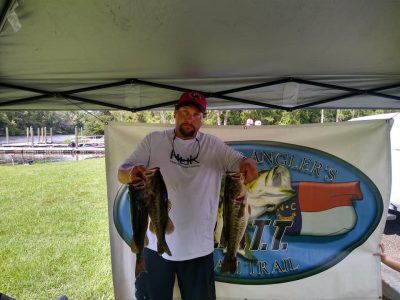 | | | | | |
| --- | --- | --- | --- | --- |
| 24 Teams | BF | Weight | Winnings | Points |
| Kyle Welch James Fender | 0.00 | 22.03 | $875.00 | 110 |
| Hunter Hackworth Brian Brunson | 8.29 | 15.04 | $235.00 | 109 |
| Justin Craven | 0.00 | 14.60 | $125.00 | 108 |
| Clay Kolb Jeffrey Peralat | 0.00 | 10.28 | $75.00 | 107 |
| Garvin Miles | 0.00 | 10.21 | | 106 |
| Ronald Young Terry Silliman | 0.00 | 9.96 | | 105 |
| James Evans Jason Riley | 0.00 | 9.78 | | 104 |
| Shawn Benton Logan Benton | 0.00 | 9.54 | | 103 |
| James Roy Jr Robison William Gregory | 0.00 | 9.08 | | 102 |
| Stanley Bruce Frank Cantley | 0.00 | 8.98 | | 101 |
| John Campbell Grace Campbell | 0.00 | 8.72 | | 100 |
| Matt Baker Andrew Baker | 0.00 | 8.68 | | 99 |
| Randy Gibson Jamie Gibson | 0.00 | 8.37 | | 98 |
| James Skelton | 0.00 | 7.97 | | 97 |
| Joseph Giampa Derrick Nixon | 0.00 | 7.56 | | 96 |
| Gene Youngs Brian Riley | 0.00 | 7.40 | | 95 |
| Cory Burbage | 0.00 | 7.32 | | 94 |
| Phil Westberry Luke Westberry | 0.00 | 6.96 | | 93 |
| Cody Wilson Tyler Lares | 0.00 | 6.50 | | 92 |
| Shawn Hanna Dale Hanna | 0.00 | 6.21 | | 91 |
| Elvis Black Brian Crosby | 0.00 | 0.00 | | 90 |
| Joseph Scott | 0.00 | 0.00 | | 90 |
| Bubba Dennis Jessica Myers | 0.00 | 0.00 | | 90 |
| Lambert Lance Lambert | 0.00 | 0.00 | | 90 |
| Total Entrys | | | $1,200.00 | |
| BONUS $ | | | $375.00 | |
| Total Paid At Ramp | | | $1,430.00 | |
| Cooper River 2020 Fall Final Fund | | | $135.00 | |
| 2020 CATT Championship Fund | | | $10.00 | |
| Cooper River 2020 Fall Final Total | | | $135.00 | |
| 2020 CATT Championship Fund | | | $4,530.00 | |