Next Cooper River Fall CATT is October 8th at Cypress Gardens!
We are having a good crowd so come on out and join us!

David Driggers & Darrell Glenn took 1st Place with 5 bass weighing 20.82 lbs worth $1,065.00!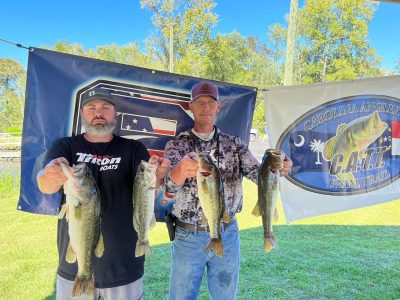 Michael Craven & Brian Crosby 2nd with 12.25 lbs!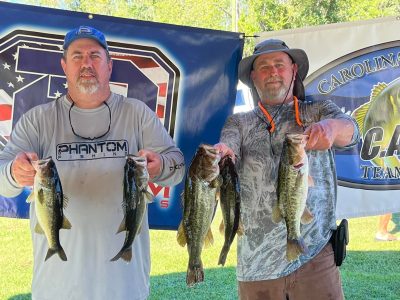 Shawn Hanna & Dale Hanna 3rd!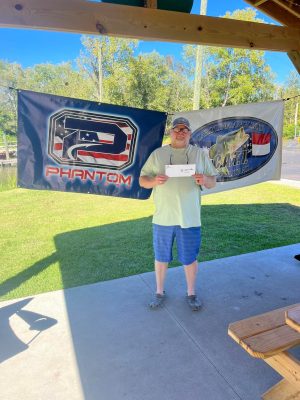 4th Randy Gibson & Bubba Dennis!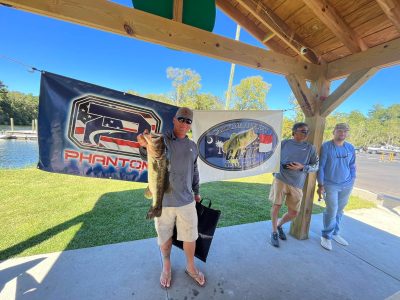 | | | | | |
| --- | --- | --- | --- | --- |
| Team | BF | Weight | Winnings | Points |
| David Driggers – Darrell Glenn | 8.89 | 20.82 | $1,065.00 | 110 |
| Michael Craven – Brian Crosby | 4.38 | 12.25 | $230.00 | 109 |
| Dale Hanna – Shawn Hanna | 3.39 | 10.43 | $120.00 | 108 |
| Randy Gibson – Bubba Dennis | 3.96 | 9.96 | $75.00 | 107 |
| John Campbell – Jared Boles | 4.01 | 9.05 | | 106 |
| James Fender – Kyle Welch | 0.00 | 8.13 | | 105 |
| James Skelton | 0.00 | 7.73 | | 104 |
| Tim Tyson | 5.55 | 7.31 | | 103 |
| Wayne Ackerman – Chris Harley | 0.00 | 6.91 | | 102 |
| Billy Fanning – Zac Wagner | 0.00 | 6.23 | | 101 |
| Gavin Miles | 0.00 | 6.14 | | 100 |
| David Kelly – Brad Mathews | 2.20 | 5.45 | | 99 |
| Willie Weatherford – Auston McConnell | 3.19 | 5.09 | | 98 |
| Fred Cruise | 4.44 | 4.44 | | 97 |
| Phil Westbury | 0.00 | 2.57 | | 96 |
| Roger Dennis –  Davie Bowman | 0.00 | 2.10 | | 95 |
| Brian Surowiec – Walter Cumbee | 0.00 | 0.00 | | 85 |
| Ray Taylor – C Taylor | 0.00 | 0.00 | | 85 |
| Dwayne Reine | 0.00 | 0.00 | | 85 |
| Glenn Varner – Erwin Varner | 0.00 | 0.00 | | 85 |
| Marvin Connor – Lance Lambert | 0.00 | 0.00 | | 85 |
| Justin Craven | 0.00 | 0.00 | | 85 |
| Tom Bancroft – Jimmy Bihlear | 0.00 | 0.00 | | 85 |
| Total Entrys | | | $1,150.00 | |
| BONUS $ | | | $475.00 | |
| Total Paid At Ramp | | | $1,490.00 | |
| Cooper River 2022 Fall Final Fund | | | $110.00 | |
| 2022 Fall Cooper River Point Champs | | | $50.00 | |
| 2022 CATT Championship Fund | | | $0.00 | |
| Cooper River 2022 Fall Final Fund Total | | | $185.00 | |