Saturday's Cooper River Spring Final concluded our 2022 Spring Trail on the Cooper River and what a trail is was! We had record setting number and ended up with a record 41 teams entering the Spring Final! When the last check was handed it out we had paid back $17,525.00! Thanks for fishing and thank you Ferris Jennings for putting on the show!
Justin & Michael Craven win the 2022 Cooper River Spring Final with 5 bass weighing a Whopping 24 lbs even! Kick in the $850.00 side pot and they took home $2,850.00!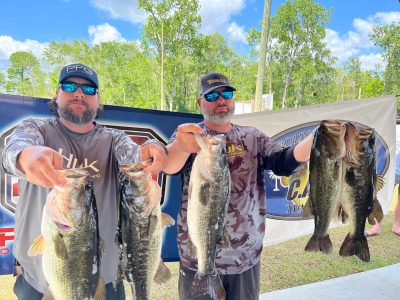 Justin & Michael with their Phantom Invitational Hardware from earlier this Spring!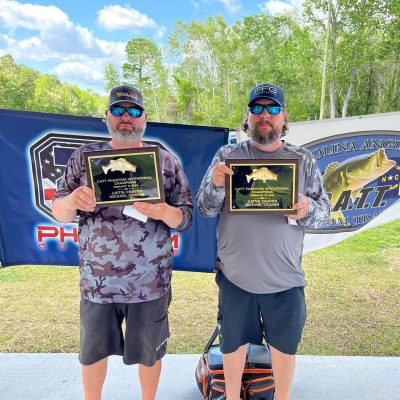 Randall & Ryan Drew finished 2nd with 5 bass weighing 19.23 lbs and they also weighed in the Academy BF at 6.99 lbs! They collected $1,2870.00 and a $25 Academy Gift Card!

Greg Benton & Dean Logan 3rd with 16.55 lbs!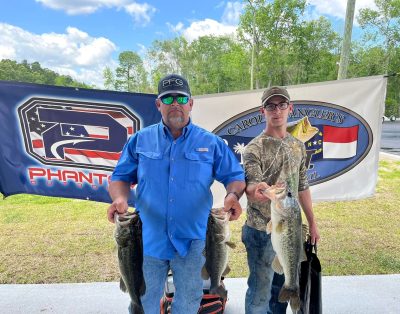 4th went to Will Thompson with 15.02 lbs!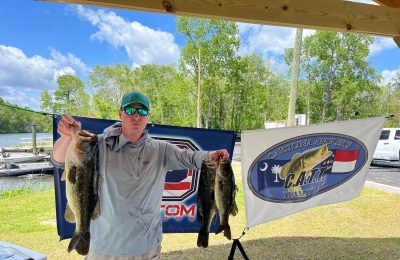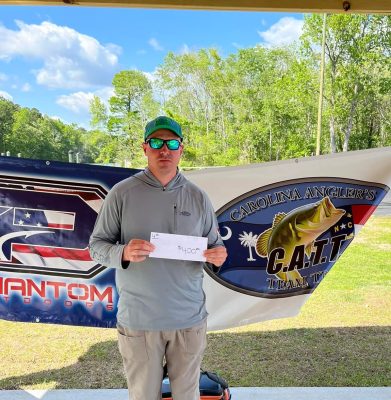 JW Smith & Ben Nye 5th with 14.47 lbs!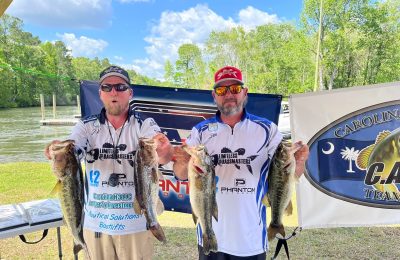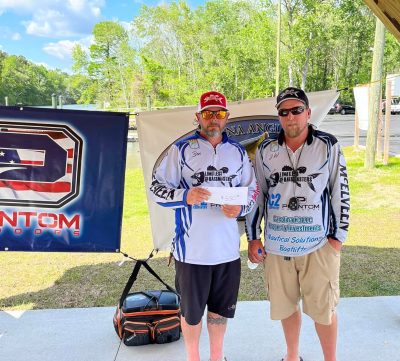 Scott Perrine & Greg Walker took 6th with 14.39 lbs!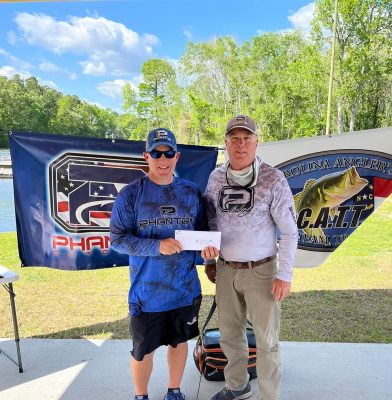 7th went to Joel & Cooper Hopkins with 13.63 lbs!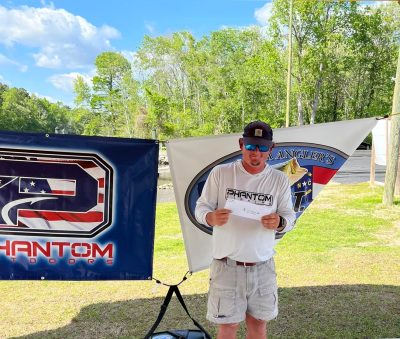 Matt & Andrew Baker 8th with 13.60 lbs!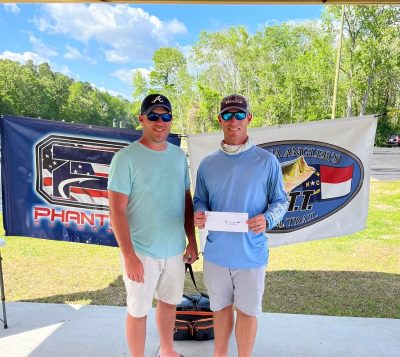 2nd BF James Skelton 6.06 lbs!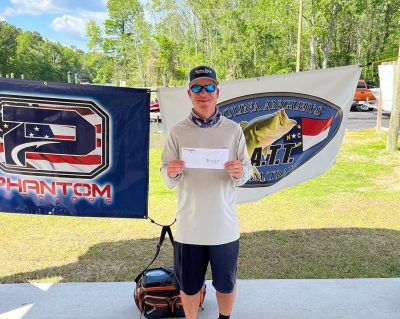 Cooper River Spring Point Champs! Jonathan Brindel-Justin Harvey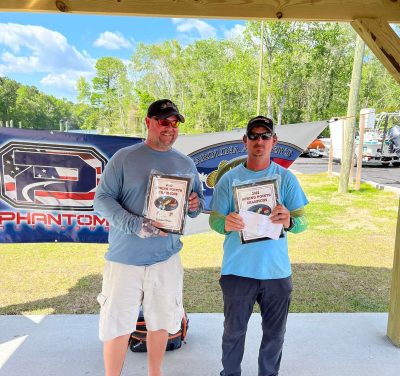 BF for the Spring Trail at 11.71 lbs! Randy Gibson!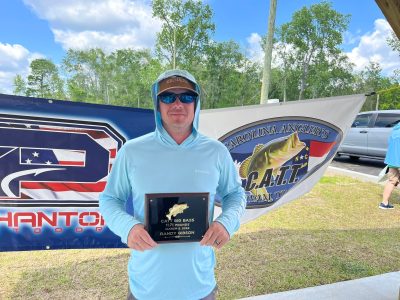 | | | | |
| --- | --- | --- | --- |
| Team | BF | Weight | Winnings |
| Michael Craven Justin Craven | 0.00 | 24.00 | $2,850.00 |
| Randall Drew Ryan Drew | 6.99 | 19.23 | $1,287.00 |
| Greg Benton – Dean Logan | 0.00 | 16.55 | $550.00 |
| Will Thompson | 0.00 | 15.02 | $400.00 |
| Ben Nye J.W. Smith | 0.00 | 14.47 | $350.00 |
| Scott Perrine Greg Walker | 0.00 | 14.39 | $300.00 |
| Cooper Hopkins – Joel Hopkins | 0.00 | 13.63 | $250.00 |
| Matt Baker Andrew Baker | 0.00 | 13.60 | $200.00 |
| Travis Osborn Chris Hall | 0.00 | 13.40 | |
| Todd Thompson – Jimmy King | 0.00 | 13.39 | |
| James Skelton | 6.06 | 13.21 | $123.00 |
| Todd Peters Jeff Shelton | 0.00 | 12.97 | |
| Wendell Lampkin – Jayden Lampkin | 0.00 | 12.91 | |
| Dwayne Reine – Adrain Johnson | 0.00 | 12.81 | |
| Travis Gatlin Grant Powell | 0.00 | 12.65 | |
| Michael Ard Jeff Parson | 0.00 | 12.73 | |
| Cody Wilson – Brant Schuyler | 0.00 | 12.59 | |
| Bob Letizi Derrick Nixon | 0.00 | 11.91 | |
| Mark Johnson Gary Pope | 0.00 | 11.32 | |
| Winky Watford Scotty Mixon | 0.00 | 11.26 | |
| David Driggers | 0.00 | 11.08 | |
| Randy Gibson Jermey Hernedez | 0.00 | 11.07 | |
| James Fender Kyle Welch | 0.00 | 10.86 | |
| Chris Peirano – Jesse Stanley | 0.00 | 10.75 | |
| Chris Blanchette – Bill Foster | 0.00 | 10.51 | |
| Chance Powell Lane Powell | 0.00 | 9.55 | |
| Gavin Miles | 0.00 | 9.28 | |
| Justin Harvey Jonathan Brindel | 0.00 | 8.70 | |
| Ervin Garner Glenn Garner | 0.00 | 8.63 | |
| John Campbell – Jared Boles | 0.00 | 8.07 | |
| Brian Surweic – Walter Cumbee | 0.00 | 8.05 | |
| Michael DiBello Edward Punchak | 0.00 | 7.99 | |
| Jimmy Bihlear | 0.00 | 7.95 | |
| Paul Gaskins | 0.00 | 7.76 | |
| Dale Hanna Shawn Hanna | 0.00 | 7.04 | |
| Darrel Knies | 0.00 | 5.24 | |
| Johnny Watkins Aaron Watkins | 0.00 | 4.57 | |
| Willie Weatherford Wyatt Weatherford | 0.00 | 4.14 | |
| Landy Filyaw Jr | 0.00 | 0.00 | |
| Fred Cruise – Sam Cruise | 0.00 | 0.00 | |
| Jeffrey Peralta Clay Kolb | 0.00 | 0.00 | |
| Total Entrys | | | $4,800.00 |
| BONUS $ | | | $850.00 |
| Cooper River Spring Final Fund | | | $660.00 |
| Total Paid At Ramp | | | $6,310.00 |
| Total Paid Spring 2022 Cooper River | | | $17,525.00 |