**Remember guys you have to enter 3 CATT Qualifiers to be able to enter the June 2-3 CATT Championship on Kerr $10,000 1st Place! You can make your 3 by having fished any FALL 2017 CATT Trails and by fishing any SPRING CATT Trails—the 3 don't have to in the same Division!
Great crowd! 53 teams entered this past Saturday at Kerr ! The Next Old North Qualifier is May 26th at Kerr and we expect another great crowd! Come join us…you'll love the payback!
Dennis Reedy & Tommy Marrow brought in the sack of the day weighing up at 16.87 lbs! They took 1st and the 1st BONUS $ and they left Kerr with $2,810.00 in their pockets! Great Job guys!
2nd went to Clay Ausley & Ken McNeil with 5 bass weighing 15.82 lbs and they took home $1,470.00!
Eddy Glascock & Billy Dunn took home $850.00 for their 3rd Place finish with 15.52 lbs!
Donald Yarborough & Robert Cook weighed in the 1st BF at 4.71 lbs and took home $365.00!
2nd BF went to Dan Jackson & Manley Jones with a 4.57 lbs bass!
Check out the rest of the money winners and hope to see you soon!
**More pics at the bottom of the results!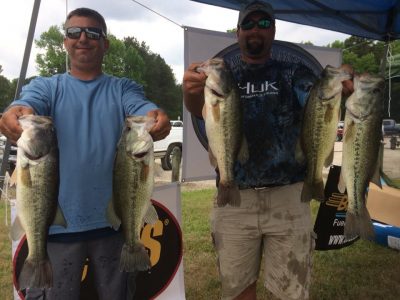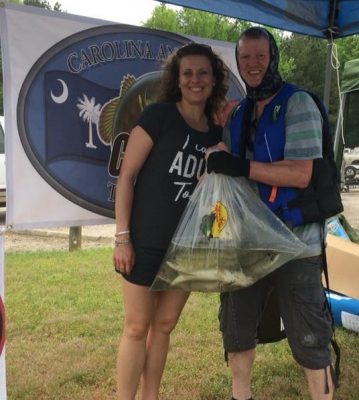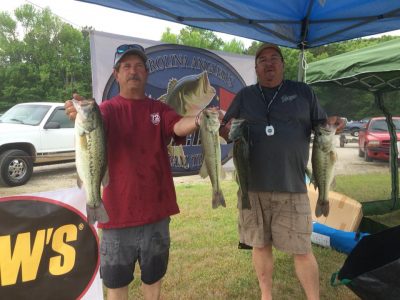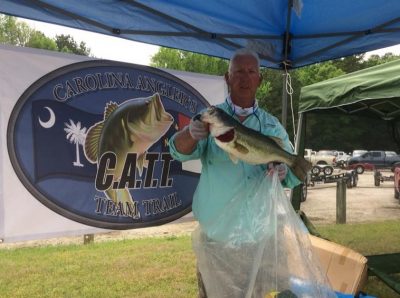 53 Teams
Big
Total
Total
 
Name
Fish
Weight
Winnings
Points
Dennis Reedy&Tommy Marrow  1st BONUS $
4.26
16.87
$2,810.00
110
Clay Ausley&Ken McNeil            

2nd BONUS $

4.52
15.82
$1,470.00
109
Eddy Glascock&Billy Dunn        3rd BONUS $
4.32
15.52
$850.00
108
Mikey Anderson&Rick Goss
3.80
14.57
$510.00
107
Johnny Wilder&Mike Harris
3.33
14.22
$375.00
106
Tony Stanley&Chase Stanley
3.71
14.02
$275.00
105
Ashley Ivey&Jesse Wise
3.36
13.64
$200.00
104
Gary Coldwell&Ryan Roller
3.82
13.39
$175.00
103
Allen White&Richard Cooper
0.00
13.21
$150.00
102
Dan Jackson&Manley Jones 

2nd BF

4.57

13.19
$280.00
101
Seth Ellis&Cody Award
3.80
13.18
100
Timmy Farrell&Howard Bohannon
3.31
13.10
99
Rick Dunstan&Josh Huff
2.88
12.68
98
Hal Blackwelder&Bryan Welch
3.51
12.67
97
Brandon Atwood&Hunter Petty
4.42
12.63
96
Billy Owens&Keith Roberts
3.02
12.48
95
David Huffine&Chris Huffine
3.46
12.36
94
Justis Bobbitt&Cullen Portis
3.12
12.26
93
Alan Thomerson&Nate Arrington
3.21
12.17
92
Johnny Howard&WIlliam Howard
4.36
12.09
91
Mike Cole&Vinson Nettles
2.97
11.95
90
Scooter Lilly&Powell Kemp
3.27
11.82
89
Terry Amen&BryceOwen
3.35
11.77
88
Joe Smith&Raeford Faircloth
0.00
11.67
87
Derek Bowden&Danny Bucklin
0.00
11.67
86
Scott Canady&Jamie Pate
4.54
11.51
85
Rick Ohlson&Randy Parker
0.00
11.35
84
Stephen Briggs&Tim Parker
2.89
10.98
83
Lawrence Gunn&&Harold Caldwell
3.57
10.78
82
James Davis&Delores Davis
3.24
10.74
81
Tim Penhollow&KC Choosakul
2.50
10.64
80
John McLeland&Eric Schell
0.00
10.47
79
David Ward&Bryan McDonald
2.80
10.39
78
Lee Williams
2.83
9.74
77
Mark Lowe&Cliff Swann
3.81
9.62
76
Keith Joyce&Mark Robertson
0.00
9.40
75
Randy Groves&Brandon Newlin
0.00
9.27
74
Justin Rhew&Roger Clary
2.04
9.01
73
Grady Lee&Jamie Murphy
0.00
8.95
72
Dennis Allen&Keith Allen
3.08
8.84
71
Paul Worthington&Ben Whittington
2.75
8.00
70
Donna Wilson&Mike Whitehurst
1.64
7.85
69
Donald Yarborough&Robert Cook  

1st BF

4.71

7.80
$365.00
68
Chris Inscoe&Mark Antonelli
0.00
6.56
67
Paul Watson&Melissa Watson
0.00
5.33
66
Stump Bledsoe&Glenn Elliott
0.00
0.00
65
Anthony Shawler&Scott Davies
0.00
0.00
65
Doug Stallings&Berry Spell
0.00
0.00
65
Mike Hair&Ronnie Hatem
0.00
0.00
65
Doug Parker
0.00
0.00
65
Brad McLauren&Mike Merchant
0.00
0.00
65
Jason Suggs
0.00
0.00
65
Zak Davenport&Wesley Tucker
0.00
0.00
65
Total Entrys
 
 
$6,240.00
 
BONUS $
 
 
$1,755.00
 
Total Paid At Ramp
 
 
$7,460.00
 
Old North 2018 Spring Final Fund
 
 
$480.00
 
2018 CATT Championship Fund
 
 
$50.00
 
2018 Old North Spring Final Fund Total
 
$1,895.00
 
2018 CATT Championship Fund Total
 
$4,530.00