We had another great Spring Trail on the Cooper River! We paid back over $13,000.00! Thanks to Ferris & Becky Jennings! We will have the Fall schedule out soon! Come join us!
John Campbell & Kyle Welch win the 2018 CATT Cooper River Spring Final with 5 bass weighing 18.41 lbs! They also weighed in the Lews BF at 7 lbs even with the BONUS $ added in they took home $2,122.00! John and Kyle also received a Lews Mach Speed Spool Baitcast Reel and an Academy Gift Card!\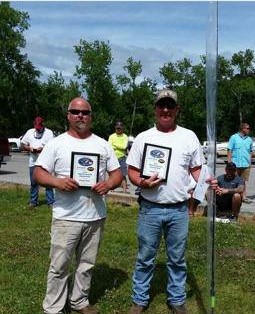 Travis Gatling & Grant Powell took 2nd with 15.70 lbs and weighed in the 2nd Lews BF at 6.28 lbs! They took home $1,078.00 and a Lews Mach Speed Stick!
3rd James Roy Robison Jr & William Gregory with 15.27 lbs and they collected $500.00!
Moe Pictures at the bottom of the results!
| | | | |
| --- | --- | --- | --- |
| 27 Teams | Fish | Weight | Winnings |
| Kyle Welch – John Campbell   BONUS $ & 1st Lews BF | 7.00 | 18.41 | $2,122.00 |
| Travis Gatlin – Grant Powell   2nd BF | 6.28 | 15.70 | $1,078.00 |
| James Roy Robison Jr –  William Gregory | 0.00 | 15.27 | $500.00 |
| Jeremy Hewitt – Bill Lawshe | 0.00 | 14.00 | $300.00 |
| Bucky Black – Carl Harrington | 0.00 | 13.50 | $230.00 |
| Ryan Romesberg – Oliver Watkins | 0.00 | 13.43 | |
| Wesley Ragland – Chandler Ackerman | 0.00 | 13.22 | |
| Health Hunter – Bruce Wheeler | 0.00 | 13.19 | |
| Matt Baker – Andrew Baker | 0.00 | 13.19 | |
| Benjamin Smith – Brent Bartman | 0.00 | 12.84 | |
| Bob Letizi – Derrick Nixon | 0.00 | 12.25 | |
| Scott Perrine-  Brian Nordyke | 0.00 | 11.94 | |
| Joseph Giampa – Gene Youngs | 0.00 | 11.88 | |
| Tom Bancroft | 0.00 | 11.26 | |
| Rusty Chapman – Jonathan Davis | 0.00 | 11.14 | |
| Cody Carter – William Minus | 0.00 | 11.09 | |
| Dave McConnell – Dylan Mcconnell | 0.00 | 10.81 | |
| Bubba Dennis – Randy Gibson | 0.00 | 9.76 | |
| Tim Hilton – Victor Moore | 0.00 | 9.44 | |
| Greg Benton – Logan Benton | 0.00 | 9.36 | |
| Jonathan Brindle – David Grooms | 0.00 | 8.99 | |
| Joe Hutchinson – Elvis Black | 0.00 | 8.47 | |
| Dustin Cox – Anthony Amerson | 0.00 | 7.84 | |
| Jimmy Mccants | 0.00 | 7.72 | |
| CJ Connington-  Garrett White | 0.00 | 5.20 | |
| James White – Johnny Brinson | 0.00 | 0.00 | |
| Will Thompson | 0.00 | 0.00 | |
| Total Entrys |   |   | $3,120.00 |
| BONUS $ |   |   | $440.00 |
| 2017 Cooper River Spring  Final Fund |   |   | $670.00 |
| Total Paid At Ramp |   |   | $4,230.00 |
| Total Paid 2017 Spring Cooper River |   |   | $13,055.00 |