Guys we are looking at ways to improve the numbers at the CATT East Trail on the Roanoke River! I know for sure we will offer a GUARANTEED $2,500.00 1st Place cash award at the 2020 East Final! That's the minimum 1st will pay and if you follow the other CATT Trails you know the $$ will increase with the number of teams entered! Keep checking back!
2020 CATT Championship Kerr Lake!
June 6-7, 2020
$10,000.00 1st Place GUARANTEED!
**2018 & 2019 1st Place Winners Have Taken Home $25,000.00!
New Nutbush Ramp – Kerr State Park!
A team or solo angler must fish 3 CATT events to Qualify!
You can get in your 3 events by fishing any CATT Fall 2019 and CATT Spring 2020! Any CATT event after June 2, 2019 will count!
Qualifying is simple!
Enter 1 CATT event as a team – Entering solo or with a Sub also counts toward your teams Championship Qualification!
The 3 events do not have to be in the same CATT Trail!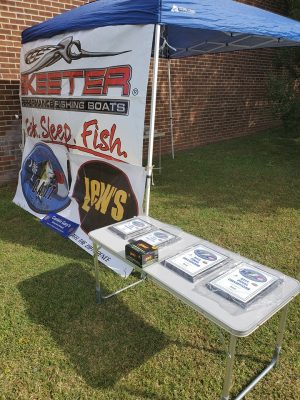 Congratulations to your final winners Mike James and Will James with 16.43 lbs, a check for $1725 and side pot check for $220.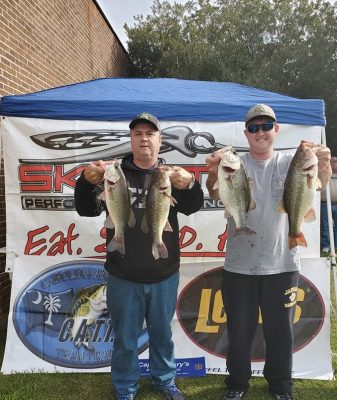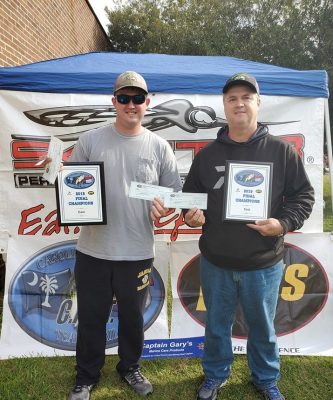 Congratulations to Dennis Langston taking second place with 14.40 lbs and a check for $1,100.00! Dennis also won 1st big fish 5.19 lbs and a check for $77.00! Dennis also received a Lews Baitcast Reel!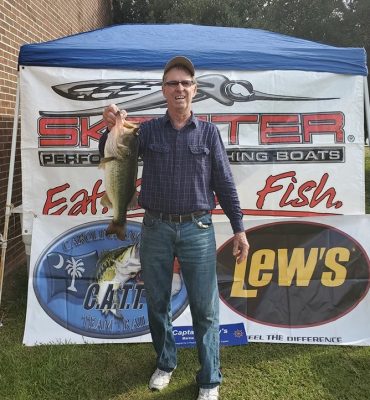 Congratulations to Adam Haithcock and Greg Taylor with 2nd big fish 5.04 lbs and a check for $33.00!
Congratulations to our points champions Larry Thomas and Gerald Elks.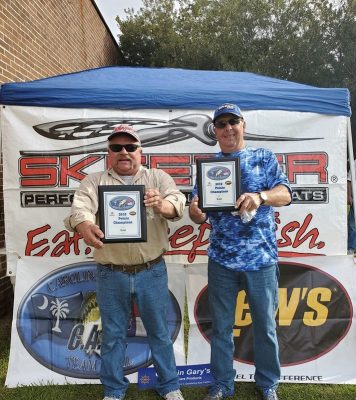 Thanks to each of you that fished with us this year. We look forward to seeing you all next year. Happy fishing.
| | | | |
| --- | --- | --- | --- |
| 12 Teams | BF | Weight | Winnings |
| Will James – Mike James | 4.26 | 16.43 | $1,945.00 |
| Dennis Livingston | 5.19 | 14.40 | $1,177.00 |
| Adam Haithcock – Greg Taylor | 5.04 | 13.91 | $330.00 |
| Zeb West – Harold Herring | 0.00 | 11.53 | |
| JA Williford – Mike Chlomoudis | 0.00 | 10.09 | |
| David Whittmore | 3.68 | 9.92 | |
| Larry Thomas – Gerald Elks | 2.99 | 9.40 | |
| Cameron Smith – Auston Smith | 0.00 | 7.24 | |
| Mike Hinson – Charles Weatherby | 0.00 | 6.82 | |
| Mike White – Dana Moore | 0.00 | 0.00 | |
| Vincent Povazsay – Danny Hall | 0.00 | 0.00 | |
| David Leggett | 0.00 | 0.00 | |
| Total Entrys | | | $1,320.00 |
| BONUS $ | | | $220.00 |
| 2019 East  Final Fund | | | $1,615.00 |
| Total Paid At Ramp | | | $3,155.00 |
| Total Paid 2019 East | | | $11,065.00 |