Next up for the East is the 2020 Final Oct 17 on the Roanoke River launching from the Water Street Lighthouse Landing!
Thanks to all theta fished! We had an increase in the number of teams entering this year and expect another increase in 2021! The 2021 East schedule will be posted soon!
Keep in mind if you entered 2 East CATT events you are eligible to enter the 2020 CATT Academy Championship Nov 7-8 on Kerr Lake $10,000 1st Place! More info tap on Divisions and then Championships!
Larry Thomas & Gerald Elks take the win with 5 bass weighing up at 18.25 lbs! Plus they weighed the 1st BF at 6.29 lbs!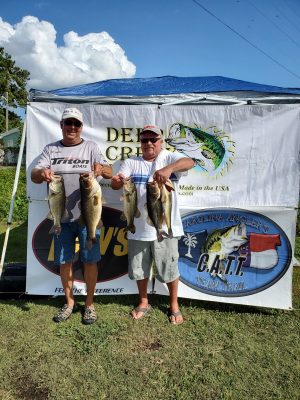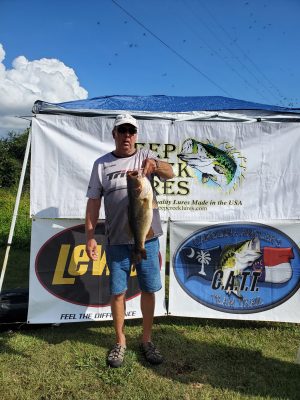 Zeb West & Wayne Stallings finished 2nd with 15.26 lbs! They also win the Points and will fish the Final Free!
Will & Mike James took 3rd with 14.84 lbs!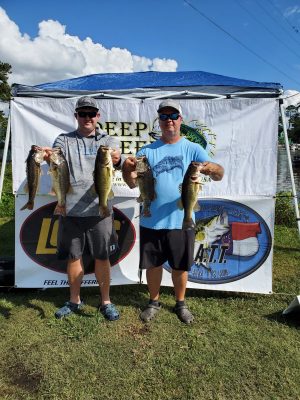 | | | | | |
| --- | --- | --- | --- | --- |
| 16 Teams | BF | Weight | Winnings | Points |
| Larry Thomas – Gerald Elks | 6.29 | 18.25 | $837.00 | 110 |
| Zeb West – Wayne Stallings | 4.72 | 15.26 | $258.00 | 109 |
| Will James – Mike James | 3.50 | 14.84 | $90.00 | 108 |
| Paul King – Bradley Stain | 0.00 | 11.58 | | 107 |
| Shane Craft – Thomas Croft | 3.18 | 10.74 | | 106 |
| Danny Flynn – Doug Davenport | 0.00 | 10.73 | | 105 |
| Bobby Clark – Tommy Hughes | 0.00 | 9.53 | | 104 |
| Mathew Oakley | 0.00 | 9.15 | | 103 |
| Wayne Harris – Kenny Simpson | 0.00 | 8.36 | | 102 |
| Norwood Ligon – Darrel Peale | 2.87 | 6.05 | | 101 |
| Richard Lewis – Steve Vann | 0.00 | 5.73 | | 100 |
| Dillon Thompson – Jerry Bragg | 2.84 | 5.68 | | 99 |
| Mike Ellis – Mark Fairchild | 0.00 | 0.00 | | 98 |
| Danny Wood – Nathanuel Lucas | 0.00 | 0.00 | | 98 |
| Dennis Livingston – Andra Willis | 0.00 | 0.00 | | 98 |
| Mike White – Dana Moore | 0.00 | 0.00 | | 98 |
| Total Entrys | | | $1,280.00 | |
| BONUS $ | | | $240.00 | |
| Total Paid At Ramp | | | $1,185.00 | |
| East 2020 Final Fund | | | $285.00 | |
| 2020 CATT Championship Fund | | | $0.00 | |
| 2020 East Final Fund Total | | | $1,145.00 | |
| 2020 CATT Championship Fund Total | | | $4,750.00 | |