We're having new teams join each Qualifier at Lake Hartwell. remember you only have to enter 1 Qualifier to be able to enter the Hartwell Final!
Next Hartwell Qualifier is Jan 5th at Broyles! Entry is only $60 and you pay just 1 membership!
Bruce & James Taylor take the win at the 3rd Hartwell Fall Qualifier with 5 bass weighing 16.02 lbs! They weighed in the BF at 7.43 lbs and took home a total of $480.00!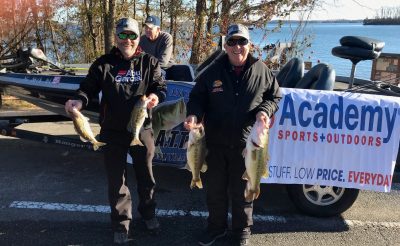 Wesley Sandifer & Caleb Allgood earned $150.00 for 2nd Place with 13.18 lbs!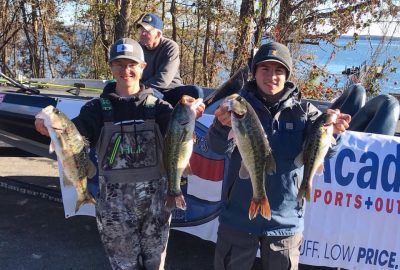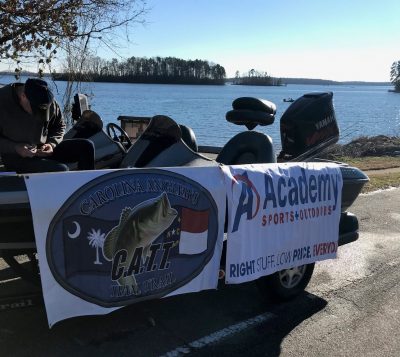 | | | | | |
| --- | --- | --- | --- | --- |
| | Big | Total | Total | |
| 12 Teams | Fish | Weight | Winnings | Points |
| Bruce Taylor – James Taylor | 7.43 | 16.02 | $480.00 | 110 |
| Wesley Sandifer – Caleb Allgood | 0.00 | 13.18 | $150.00 | 109 |
| Mark Swez | 0.00 | 12.48 | | 108 |
| Cliff Tillery – Jeff Wood | 0.00 | 12.27 | | 107 |
| Michael Blackwell – Richard Gosnell | 0.00 | 12.07 | | 106 |
| Andy Green/Bobby Williams | 0.00 | 12.03 | | 105 |
| Jody Hughes | 0.00 | 11.97 | | 104 |
| David Arnold – Billy Buice | 0.00 | 11.28 | | 103 |
| Bill Hunter/ J. Hunter | 0.00 | 9.62 | | 102 |
| Brian Mullins – Todd Mulvey | 0.00 | 7.43 | | 101 |
| David Barnes | 0.00 | 0.00 | | 100 |
| V.Blanton/B. Hinson | 0.00 | 0.00 | | 100 |
| Total Entrys | | | $600.00 | |
| BONUS $ | | | $280.00 | |
| Total Paid At Ramp | | | $630.00 | |
| Hartwell 2018 Fall Final Fund | | | $110.00 | |
| 2019 CATT Championship Fund | | | $0.00 | |
| 2018 Hartwell Fall Final Fund Total | | | $425.00 | |
| 2019  CATT Championship Fund Total | | | $2,390.00 | |