Next Phantom Outdoors Invitational will be on Lake Norman, NC May 15th at Pinnacle Access! BIG CROWD coming so make plans to be there and get your share of some BIG MONEY! Lews will be on site at Lake Norman!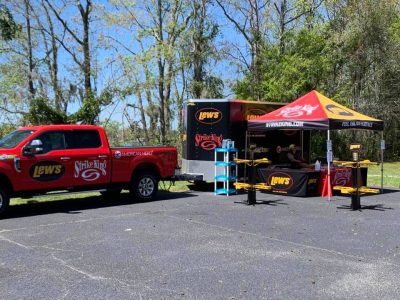 Tap on the link for info on all of the Phantom Outdoors Invitationals!
Isreal Gibson & Grant McPeters win the High Rock Phantom Outdoors Invitational on High Rock Lake with 5 bass weighing 22.25 lbs! They earned $3,000.00!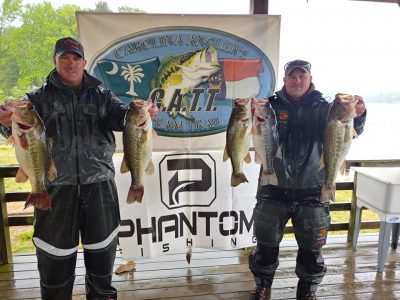 2nd Place went to Shawn Knight & Dustin Horne with 5 bass weighing 19.79 lbs and they weighed in the 1st BF at 6.89 lbs! Shawn & Dustin took home $3,000.00!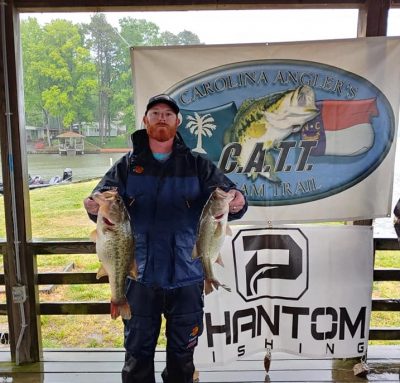 Tommy Jones & Rodney Bell claimed 3rd with 19.79 lbs and received $2,440.00!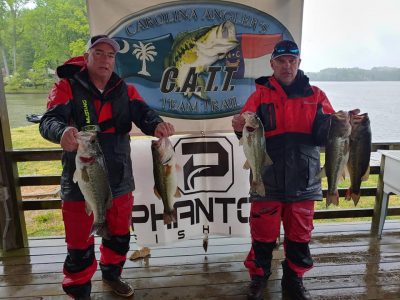 Jeremy Talbert & Kevin Chandler finished 4th with 18.43 lbs and they pocketed $1,375.00!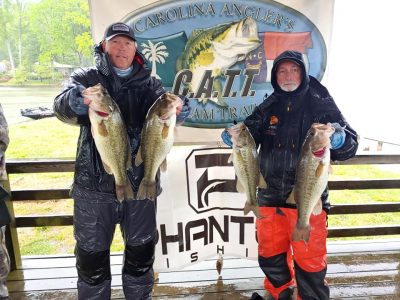 Jason Barnes with his Lews/Strike King Gift card!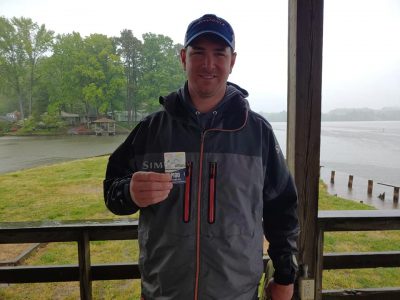 Butch & Ryan Drew with another nice sack!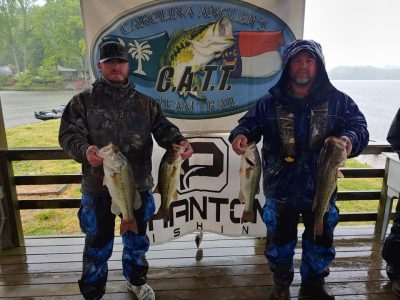 | | | | |
| --- | --- | --- | --- |
| Team | BF | Weight | Winnings |
| Isreal Gibson – Grant McPeters | 5.16 | 22.25 | $3,000.00 |
| Shawn Knight – Dustin Horne | 6.89 | 19.79 | $3,000.00 |
| Rodney Bell – Tommy Jones | 4.00 | 19.79 | $2,440.00 |
| Kevin Chandler – Jeremy Talbert | 5.07 | 18.43 | $1,375.00 |
| Butch Drew – Ryan Drew | 5.05 | 17.23 | |
| Brad Staley – Josh Stafford | 5.37 | 16.47 | |
| Kirby Moffitt – Mike Walker | 0.00 | 16.26 | |
| Robbie Walser – Stanley Walser | 5.36 | 16.08 | |
| Jason Barnes | 0.00 | 15.79 | |
| Scott Henley – Matt Henley | 0.00 | 15.47 | |
| Steve Summer – Jason Thomas | 0.00 | 15.34 | |
| TJ Drew – Randall Drew | 3.49 | 14.91 | |
| Al Greco – Ken McNeil | 0.00 | 13.55 | |
| John Kistler – Rusty Melton | 0.00 | 13.31 | |
| Chip Crews – Josh Snow | 0.00 | 12.06 | |
| Ladd Whicker – Landon Whicker | 0.00 | 11.72 | |
| Spencer Moffitt – Robbie Moffitt | 0.00 | 11.68 | |
| Orlando Giles – Dakota Roberts | 0.00 | 11.41 | |
| Darryl Carter – Robert Mixon | 0.00 | 11.29 | |
| David Lloyd – Daniel Lloyd | 0.00 | 11.07 | |
| Darryl Brown – Tom McComb | 3.05 | 10.07 | |
| Mike Lowhon – Sam Lawhon | 0.00 | 9.39 | |
| James Jackson – Matthew Jackson | 0.00 | 8.96 | |
| Mark Williams – Jeff Glover | 5.05 | 6.53 | |
| Darrell Fisher – Randy Bell | 4.72 | 0.00 | |
| George Lambeth – Herby Young | 0.00 | 0.00 | |
| Byron Brush | 0.00 | 0.00 | |
| Mitch Drew – Kenny Drew | 0.00 | 0.00 | |
| Dale Phillips | 0.00 | 0.00 | |
| Jody Jones | 0.00 | 0.00 | |
| Greg Lovelace | 0.00 | 0.00 | |
| Adam & Brad Younts | 0.00 | 0.00 | |