**To be eligible to enter the 2018 James River Final —-  Must fish 4 of 7 Qualifiers to Fish Final. Fishing solo once & with sub once counts toward teams Qualification. You may fish solo and you can Qualify solo for the James River Final.
Next James River CATT is July 14th at Riverfront Park!
Guys we had a mix up with the payback and paid back way too much money. So enjoy! Our mistake! We took in $8,545.00 and paid back $9.165.00!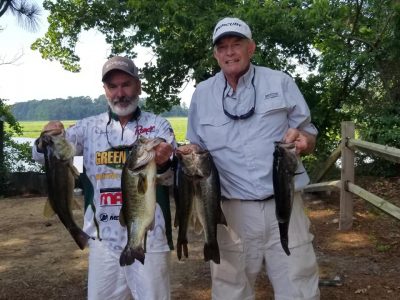 Ron Studer & Nelson Marshall 1st Place 17.72 lbs  $2,470.00!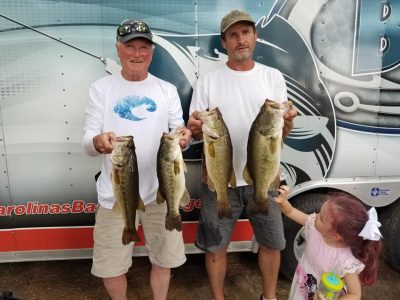 Howard Austin & Jerry Britt 17.55 lbs!  $1,230.00!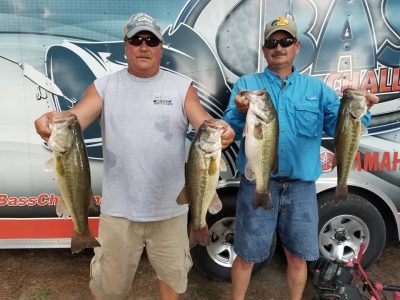 Mickey Anderson & Bo Bolts 3rd 16.45 lbs!
| | | | | |
| --- | --- | --- | --- | --- |
| | Big | Total | Total | |
| Team | Fish | Weight | Winnings | Points |
| Nelson Marshall – Ron Studer      1st BONUS | 5.28 | 17.72 | $2,470.00 | 220 |
| Jerry Britt – Howard Austin          2nd BONUS | 5.35 | 17.55 | $1,230.00 | 219 |
| Mickey Anderson – Bo Bolts         3rd BONUS | 5.05 | 16.45 | $865.00 | 218 |
| Ray Hogge – Donnie Daniel            1st BF | 5.79 | 16.05 | $1,062.00 | 217 |
| Ryan Powroznik – Jeff Koch | 0.00 | 15.46 | $600.00 | 216 |
| Brian Green – Jeff Parrish | 4.46 | 15.28 | $500.00 | 215 |
| Noah Gilley – Craig Hula | 5.25 | 15.15 | $400.00 | 214 |
| Johnathan Dickerson | 3.80 | 15.08 | $300.00 | 213 |
| Torrey Aiken – Craig Fagan | 4.47 | 14.96 | $250.00 | 212 |
| Robert Stinger – Shawn Burnett | 0.00 | 14.66 | $250.00 | 211 |
| Ryan Drewery – Wayne Drewery | 0.00 | 14.45 | $200.00 | 210 |
| Edward Jordan Sr –  Edward Jordan Jr | 4.61 | 14.15 | $150.00 | 209 |
| Marshall Johnson – Ryan Lochinet | 4.90 | 14.03 | $140.00 | 208 |
| Richard Bates –  Chad Holm | 3.26 | 13.95 | $125.00 | 207 |
| Kelly Pratt – Joshua Wright | 0.00 | 13.91 | $125.00 | 206 |
| Chris Atwell – Gary Atwell | 0.00 | 13.89 | | 205 |
| Michael Shears – Wayne Eastwood         2nd BF | 5.55 | 13.87 | $198.00 | 204 |
| William Allen – Mike Martinez | 0.00 | 13.85 | | 203 |
| Matt Funk – James Funk | 0.00 | 13.48 | | 202 |
| Don Gregg – Trey Gregg | 0.00 | 13.11 | | 201 |
| Luke Elliston –  Jake Kupselites | 0.00 | 13.10 | | 200 |
| Jay Griffin – Robert Whitehurst | 0.00 | 13.07 | | 199 |
| Andy Semonco – Wayne Adams | 0.00 | 13.02 | | 198 |
| Tim Chaffin – Stan Keyser | 0.00 | 12.88 | | 197 |
| Danny Ashton – Tim Ashton | 4.58 | 12.87 | | 196 |
| Brian Snipes – Chris Cockrell | 0.00 | 12.32 | | 195 |
| Stacy Sasser – Edward Hancock | 0.00 | 12.15 | | 194 |
| Andrew Bollhorst – David Carney | 0.00 | 12.15 | | 193 |
| Chris Milton – Blake Hatton | 0.00 | 12.04 | | 192 |
| | 0.00 | 11.90 | | 191 |
| Kelly Robinette – David Barlow | 0.00 | 11.75 | | 190 |
| Harvey Reese –  Anthony Weithers | 3.76 | 11.74 | | 189 |
| Brandon Hill – Kevin King | 0.00 | 11.41 | | 188 |
| Steve Lamm – Jesse Johnson | 4.66 | 11.40 | | 187 |
| Barry Cobb – Travis Heath | 0.00 | 11.38 | | 186 |
| Francis Martin – Ray Griffin | 3.63 | 11.22 | | 185 |
| Mike Mozingo –  Adam Weaver | 0.00 | 11.10 | | 184 |
| Ricky Powell –  Bubba Johnson | 0.00 | 11.06 | | 183 |
| Gregg Cooper | 0.00 | 10.88 | | 182 |
| Leidy Clark –  Donna Clark | 0.00 | 10.69 | | 181 |
| James Condrey – Jimmy Condrey | 0.00 | 10.50 | | 180 |
| Chris Fiore – Mikey Oley | 0.00 | 10.07 | | 179 |
| Will Vickery – Dee Kidd | 0.00 | 10.00 | | 178 |
| Audie Murphy – Chris Toone | 0.00 | 9.83 | | 177 |
| Don Bowman –  Mike Wright | 0.00 | 9.58 | | 176 |
| Jim Harrison – Cole Harratt | 0.00 | 9.05 | | 175 |
| Dustin Felts – Brandon Vaughan | 0.00 | 8.90 | | 174 |
| William Clements – Chris Simons | 0.00 | 8.64 | | 173 |
| Matt Pulley – Brett Stewart | 0.00 | 8.38 | | 172 |
| Mike Baldwin – Randy Taylor | 0.00 | 8.31 | | 171 |
| Burley Langford – Brian Langford | 0.00 | 8.28 | | 170 |
| Steve Webb – Daniel Webb | 0.00 | 8.24 | | 169 |
| Mike Hinkley –  Bernie Drimal | 0.00 | 7.76 | | 168 |
| Michael Green | 0.00 | 7.62 | | 167 |
| David Fox – Roger Walters | 0.00 | 7.60 | | 166 |
| Carl Johnson – Bobby Harlow | 0.00 | 7.52 | | 165 |
| John Koren – Joe Westfall | 0.00 | 7.23 | | 164 |
| Justin Hodges – Scott Harvey | 0.00 | 5.86 | | 163 |
| Reuben Green – Ernest Howell | 0.00 | 5.07 | | 162 |
| Jason Bishop – Craig Shelton | 0.00 | 0.00 | | 161 |
| Linwood Shores – Jacob Dowdy | 0.00 | 0.00 | | 161 |
| Jeffrey Banko | 0.00 | 0.00 | | 161 |
| Kenny Wright – Charlie Seymour | 0.00 | 0.00 | | 161 |
| David Heavenridge – Cody Heavenridge | 0.00 | 0.00 | | 161 |
| Casey Logan – Keaton Dalton | 0.00 | 0.00 | | 161 |
| Total Entrys | | | $7,800.00 | |
| BONUS $ | | | $745.00 | |
| Total Paid At Ramp | | | $9,165.00 | |
| James River 2018 Final Fund | | | $0.00 | |
| 2019 CATT Championship Fund | | | $0.00 | |
| 2018 James River Final Fund Total | | | $1,935.00 | |
| 2019 CATT Championship Fund Total | | | $305.00 | |