Next Santee Cooper CATT is this Saturday March 6th and we will launch from Blacks Camp!
Craig McFadden & Mike Watson brought in 5 bass weighing 24.43 lbs and the 2nd BF at 6.94 lbs! They claimed 1st Place worth $1,834.00!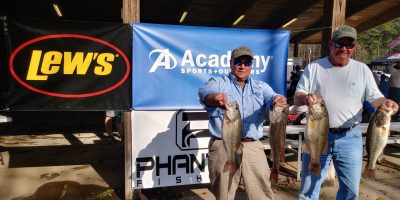 Chris Crawford & Mike King took 2nd with 24.32 lbs!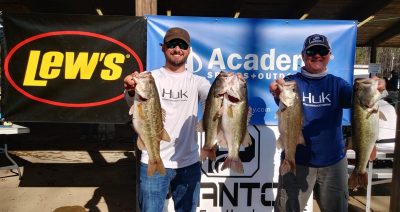 Steven Walker & Charles Right with 2.17 lbs! 3rd Place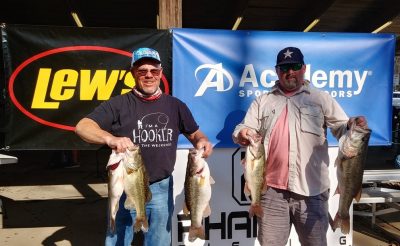 Bunn Tyson & Thad Driggers 4th with 21.16 lbs and the 1st BF at 7.92 lbs!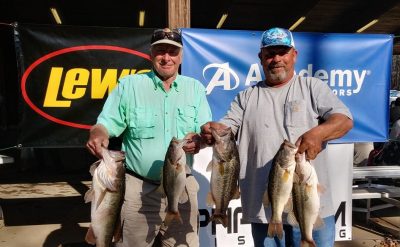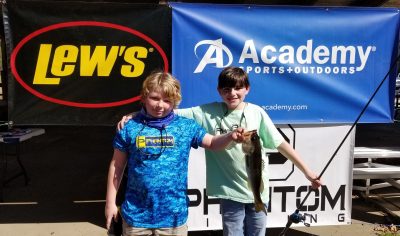 | | | | | |
| --- | --- | --- | --- | --- |
| Mike Watson – Craig McFadden | 6.94 | 24.43 | $1,834.00 | 110 |
| Mike King – Chris Crawford | 6.20 | 24.32 | $610.00 | 109 |
| Steven Walker – Charles Right | 5.95 | 22.17 | $325.00 | 108 |
| Bunn Tyson – Thad Driggers | 7.92 | 21.16 | $416.00 | 107 |
| Bryan Cook – Steve Harmon | 6.40 | 17.85 | $160.00 | 106 |
| Rodney Jordon – Brent Waynick | 0.00 | 17.10 | | 105 |
| Wendell Causey – Brandon Jeffcoat | 6.40 | 15.52 | | 104 |
| Nelson Walker – Mark Brice | 5.41 | 15.29 | | 103 |
| Jason Morse – Zeke Lynum | 0.00 | 14.72 | | 102 |
| Ronnie Mills – Trip Mills | 5.41 | 13.97 | | 101 |
| Robert Clarke | 0.00 | 13.38 | | 100 |
| Will Timmons – Bennett Lawshe | 0.00 | 11.52 | | 99 |
| Dave Murdock – Steve Borton | 4.31 | 9.31 | | 98 |
| Mack Cook – Patrick Cook | 5.41 | 8.68 | | 97 |
| Horace Scott Sr – Cooper Scott | 0.00 | 8.63 | | 96 |
| Mario Colangelo – Reid Colangelo | 5.87 | 8.11 | | 95 |
| Max Terry – Jamie Glascock | 0.00 | 7.71 | | 94 |
| Brian Scott – Brad Beatson | 4.45 | 4.45 | | 93 |
| Mac Altman – Randall Miller | 0.00 | 0.00 | | 83 |
| Justin Cromer – Austin Cromer | 0.00 | 0.00 | | 83 |
| Jamie Partee – Donnie McCord | 0.00 | 0.00 | | 83 |
| Tim Richardson | 0.00 | 0.00 | | 83 |
| Horace Scott Jr – Gordon Owens | 0.00 | 0.00 | | 83 |
| Johnny Buck – Todd Olds | 0.00 | 0.00 | | 83 |
| Daniel Howell | 0.00 | 0.00 | | 83 |
| Garrett Brown | 0.00 | 0.00 | | 83 |
| Landen Rose | 0.00 | 0.00 | | 83 |
| Danny Lowery – Avia Lowery | 0.00 | 0.00 | | 83 |
| | | | | |
| --- | --- | --- | --- | --- |
| Total Entrys | | | $3,360.00 | |
| BONUS $ | | | $500.00 | |
| Total Paid At Ramp | | | $3,345.00 | |
| Santee Cooper 2021 Spring Final Fund | | | $385.00 | |
| 2021 CATT Championship Fund | | | $80.00 | |
| 2021 Santee Cooper Spring Final  Total | | | $1,390.00 | |
| 2021 CATT Championship Fund Total | | | $960.00 | |