We wrapped up a great year on the James River by paying back over $11,000.00 at the James River Final! All total the James River CATT Trail paid back over $70,000.00 in 2019! The 2020 James River schedule is posted and we hope you'll join us for another big year on the James River!
The cooler weather seemed to lower the weights from what we have been seeing this year but someone always seems to catch some good fish! Bo Boltz & Mickey Anderson topped the field with 10 bass weighing 36.59 lbs! They also claimed the 1st Side Pot for a total of $5,240.00!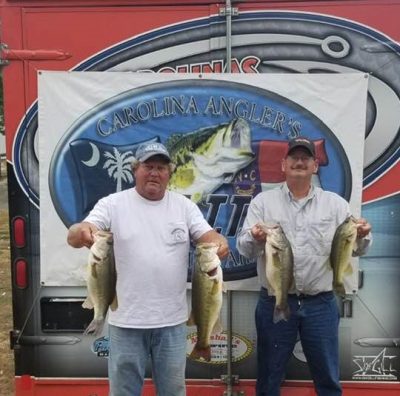 2nd Place went to Kelly Robinette & David Collins with 29.49 lbs worth $2,000.00!
Charles James & John Conway finished 3rd with 27.84 lbs and they collected $1,000.00!
Jeffery Valentine-Daryl Mood weighed in the 1st BF at 7.10 lbs! They received $287.00 and a Lews Mach Speed Stick!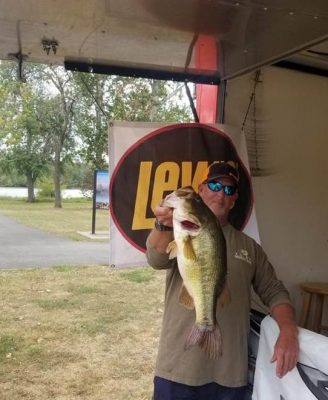 William Clements with the 2nd BF!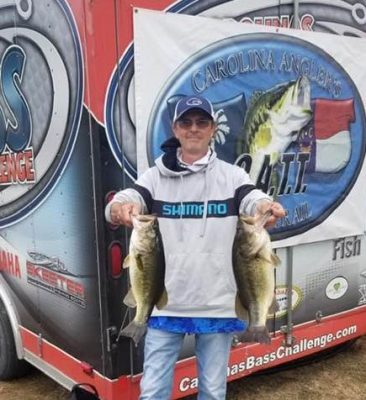 Richard Bates & Chad Holmes brought in some nice bass!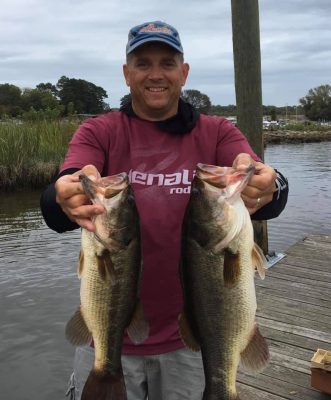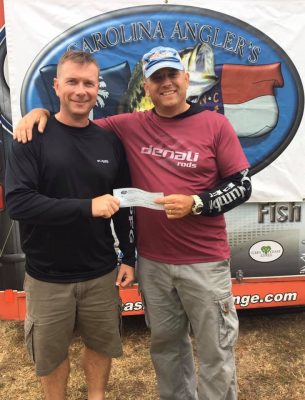 Thanks for fishing and we'll see you in 2020!
| | | | | | |
| --- | --- | --- | --- | --- | --- |
| | BF | 1st Day | 2nd Day | Total | Winnings |
| Mickey Anderson – Bo Boltz | 6.06 | 17.62 | 18.97 | 36.59 | $5,240.00 |
| Kelly Robinette- David Collins | 0.00 | 14.63 | 14.86 | 29.49 | $2,000.00 |
| Charles James- John Conway | 0.00 | 14.14 | 13.70 | 27.84 | $1,000.00 |
| Brandon Hill- Kevin King | 0.00 | 15.44 | 11.85 | 27.29 | $750.00 |
| Marshall Johnson- Ryan Lachinet | 0.00 | 13.08 | 13.08 | 26.16 | $500.00 |
| Richard Bates-Chad Holmes | 0.00 | 13.94 | 12.12 | 26.06 | $300.00 |
| Kelly Pratt-Charlie Reed | 0.00 | 14.52 | 10.91 | 25.43 | $410.00 |
| Greg Ball-Jamie Nealy | 0.00 | 11.12 | 13.91 | 25.03 | $200.00 |
| Ryan Drewery-Wayne Drewery | 0.00 | 12.06 | 12.92 | 24.98 | |
| Howard Austin-Jerry Britt | 0.00 | 9.45 | 15.08 | 24.53 | |
| Leidy Clark-Ricky West | 0.00 | 11.80 | 12.60 | 24.40 | |
| Trey Goodman-Tim Chaffin | 0.00 | 14.76 | 9.55 | 24.31 | |
| Larry Whitt – Zack Whitt | 0.00 | 10.99 | 13.12 | 24.11 | |
| Donnie Bowman – Mike Wright | 0.00 | 10.37 | 13.13 | 23.50 | |
| Matt Chisholm- Todd Fisher | 0.00 | 12.46 | 10.28 | 22.74 | |
| Jake Eheart – Ethan Morrison | 0.00 | 11.91 | 10.66 | 22.57 | |
| Ray Hooge – Donnie Daniels | 0.00 | 10.81 | 11.46 | 22.27 | |
| William Clement- James Cornett | 6.46 | 16.54 | 4.24 | 20.78 | $123.00 |
| Jason Bishop | 0.00 | 11.01 | 9.62 | 20.63 | |
| Francis Martin- Ray Griffin | 0.00 | 8.75 | 11.87 | 20.62 | |
| Jeffery Valentine-Daryl Moody | 7.10 | 7.10 | 13.34 | 20.44 | $287.00 |
| Robert Whitehurst-Parker Hinks | 0.00 | 10.30 | 9.86 | 20.16 | |
| Johnathan Ceaser- Luke | 0.00 | 9.27 | 9.27 | 18.54 | |
| Luke Carson- Donald Carson | 0.00 | 6.51 | 11.71 | 18.22 | |
| Chris Burnett-Chris Powell | 0.00 | 8.97 | 8.97 | 17.94 | |
| Brian Snipes-Chris Cockrell | 0.00 | 9.50 | 7.59 | 17.09 | |
| Dave Carney- Andy Bollhurst | 0.00 | 13.18 | 2.63 | 15.81 | |
| Burley – Brian Langford | 0.00 | 7.49 | 7.49 | 14.98 | |
| Doug Warton- Ben kindrick | 0.00 | 4.17 | 9.85 | 14.02 | |
| Steven Webb- Lance Taylor | 0.00 | 9.55 | 4.41 | 13.96 | |
| Roger Williams- David Fox | 0.00 | 5.64 | 0.00 | 5.64 | |
| Andy Semenco – Wayne Andrews | 0.00 | 5.15 | 0.00 | 5.15 | |
| Mike Hinkley Matt Pulley | 0.00 | 0.00 | 8.86 | 8.86 | |
| Stacy Vassar | 0.00 | 3.06 | 0.00 | 3.06 | |
| John Barnes- Ryan Barksdale | 0.00 | 2.11 | 0.00 | 2.11 | |
| Wayne Taylor-John Doyle | 0.00 | 1.95 | 0.00 | 1.95 | |
| Harvey Reece – Anthony Weithers | 0.00 | 0.00 | 0.00 | 0.00 | |
| Craig Fagan-Torry Aiken | 0.00 | 0.00 | 0.00 | 0.00 | |
| Chris Atwell-Gary Atwell | 0.00 | 0.00 | 0.00 | 0.00 | |
| Ben Knapp-Rodney Manson | 0.00 | 0.00 | 0.00 | 0.00 | |
| Bryan Keane | 0.00 | 0.00 | 0.00 | 0.00 | |
| James Condrey – Jimmy Condrey | 0.00 | 0.00 | 0.00 | 0.00 | |
| Charles Ramer- Paul brock | 0.00 | 0.00 | 0.00 | 0.00 | |
| Tommy Little | 0.00 | 0.00 | 0.00 | 0.00 | |