Next Lake Wateree CATT is June 17th at Clearwater Cove Marina! With the weather heating up we weigh in at 2 pm!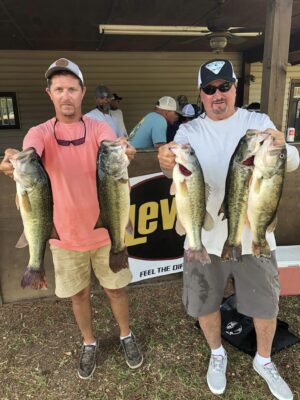 Chad Sims & Steve Phillips take 1st Place with 5 bass weighing 18.02 lbs and took home $1,275.00!
Chad Rabon & Walt Almond 2nd with 17.35 lbs!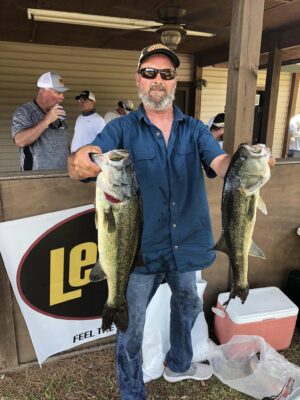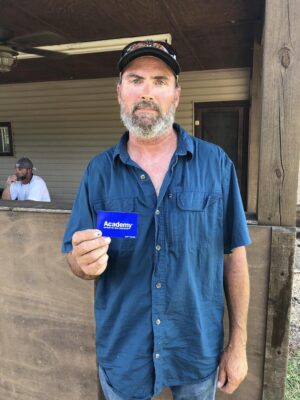 Greg & Gage Sigmon weighed in 16.62 lbs good enough for 3rd along with the Academy BF at 5.49 lbs!
| | | | | |
| --- | --- | --- | --- | --- |
| Team | BF | Weight | Winnings | Points |
| Steve Phillips & Chad Sims | 4.54 | 18.02 | $1,275.00 | 110 |
| Walt Almond & Chad Rabon | 4.02 | 17.35 | $400.00 | 109 |
| Greg Sigmon & Gage Sigmon | 5.49 | 16.62 | $294.00 | 108 |
| Butch Williams & Max Price | 3.93 | 16.13 | | 107 |
| Dylan Locklear & Jonathan Daily | 3.65 | 15.30 | | 106 |
| Justin Barfield & Johnny Barfield | 4.30 | 15.09 | | 105 |
| Chad Gainey & Mack Kitchens | 3.69 | 14.81 | | 104 |
| Jeff Norris & Jacob Norris | 3.18 | 14.22 | | 103 |
| Max Terry & Freddie Gibbs | 3.93 | 13.58 | | 102 |
| Jason Ries & Roger McKee | 3.77 | 13.30 | | 101 |
| Ryan Ray & Bryce Kelly | 4.28 | 13.01 | | 100 |
| Jeff Knight & Lane Knight | 4.60 | 12.24 | $51.00 | 99 |
| Jarrod Thompson & Wayne Gainey | 3.14 | 11.86 | | 98 |
| Colden Baker & Jaylin White | 2.74 | 11.63 | | 97 |
| Jess Williams | 2.37 | 9.06 | | 96 |
| Luke Shrader & Quentin Mobley | 0.00 | 0.00 | | 86 |
| Alvin Shaw & Brett White | 0.00 | 0.00 | | 86 |
| Total Entrys | | | $2,040.00 | |
| BONUS $ | | | $375.00 | |
| Total Paid At Ramp | | | $2,020.00 | |
| CATT | | | $70.00 | |
| 2023 Wateree Summer Final Fund | | | $275.00 | |
| 2023 CATT Championship Fund | | | $50.00 | |
| 2023 Wateree Summer Fund Total | | | $910.00 | |