We've had a great year on the James River! We have 71 teams eligible to enter the James River Final Oct 28-29 at Rt 5 with a $5,000 1st Place Guarantee! Final – $160 Entry $170 at Ramp Optional Sidepot – $50. If we have at least 60 teams enter the total purse will be over $13,000 at the Final!
Ryan & Wyne Drewery win the 2023 James River Spring Points and will receive free entry to all 2024 James River Qualifier plus boat #1 position! Great job guys!
2nd Place Points – Clay Lewis & Greg Cooper   $500
3rd Place Points – Kelly Robinette & David Barlow  $250
4th Place Points – Tim Chaffin & Trey Goodman  $150
5th Place Points – Tripp Mistr & Brent Mistr  $100
Thanks to Woodel Bros for sponsoring out 2023 James River Points! Tap on the logo to visit their website!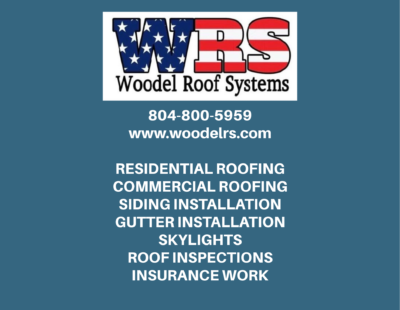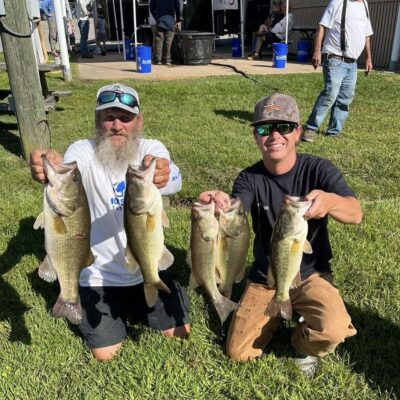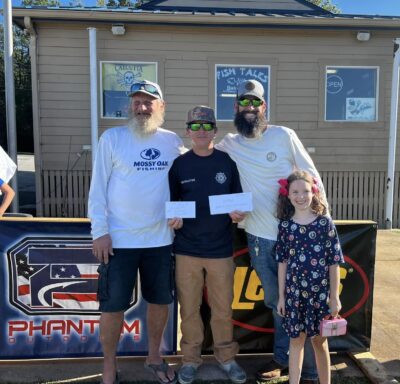 Brian Brooks & Avery Powelson win the James River with 5 bass weighing 16.77 lbs! They collected $2,325.00! Congrats guys!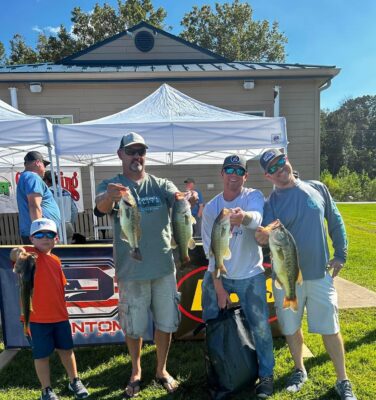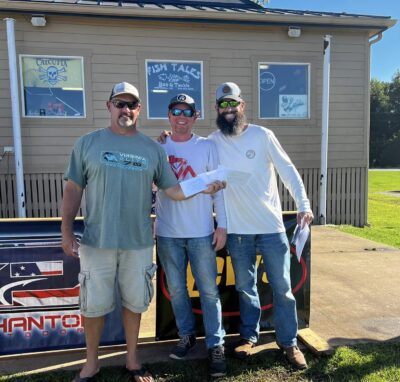 Greg Cooper & Clay Lewis took 2nd with 16.57 lbs worth $1,433.00!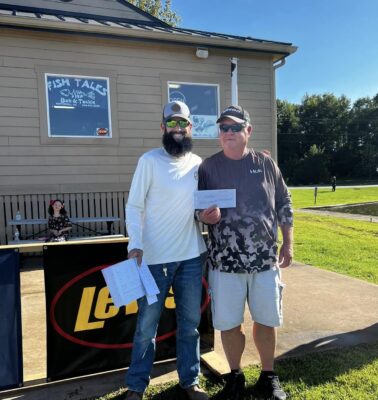 3rd Place Joseph Carr & Bob Timberlake 15.87 lbs!
4th Place Sammy Yates & Marshall Johnson 15.79 lbs!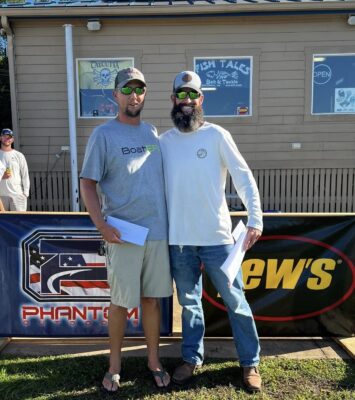 5th Place Garrett Gouge 13.954 lbs!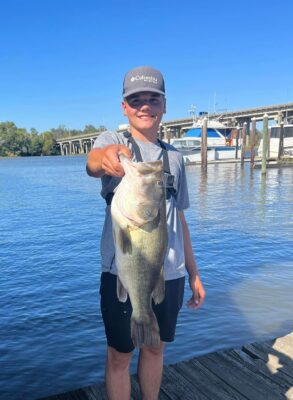 A nice un!
Guys there is a load of pictures on the James River CATT FB page!
(1) James River CATT | Facebook
| | | | | |
| --- | --- | --- | --- | --- |
| Team | BF | Weight | Winnings | Points |
| Brian Brooks – Avery Powelson | 5.92 | 16.77 | $2,325.00 | 110 |
| Clay Lewis & Greg Cooper | 5.99 | 16.57 | $1,433.00 | 109 |
| Joseph Carr – Bob Timberlake | 4.92 | 15.87 | $600.00 | 108 |
| Sammy Yates – Marshall Johnson | 5.78 | 15.79 | $640.00 | 107 |
| Garrett Gouge | 0.00 | 13.94 | $350.00 | 106 |
| Zack Whitt – Larry Whitt | 4.30 | 13.82 | $270.00 | 105 |
| Griffin Roberts – Nicholas Bodsford | 5.34 | 13.76 | $200.00 | 104 |
| Jacob Reid – Garland Reid | 6.03 | 13.56 | $527.00 | 103 |
| Ron Studer – Mark Adams | 5.01 | 13.54 | $150.00 | 102 |
| Wesley Farmer – Baker | 5.56 | 13.42 | $130.00 | 101 |
| Tim Chaffin – Trey Goodman | 0.00 | 13.13 | | 100 |
| Greg Fernandez – Jake Kidd | 0.00 | 12.95 | | 99 |
| Ed Jordon – Wayne Tyler | 0.00 | 12.71 | | 98 |
| Kelly Robinette – David Barlow | 0.00 | 12.59 | | 97 |
| Donnie Meade – Travis Daniels | 0.00 | 11.86 | | 96 |
| Chris Bryant – Matt Dunnigan | 0.00 | 11.81 | | 95 |
| Billy Allen – Craig Cheek | 0.00 | 11.76 | | 94 |
| Luke Carson – Logan Carson | 0.00 | 11.66 | | 93 |
| Howard Austin – Mickey Anderson | 0.00 | 11.57 | | 92 |
| Keith Smith – Jeff Marin | 0.00 | 11.42 | | 92 |
| Ryan Drewery – Wayne Drewery | 0.00 | 11.41 | | 90 |
| Justin Dyson – Brent Williams | 0.00 | 11.06 | | 89 |
| Tom Owens – Rick Mistr | 2.74 | 10.50 | | 88 |
| Christopher Wingfield – Benny Wingfield | 0.00 | 10.31 | | 87 |
| Jeff Valentin – Daryl Moody | 0.00 | 10.24 | | 86 |
| Don Warren/ Chuck Comer | 0.00 | 10.12 | | 85 |
| Cory Dunnavant – Kennon Ball | 0.00 | 9.93 | | 84 |
| Jamie Nealy – Greg Ball | 0.00 | 9.82 | | 83 |
| Stacy Vasser | 3.25 | 9.51 | | 83 |
| Joe Krevonick – Sure Reynolds | 0.00 | 9.47 | | 81 |
| Tripp Mistr – Brent Mistr | 0.00 | 8.92 | | 80 |
| Kyle McCann | 0.00 | 8.78 | | 79 |
| Francis Martin – William Clements | 0.00 | 8.59 | | 78 |
| Dave Carney – John Dunn | 0.00 | 8.53 | | 77 |
| James Tilley | 0.00 | 8.43 | | 76 |
| Michael Coleman – Lynn Hoeffer | 0.00 | 8.24 | | 75 |
| Charles & John James | 0.00 | 8.21 | | 74 |
| Mark Austin – Rocky Sylvester | 0.00 | 7.79 | | 73 |
| James Mcdowell | 3.66 | 6.89 | | 72 |
| Brian Snipes – Chris Cockrell | 0.00 | 6.73 | | 71 |
| Jason S. Bishop | 0.00 | 6.04 | | 70 |
| James Byrd | 0.00 | 6.03 | | 69 |
| Walter Woodel – Frank Woodel | 0.00 | 5.78 | | 68 |
| Joey Cooke – Justin Hall | 0.00 | 3.99 | | 67 |
| Kevin Davis – Trevor Davis | 0.00 | 2.20 | | 66 |
| Curtis Combs – CJ Combs | 0.00 | 0.00 | | 56 |
| Harvey Reese – Bobby Harris | 0.00 | 0.00 | | 56 |
| Craig Ferguson – Clay Ferguson | 0.00 | 0.00 | | 56 |
| Steve Colgin – Julie Colgin | 0.00 | 0.00 | | 56 |
| John & John Coren | 0.00 | 0.00 | | 56 |
| Cody Herndon – Shannon Spradlin | 0.00 | 0.00 | | 56 |
| Aaron Lucy – Reid Clay | 0.00 | 0.00 | | 56 |
| Total Entrys | | | $6,240.00 | |
| BONUS $ | | | $1,000.00 | |
| CATT | | | $50.00 | |
| Total Paid At Ramp | | | $6,625.00 | |
| 2023 James River Spring Final Fund | | | $400.00 | |
| 2023 CATT Championship Fund | | | $50.00 | |
| 2023 James River Spring Final Fund Total | | | $3,150.00 | |