Next up is the 2020 James River Final Oct 3-4!  Remember guys you only had to enter 3 James River Qualifiers to be eligible to enter!
Also by entering only 2 CATT Events you are eligible to enter the 2020 CATT Championship on Kerr Nov 7-8 $10,000 1st Place! Click on the link for more Championship info!
Marshall Johnson & Ryan Lachnet win the Jams River Points and will fish the 2021 James River Qualifiers FREE!
We will have the 2021 James River CATT Schedule posted soon!
Wayne & Ryan Drewery win our last 2020 James River Qualifier with a limit of bass weighing 20.17 lbs good enough for a $1,350.0 payday!
2nd Place went to Chris Bryant & Matt Dunnigan with 15.34 lbs!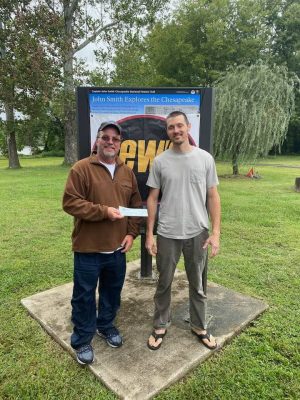 3rd Place Stacey Vasser & Steve Webb with 14.92 lbs!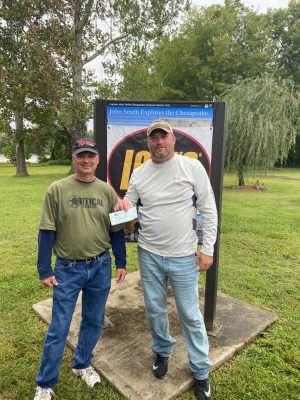 Luke Carson took home the BONUS $ (SidePot)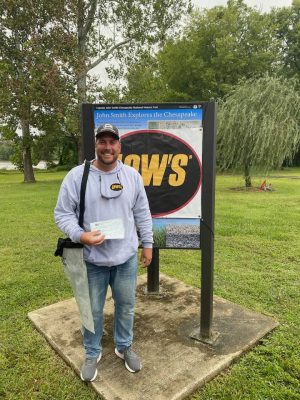 | | | | | |
| --- | --- | --- | --- | --- |
| 33 Teams | BF | Weight | Winnings | Points |
| ryan drewery – wayne drewery | 4.96 | 20.17 | $1,350.00 | 110 |
| chris bryant – matt dunnigan | 0.00 | 15.34 | $660.00 | 109 |
| stacey vasser – steve webb | 3.98 | 14.92 | $370.00 | 108 |
| todd fisher – lyndsi stafford | 5.49 | 14.67 | $250.00 | 107 |
| luke carson | 0.00 | 14.48 | $440.00 | 106 |
| charles ramer – ernest revels | 4.77 | 14.11 | $125.00 | 105 |
| jimmy townsend – marcus griffin | 3.33 | 13.56 | | 104 |
| blake condrey – cody griffin | 5.61 | 13.42 | $93.00 | 103 |
| brian brooks – avery powelson | 0.00 | 13.41 | | 102 |
| curtis combs – cj combs | 5.06 | 13.35 | | 101 |
| alex king – matt noraas | 6.02 | 13.12 | $217.00 | 100 |
| dave carney – andy bollhorst | 0.00 | 12.95 | | 99 |
| chase huffman – haarison baker | 0.00 | 11.68 | | 98 |
| walter emerson – brody webb | 0.00 | 11.54 | | 97 |
| tommy little – jerry heifler | 0.00 | 11.42 | | 96 |
| matt funk – pete kenny | 0.00 | 10.98 | | 95 |
| james tilley – andy walker | 3.19 | 10.75 | | 94 |
| wayne andrews – andy semonco | 0.00 | 10.72 | | 93 |
| kevin davis – melissa davis | 3.10 | 10.40 | | 92 |
| jay teasley – pat jones | 4.75 | 9.34 | | 91 |
| chris cockrall – brian snipes | 0.00 | 8.40 | | 90 |
| marshall johnson – ryan lachniet | 0.00 | 8.09 | | 89 |
| jeffery valentin – daryl moody | 0.00 | 6.91 | | 88 |
| charles james – john conway | 0.00 | 0.00 | | 87 |
| trey goodman-tim chaffin | 0.00 | 0.00 | | 87 |
| ray hogge – donnie daniel | 0.00 | 0.00 | | 87 |
| avery neely | 0.00 | 0.00 | | 87 |
| jeffery banko – erik williamson | 0.00 | 0.00 | | 87 |
| frank poirier | 0.00 | 0.00 | | 87 |
| clayton robens | 0.00 | 0.00 | | 87 |
| roger walters – david fox | 0.00 | 0.00 | | 87 |
| kevin king | 0.00 | 0.00 | | 87 |
| mathew kite – chris mcdaniel | 0.00 | 0.00 | | 87 |
| Total Paid At Ramp | | | $3,720.00 | |
| James River 2020 Final Fund | | | $415.00 | |
| 2020 CATT Championship Fund | | | $0.00 | |
| 2020 James River Final Fund Total | | | $2,610.00 | |
| 2020 CATT Championship Fund Total | | | $4,670.00 | |