Next CATT Fall Qualifier is Oct 16 at Ivy Hill and will be a Gold Event! $120 entry or $130 at the ramp!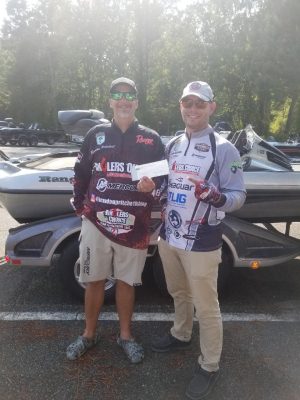 Brandon Prichard & Derek Hudson wins Kerr with 5 bass weighing 13.11 lbs!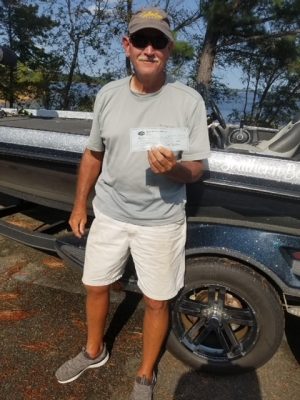 Dennie Gilbert & Charlie Reed claimed 2nd with 12.17 lbs!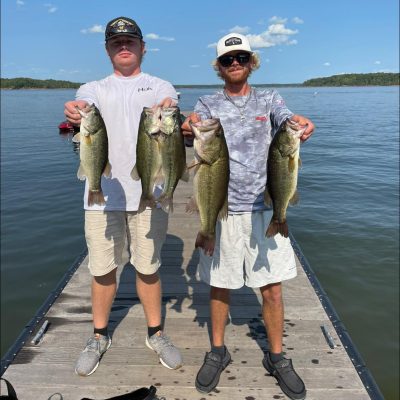 Zach Smith & Alden Patterson 3rd with 12.14 lbs!

| | | | | |
| --- | --- | --- | --- | --- |
| Team | BF | Weight | Winnings | Points |
| Brandon Prichard – Derek Hudson | 4.03 | 13.11 | $1,095.00 | 110 |
| Dennie Gilbert – Charlie Reed | 0.00 | 12.17 | $640.00 | 109 |
| Alden Patterson – Zach Smith | 3.83 | 12.14 | $360.00 | 108 |
| Steven Griggs – Rodney Sorrell | 4.08 | 11.69 | $233.00 | 107 |
| Tom Wilkerson -Brandon Kerns | 4.16 | 11.60 | $110.00 | 106 |
| Lonnie Whitfield – Phillip Smith | 0.00 | 11.26 | $100.00 | 105 |
| Mark Inman – Doug Washburn | 0.00 | 9.78 | | 104 |
| Mike Connely – Jeff Taylor | 0.00 | 8.59 | | 103 |
| Jenny Li – Michael Dikun | 0.00 | 8.26 | | 102 |
| Kenny Wilson – Lycia Niethammer | 3.45 | 8.20 | | 101 |
| Chuck Morton – Mike Riggs | 0.00 | 8.07 | | 100 |
| Kurt Poythress – Steve Loper | 0.00 | 7.78 | | 99 |
| Randy Waterman – Terry Easter | 4.31 | 7.66 | $217.00 | 98 |
| George Kunkle – Cliff Holt | 3.20 | 7.51 | | 97 |
| Tim Grein – Richard Cooper | 0.00 | 6.93 | | 96 |
| Elton Clements – Rick Clements | 0.00 | 4.31 | | 95 |
| Tony Tombs – Bryan Caloway | 0.00 | 1.88 | | 94 |
| Thomas Tsoumbos – Mike Stevenson | 0.00 | 1.83 | | 93 |
| Gray Williams – Derrick Currin | 0.00 | 0.00 | | 83 |
| Joseph Sharpe | 0.00 | 0.00 | | 83 |
| Jerry Bono – Jerry Davis | 0.00 | 0.00 | | 83 |
| Brandon Cross – William Cross | 0.00 | 0.00 | | 83 |
| Jeffrey Porter | 0.00 | 0.00 | | 83 |
| Bobby Overby – Tony Milam | 0.00 | 0.00 | | 83 |
| Bryan Rosy – Kevin Krane | 0.00 | 0.00 | | 83 |
| Matthew Little – Derrick Bowden | 0.00 | 0.00 | | 83 |
| Houston Cash – Chase Davis | 0.00 | 0.00 | | 83 |
| Marty Warren | 0.00 | 0.00 | | 83 |
| Brandon Rogers | 0.00 | 0.00 | | 83 |
| Jeff Porter – Brayden Porter | 0.00 | 0.00 | | 83 |
| Hall Blackwelder | 0.00 | 0.00 | | 83 |
| Total Entrys | | | $2,480.00 | |
| BONUS $ | | | $800.00 | |
| Total Paid At Ramp | | | $2,755.00 | |
| Kerr 2022 Fall Final Fund | | | $400.00 | |
| 2023 Fall Kerr Point Champs | | | $25.00 | |
| 2023 CATT Championship/Phantom Fund | | | $50.00 | |
| 2022 Kerr Fall  Fund Total | | | $400.00 | |