First 2022 Lake Anna CATT is in the books paying out $3020.00
1st- Chris Jones and Tom Toews with a weight of 23.37 anchored with the big fish of the day @. 7.88 earned them a total of $1414.00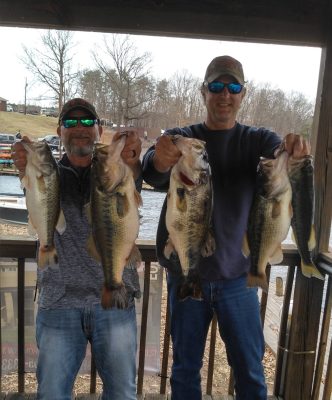 2nd – Dean and Trey Perrin with a weight of 19.62 worth $600. They also claimed 1st in the side pot to add on an extra $275 for a total of $875 for the day.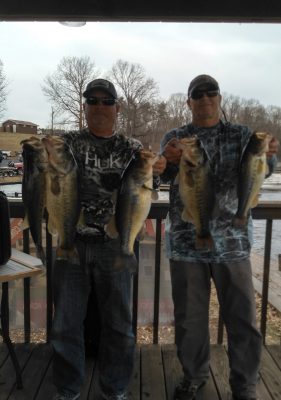 3rd – Rob Grike and Bobby Finchum with a weight of 15.92 worth $300
4th Brian Green and Chris Armstrong with a weight of 15.40 worth $200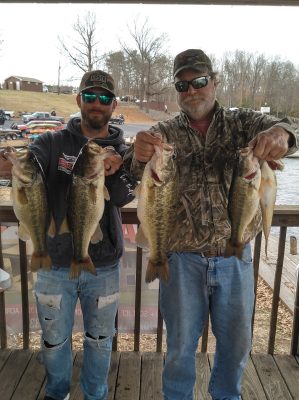 5th Nathan Sullivan and Eric Johnson with a weight of 14.01 worth $150
2nd Big Fish belongs to Matt Martin and Chris Anthony @ 7.28 worth $81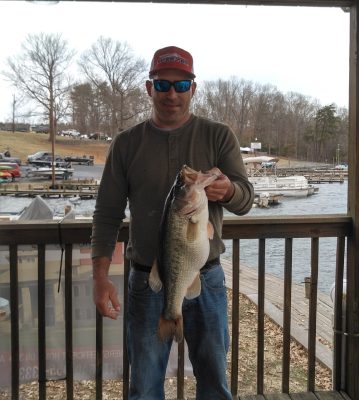 Congrats to all who placed and a big thanks to everyone coming out and supporting the CATT on Lake Anna! Hope to see everyone and more at our next qualifier on March 27th.
| | | | | |
| --- | --- | --- | --- | --- |
| Team | BF | Weight | Winnings | Points |
| Chris Jones – Tom Toews | 7.88 | 23.37 | $1,414.00 | 110 |
| Trey Perrin – Dean Perrin | 5.70 | 19.62 | $875.00 | 109 |
| Rob Grike – Bobby Finchum | 0.00 | 15.92 | $300.00 | 108 |
| Brian Green – Chris Armstrong | 4.82 | 15.40 | $200.00 | 107 |
| Nathan Sullivan – Eric Johnson | 0.00 | 14.01 | $150.00 | 106 |
| Wil Vickery – Dee Kidd | 6.89 | 13.94 | | 105 |
| Glen Vico – Wayne Dorman | 0.00 | 13.50 | | 104 |
| Larry Blanks – James Graves | 0.00 | 12.77 | | 103 |
| Larry Wollershiem – Preston Cox | 0.00 | 12.39 | | 102 |
| Matt Martin – Chris Anthony | 7.28 | 11.85 | $81.00 | 101 |
| Scott Taylor – Gene Hall | 0.00 | 10.70 | | 100 |
| Skeeter Gray – Tommy Mills | 4.71 | 10.36 | | 99 |
| Kody Sekuterski – Nolan Broadest | 4.85 | 9.57 | | 98 |
| Jeff Bailey – James Bailey | 0.00 | 9.15 | | 97 |
| Samuel Taylor – Spencer Varner | 0.00 | 9.03 | | 96 |
| Jonathan Mullins – Scott Sullivan | 4.36 | 8.70 | | 95 |
| Kenneth Presley – Keith Lupo | 0.00 | 8.26 | | 94 |
| Eric Kunz | 0.00 | 7.61 | | 93 |
| Jason Philippi – David Howland | 4.31 | 7.44 | | 92 |
| B ill Powers – Dave Mossberg | 0.00 | 5.77 | | 91 |
| Scott Conners – Troy Perry | 0.00 | 4.98 | | 90 |
| Mike Webster – Mike Wandel | 0.00 | 4.01 | | 89 |
| Roy Dodson – Chuck Moore | 0.00 | 1.33 | | 88 |
| Clay Gatewood – Jeff Parish | 0.00 | 0.00 | | 78 |
| Paul Watson – Mellissa Watson | 0.00 | 0.00 | | 78 |
| Brandon Morris – Kyle Morris | 0.00 | 0.00 | | 78 |
| Byron Evans – Billy Evans | 0.00 | 0.00 | | 78 |
| Total Entrys | | | $3,240.00 | |
| BONUS $ | | | $275.00 | |
| Total Paid At Ramp | | | $3,020.00 | |
| Anna Spring 2022 Final Fund | | | $395.00 | |
| 2022 CATT Championship/Phantom Fund | | | $50.00 | |
| 2022 Anna Spring Final Fund Total | | | $395.00 | |