Next up is the 2023 Spring Lake Anna Final May 7th! We have 49 teams eligible to enter! At the Final we add 100% of the entry fee and the Anna Spring Final Fund to make the Final Purse!
Nathan Sullivan – Eric Johnson win the Lake Anna Spring Points and will fish the Anna Final Free!
Lake Anna April 8th Results! 27 Boats and 6 BAGS over 20lbs. Two fish over 8lbs and three 7lbers.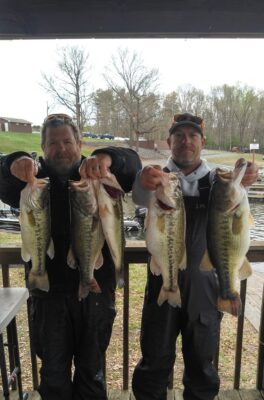 Congratulations to Bryan and Billy Evans with the winning weight of 24.31 worth $1225 plus another $450 for side pot totaling $1675 on the day!
2nd – Mike Hurdle and Shawn Britton with 23.32 worth $600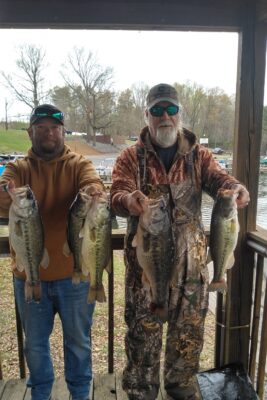 3rd – Jeff Parrish and Clay Gatewood with 21.16 worth $300 anchored by the 1st BF @8.57 adding on $189 for a total of $489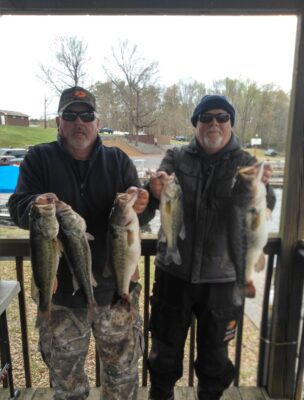 4th – Scott Conners and Troy Perry with 21.08 worth $200 anchored by 2nd BF @8.06 adding on $81 for a total of $281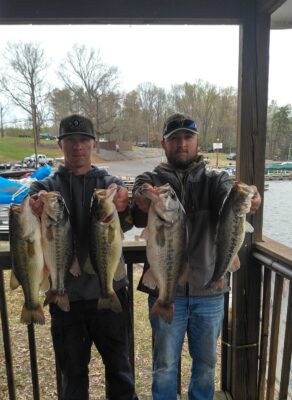 5th – Josh and Jonathan Mullins with 20.72 worth $150
Looking forward to our Classic on May 7!!
| | | | | |
| --- | --- | --- | --- | --- |
| Team | BF | Weight | Winnings | Points |
| Bryan Evans – Billy Evans | 7.58 | 24.31 | $1,675.00 | 110 |
| Shawn Britton – Mike Hurdle | 7.07 | 23.32 | $600.00 | 109 |
| Jeff Parrish – Clay Gatewood | 8.57 | 21.16 | $489.00 | 108 |
| Scott Conners – Troy Perry | 8.06 | 21.08 | $281.00 | 107 |
| Josh Mullins – Jonathan Mullins | 7.09 | 20.72 | $150.00 | 106 |
| Jimmy Ashley – Matt Ketchum | 6.39 | 20.63 | | 105 |
| Jeff Jones | 6.43 | 19.68 | | 104 |
| Nathan Sullivan – Eric Johnson | 5.96 | 19.26 | | 103 |
| Wil Vickery – Dee Kidd | 0.00 | 19.10 | | 102 |
| Jessepth Hughes – Phil Wilcox | 0.00 | 17.97 | | 101 |
| Glen Vico – Costas Melendez | 6.96 | 16.96 | | 100 |
| Bill Deeds – Matt Seale | 5.12 | 16.59 | | 99 |
| Josh Hall – Matt Martin | 0.00 | 16.41 | | 98 |
| Wayne Dorman – David Munoz | 0.00 | 14.50 | | 97 |
| Larry Wollershiem – Preston Cox | 0.00 | 14.36 | | 96 |
| Scott Taylor – Gene Hall | 0.00 | 13.86 | | 95 |
| Larry Blanks – James Graves | 6.65 | 13.70 | | 94 |
| CJ Dawson – Jason Jones | 6.53 | 13.49 | | 93 |
| Chris Jones – Tom Toews | 4.57 | 12.38 | | 92 |
| Brian Green – Chris Armstrong | 4.22 | 12.17 | | 91 |
| Dylan Powers | 0.00 | 11.78 | | 90 |
| AJ Hart | 0.00 | 11.46 | | 89 |
| Mike Webster – Mike Wandel | 0.00 | 11.41 | | 88 |
| Matt Clark – Micky Wilson | 0.00 | 10.53 | | 87 |
| Brayden Kean | 5.38 | 10.32 | | 86 |
| Jack Iden – Hunter Iden | 0.00 | 9.69 | | 85 |
| Skeeter Gray – Colby Moorefield | 0.00 | 0.00 | | 75 |
| Total Entrys | | | $3,240.00 | |
| BONUS $ | | | $450.00 | |
| Total Paid At Ramp | | | $3,195.00 | |
| Anna Spring 2022 Final Fund | | | $400.00 | |
| CATT | | | $50.00 | |
| 2023 CATT Championship/Phantom Fund | | | $50.00 | |
| 2023 Anna Spring Final Fund Total | | | $1,690.00 | |