Next up is the 2019 Lake Anna Fall Final Nov 2nd at Sturgeon Creek Marina! We have 23 teams eligible to enter the Final!
Great day today on Lake Anna. The final round of the 2019 series, and what a day. 1st place/1st place BF and Side Pot went to Brian Conners and Scott Conners with 20.31 lbs! They win the Lake Anna Fall Points and will fish the Anna Final free!
Then 2nd place/2nd place BF went to John James and Mike Perkins with 17.24 lbs!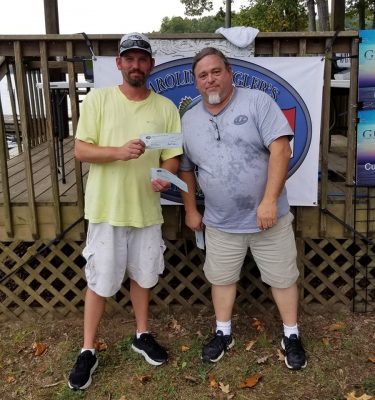 Wayne Doorman and Preston Cox rounding out 3rd place with 17.21 lbs!.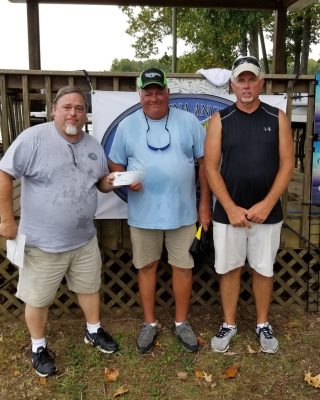 We had a great series, and I look forward to more next year!
| | | | | |
| --- | --- | --- | --- | --- |
| 15 Teams | BF | Weight | Winnings | Points |
| Brian Conners – Scott Conners | 6.99 | 20.31 | $730.00 | 110 |
| John James – Mike Perkins | 5.50 | 17.24 | $245.00 | 109 |
| Wayne Doorman – Preston Cox | 5.37 | 17.21 | $80.00 | 108 |
| Steve Rose – Mark Mitchell | 3.86 | 15.08 | | 107 |
| Spencer Humphrey – Trey Humphrey | 0.00 | 14.29 | | 106 |
| Larry Blanks – Matt Martin | 3.81 | 12.26 | | 105 |
| Tim Garner – Martin Billa | 0.00 | 11.82 | | 104 |
| James Graves – Travis Lugar | 0.00 | 11.43 | | 103 |
| Billy Richardson – Timmy Sheridan | 0.00 | 10.03 | | 102 |
| Tim Covington – Nick Covington | 2.12 | 9.92 | | 101 |
| John Doyle | 0.00 | 9.82 | | 100 |
| Chris Graham – Tyler Graham | 0.00 | 8.40 | | 99 |
| Dee Kidd | 0.00 | 8.37 | | 98 |
| Scott Reuschling – Desmond Owen | 0.00 | 6.53 | | 97 |
| Dave Allen – Barry Preddy | 0.00 | 0.00 | | 96 |
| Total Entrys | | | $1,200.00 | |
| BONUS $ | | | $175.00 | |
| Total Paid At Ramp | | | $1,055.00 | |
| Anna Fall 2019 Final Fund | | | $260.00 | |
| 2020 CATT Championship/Phantom Fund | | | $30.00 | |
| 2019 Anna Fall Final Fund Total | | | $900.00 | |
| 2020 CATT Championship/Phantom Fund Total | | | $585.00 | |